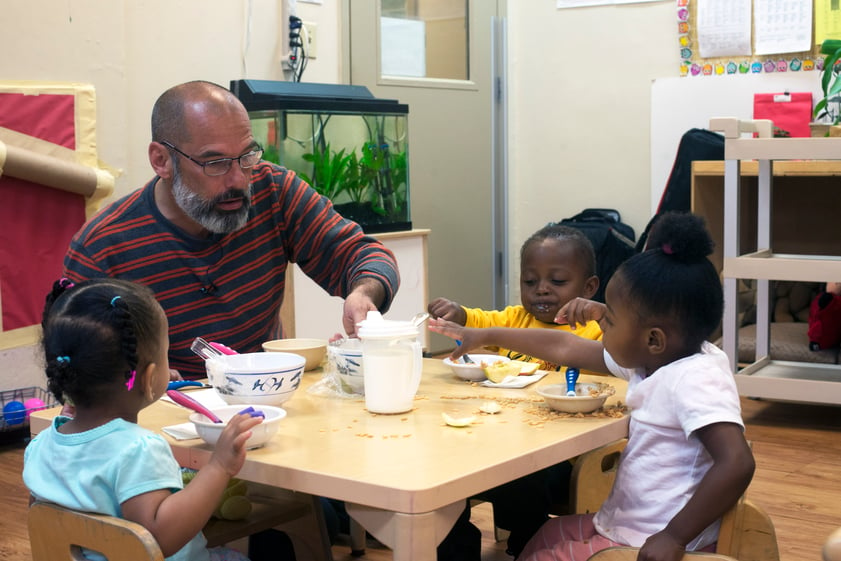 Teachstone is celebrating Week of the Young Child hosted by the National Association for the Education of Young Children (NAEYC). We'll be posting articles, videos, activities, and more all week on Facebook and Twitter.
For Tasty Tuesday, we've found a few healthy recipes for every mealtime, including dessert. These recipes are easy to assemble and make, and your early learners can help out as well. What are your favorite healthy recipes?
Breakfast
Bagel and Cream Cheese with Tomato and Cucumber Face
Recipe is from Realsimple.com.
Most of the ingredients in this recipe can be subsituted with other foods (gluten free bagels, different vegetables, etc). Let them create their own bagel faces, and presto, you've got an easy and fun breakfast meal.
Ingredients
2 bagels, split in half
1/2 cup cream cheese (about 4 ounces)
1 small cucumber
1/2 plum tomato, cut into wedges
Directions
Toast the bagel halves and spread each with cream cheese.
Cut the cucumber into 8 rounds and several thin slices that can be used to form eyeglasses. Cut the tomato into 4 wedges and use one on each bagel half to form a smile.
Lunch
Kale, Carrot and Feta Salad
Recipe is from Todaysparent.com.
This salad is packed with super foods like kale and currants. And with such a wide variety of ingredients, you can introduce new vegetables into their vocabulary while you're cooking everything.
Ingredients
1 bunch

kale

1 tbsp

olive oil

1/2

red onion, chopped

2

carrots, shredded

1

zucchini, shredded

1/2 tsp

sea salt, divided

1/4 tsp

black pepper

1/2 cup

water

1/4 cup

raisins, currants or dried cranberries

1 cup

crumbled feta
Brown rice
Directions
Wash kale carefully. Cut off stems and centre ribs; discard. Chop leaves coarsely. In a large deep skillet, add olive oil and cook red onion over medium heat until softened, about 6 min. Add kale, carrot, zucchini, ¼ tsp of the salt, pepper and water. Cover and cook, tossing twice, until greens are wilted, 10 to 15 min. Remove from heat. Toss with raisins, feta and remaining salt.
Serve with brown rice that's been prepared according to package directions.
Dinner
Simple Roasted Beets
Recipe is from Superhealthykids.com.
Pair these beets with a main course, or eat them as a snack! Beets are delicious and their deep, red color is hard to pass up. While you're waiting for them to cook, ask your early learners to think of other ways they can incorporate beets into a meal (salads, sandwiches, etc).
Ingredients
5 medium beets

3 tbsp olive oil

1/8 tsp salt
Directions
Preheat the oven to 425 degrees and line a baking sheet with parchment paper.
Wash the beets and use a vegetable scrubber to wash the outside. Remove the stem and root end with a sharp knife. Use a vegetable peeler or pairing knife to peel the beets. Slice the beets into 1/4 inch thick rounds and place them in a small bowl.
Drizzle the olive oil over the sliced beets and then toss to combine.
Place the sliced beets in a single layer on your prepared baking sheet.
Roast in the hot oven until the beets are fork tender, 10-15 minutes, remove from the oven and sprinkle with salt.
Dessert
Grilled Peaches and Coconut Cream
Recipe is from Superhealthykids.com.
This is a super versatile and healthy dessert option for kids. You can substitute heavy whipping cream for the coconut milk if desired. You can grill these, or bake them in the oven at 375 degrees for about 30 minutes. If you're looking for a quick science experiment, ask them to hypothesize about what's happening to the cream as you whip it up.
Ingredients
1 cup coconut milk

2 tbsp honey

1/2 tsp vanilla extract

3 medium peaches

1/3 cup chopped pecans
Directions
To make the whipped coconut cream, place the bowl of a stand mixer in the freezer for 5 to 10 minutes to chill. Remove the bowl from the freezer and scoop out the solid portion of the chilled coconut milk into the bowl. (You can reserve the liquid from the coconut milk and add to smoothies, if desired. Do not use the liquid for the whipped cream or else it won't yield a fluffy texture.) Whisk on medium-high speed until light and fluffy. Add 2 teaspoons honey and the vanilla extract. Whisk until well blended.
Preheat grill to medium heat. Grill peaches until tender, about 3 minutes on each side. Remove from the grill and cool slightly.
Arrange the peaches on a plate. Top with whipped coconut cream, chopped pecans and a drizzle of the remaining honey, as desired. Serve immediately.
*Note: You can omit the honey or use your favorite sugar substitute in the coconut cream.