One of my favorite parts of InterAct: A CLASS Summit was talking with people who represent so many different organizations that use the CLASS tool. One of those wonderful folks was Andrea Zabel of the Maryland State Department of Education, Division of Early Childhood Development, Office of Child Care, Maryland EXCELS branch. Maryland EXCELS is using the CLASS tool in a way that allows programs to truly focus on improvement—not only on their scores.
Wait. What is Maryland EXCELS?
Maryland EXCELS (EXcellence Counts in Early Learning and School-Age Care) is the state's Quality Rating and Improvement System (QRIS) based on the following standards: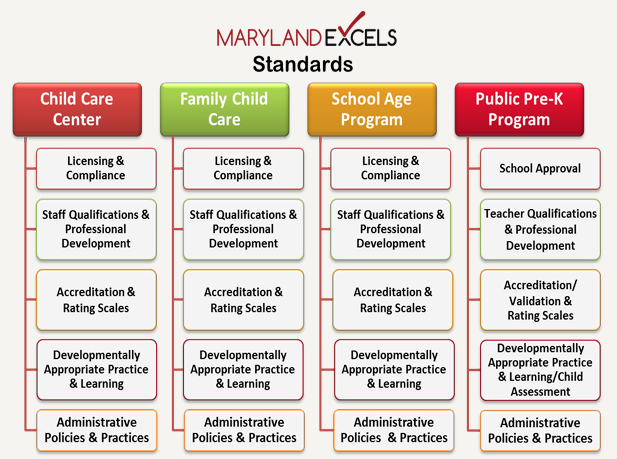 Courtesy Maryland EXCELS website
About 5,000 programs are currently participating, including family child care, child care centers, Head Start, school-age programs, and public pre-K programs in elementary schools. It's a voluntary program open to any licensed child care and public pre-K programs in the state of Maryland.
Maryland EXCELS is composed of five levels. Any child care facility that accepts Child Care Subsidy reimbursement from the state must be participating in Maryland EXCELS. By meeting the requirements and publishing a Level 3, 4, or 5, programs receive higher tiered reimbursement payments for Child Care Subsidy.
Where does CLASS fit in?
At Level 3 in Maryland EXCELS, programs conduct a self-assessment using the Environment Rating Scales (ERS) and/or the Classroom Assessment Scoring System (CLASS) and upload their assessment to the Maryland EXCELS portal. From there, the programs create a Program Improvement Plan based on the domains/dimensions in which they fell below established thresholds.
At Maryland EXCELS Level 4, programs request a CLASS assessor to conduct CLASS observations.
What's different about Maryland's use of the CLASS tool?
Something about this system stood out to me. While programs can receive higher subsidy reimbursement rates by doing a self- or outside assessment and publishing a rating of Level 3, 4, or 5, their scores don't impact their quality rating. Instead, CLASS scores are used to create a Program Improvement Plan.
The child care provider's focus is on continuous quality improvement —not on their scores, not on the numbers. It's a way to get programs to follow the mission of EXCELS, that continuous quality improvement of child care and early education services to children and families, is more important than hitting the right numbers.
I'm excited to stay in touch with Andrea and hope to hear more about the results of their validation study. I'm looking forward to catching up with her again at #InterAct2017. Until then—best of luck to everyone involved with Maryland EXCELS!