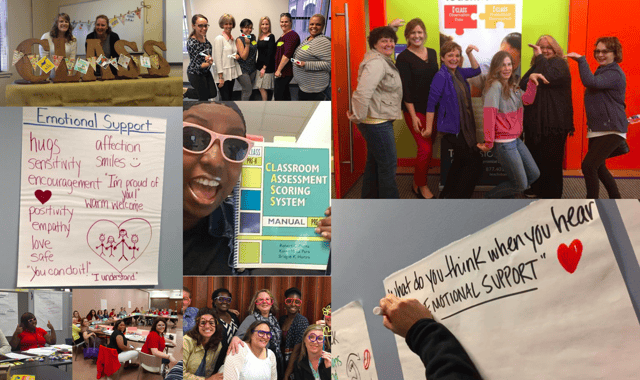 We remember when we first learned about CLASS (it was a long time ago!). It was EXCITING! Interactions are at the core of every moment of the classroom day. And CLASS seemed to draw out everything that we knew would lead to engaged learners and long-term success for children.
We wanted to shout CLASS from the rooftops!
As we started our CLASS journey, we realized that it was not only an incredible tool, it was also challenging. Really challenging. It all made sense, but figuring out how to support a teacher with 20 rambunctious children in having meaningful conversations seemed daunting. Explaining what we learned during training to our peers proved difficult. We knew it was needed, but it wasn't an easy sell.
We wanted so badly to know how others had gone about moving the needle for teachers and children. How had they instilled such powerful interactions across their organizations?
Further down the road, as we thought more about how to scale CLASS in an organization, we realized that gaining buy-in, cultivating a CLASS environment, and just figuring out how to make it fit with everything else going on was no small task. We wanted our organizations to embrace CLASS, but it seemed like there was never enough time or resources.
Again, we longed to have thought partners who could answer our questions, or at the very least, relate to the uphill battle we were waging.
That's why we created the CLASS Community!
We are so excited to launch this Community and to connect such a committed and caring group of educators. Through our work with so many of you, we've already witnessed the power of connecting CLASS devotees to one another. We've seen the results: better coaching, improved teaching, and stronger outcomes for children.
So, with that in mind, we hope the CLASS Community will be a place where you can meet and network with other CLASS educators, find opportunities for collaboration, and run your ideas by others who genuinely want to see you succeed.
We're excited to interact with you through the Community. And please don't hesitate to reach out to us at any point; we love talking with our Community members!
Cheers,
Emily & Meghan
The Community Team