Becoming a myTeachstone expert starts with spending every day in the system--and no one knows more about spending time in myTeachstone than our trusty account management (AM) team! I recently spoke to our resident experts to understand common challenges around using myTeachstone and heard one topic come up again and again: Reporting.
Although gaining access to all the data included in myTeachstone can seem initially daunting, using reports should not be a mystery. With this in mind, I spoke to our AM team to compile a list helpful tips and insights that are sure to take some of the mystery out of using myTeachstone reports.
1. Start Early and Monitor Often
The reporting features are what you make of them; therefore, the most administrators have clear plans and processes in place for collecting and using data--before any data collection actually begins. Our account management team can help you get a plan into place and understand how frequently you should be monitoring data. Specifically, you should consider how you can take advantage of the following three data areas:
CLASS Observation Data - How will you use this to monitor, intervene, and celebrate?

PD Data - How will you use this to celebrate coach and teacher engagement?

CLASS Observer Certification Data - How will you use this to instill confidence in your data quality?
2. Develop a Vision for Data-Sharing
Another important part of the planning process is understanding who will benefit from the data, what information will be most useful to them, and how you will share it. Each role in your organization may benefit from receiving information you will access as an administrator--but relevant information will widely vary depending on individual needs. For example, a funder may be particularly interested in trends that show the correlation between PD completion and CLASS score gains across your entire program; a coach might benefit from seeing deeper details such as the highest and lowest scoring dimensions across the program or particular regions.
3. Use the Observation Certification Report to Keep Your Observers Accountable
This might seem like common sense, but this report often goes underutilized. What used to be a painful, manual process of tracking certification expiration dates and physical certificates is now simple. Plan regular pulls of this report to see which observers have let their certifications lapse--and hold them accountable for maintaining reliability.
4. Take Advantage of Both Group and Individual Teacher Data
Another thing to keep in mind is that you will have both macro and micro lenses through which to understand teacher strengths and challenges. One of our account managers told me her favorite report is the individual teacher observation report because it breaks down CLASS scores for a single teacher along a spectrum of areas of strength and growth (and even includes links for PD suggestions!).
This sort of micro analysis is invaluable to someone like a coach, who is working directly with teachers as individual. However, the macro information, such as seeing scoring trends across centers, regions, counties (or any levels you have set up) can provide important insights. For example, our account managers like to point out when there is great variability in PD completion across centers. This often sparks new questions for leaders, such as, "What is Center A doing differently from Center B?" And "How we can learn from the successful centers and emulate it in others?"
5. Numbers Are Great, But Don't Dismiss Qualitative Data
If you're reading this post, you're probably familiar with the CLASS scoring framework (1-7 Likert scale; 7 is most preferable except in cases of Negative Climate). These scores can tell us a lot about what is working in a classroom and where there is room for improvement. However, scores alone don't provide all the information we need to move the needle. As you're developing a data plan, don't dismiss qualitative information. In this case, I'm talking about the notes that explain and give context around scores. In myTeachstone, this information may come in the form of formal observation notes accompanying a CLASS score report or may be the result of a coach or director logging an informal (re: no scores) observation. Regardless of where it comes from, this kind of context is invaluable to coaches and teachers--and as a CLASS leader, collecting notes should be part of your data plan.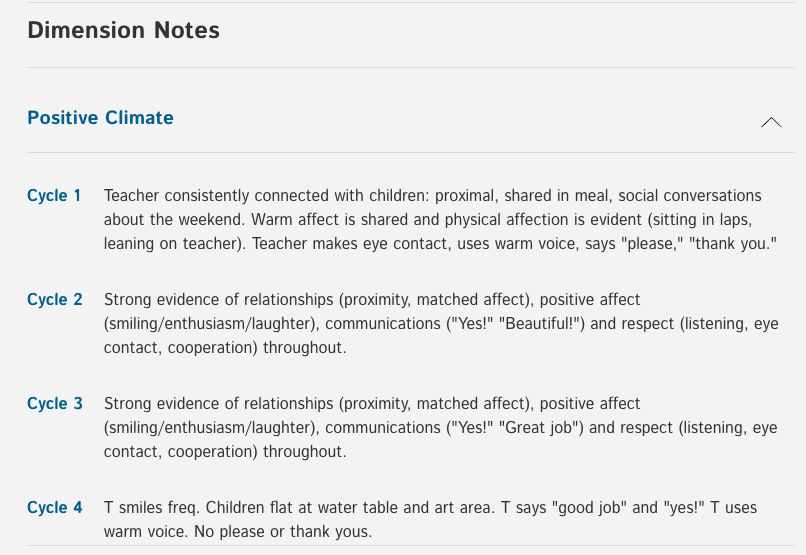 6. Celebrate!
Moving the needle on teaching quality is hard work. As you create a data strategy, don't forget to create realistic goals and celebrate when they are met! Maybe you expected teachers to complete 15 minutes of PD per week. Maybe you created a personal goal of monitoring observation certification reports on a monthly basis. When a goal is achieved don't sweep it under the rug, call it out and celebrate it! Trust me, "attention to the positive" is one of the markers in Behavior Management (you know I couldn't resist a shout-out to the CLASS measure)!
What have you learned from diving into the reporting features in myTeachstone?