Last time we looked at how coaches can use the look-for text to focus teacher attention on specific learning objectives. In this post, we'll consider ways to use the charts in promoting teacher learning.
Every myTeachstone video includes a chart that links CLASS language to what happens in the video. If you're unfamiliar with the charts available in myTeachstone, check out the example shown in the image below.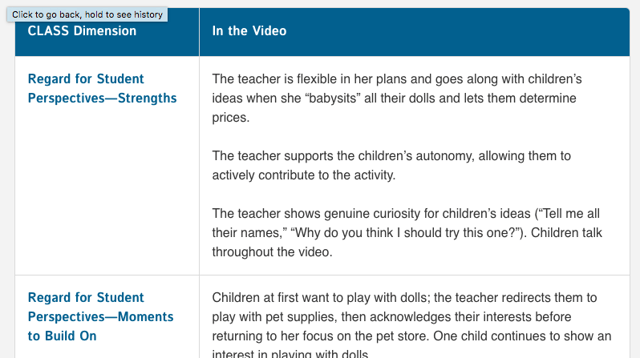 I want to start with two questions. We'll examine these questions using the example of the Itsy Bitsy Dog video in myTeachstone. (The same video example we used in my last post!) Watch the video and consider:
Why is using classroom video so important?

What skills is the teacher gaining when watching this video?
The answers to these questions demonstrate the purposes behind the videos and how the charts can enhance the experience of watching video.
Research

on professional development shows that

using video allows coaches to support teachers' observational skills

and knowledge of effective interactions. Teachers are given the chance to see real world interactions which provide a foundation for their learning.

Specifically, when watching videos, teachers can:
Analyze diverse teachers, activities, and classroom environments

Identify ways to incorporate effective interactions into their classrooms

Consider how to improve less effective interactions

Evaluate the differences between effective and ineffective interactions

Understand the links between teacher-child interactions and children's outcomes

Reflect on their own strengths and challenges when implementing teacher-child interactions
The charts found below the videos help coaches and teachers identify the interactions found in the video, link them to CLASS language, and reinforce these important observational skills.
To close, here are a few tips for using the charts with video resources.
Have the teachers watch the video and note their observations, then check their understanding with the chart.

Encourage teachers to practice sorting interactions into dimensions. Use the chart to affirm and/or clarify their observations.

Recommend videos on the same dimension and use the charts for each to examine different behaviors under the same dimension.

Use the chart to focus teachers on a few specific interactions.

Help teachers see how to describe their observations using CLASS language.
Note: There are two types of video resources available in myTeachstone. Classroom exemplars are short videos that feature highly effective behaviors in just one CLASS dimension. The charts that come with exemplar videos include information only on effective interactions across one dimension of focus. Classroom snapshots are longer videos designed to demonstrate mixed levels of effectiveness. The charts that accompany these videos include information across multiple dimensions and effectiveness levels.
Please share your thoughts. What are some of the benefits of the charts? What have your teachers found helpful?
In the coming days, please check out my next post in this series, which will focus on how to use the reflective questions in myTeachstone to promote your coaching conversations!