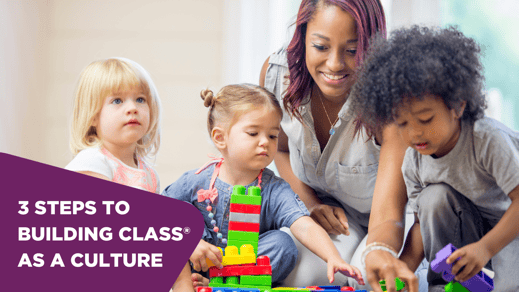 The impact our daily interactions have on one another is profound. And, research has proven that meaningful educator-child interactions can impact children's development and learning. In a time where educators feel inundated with demands, standards, procedures, and ever-changing assessment criteria, it's important to realign and focus on what matters most - those daily interactions.
Ignite shared understanding, passion, and focus on those meaningful interactions by creating an organizational culture that values CLASS®.
Embed CLASS in your Organizational Culture in 3 Steps:
1. Start Small
As with any improvement, integrating CLASS into your organization's culture is a journey. Start small and work collaboratively to identify the common everyday moments where meaningful interactions are already occurring. It may be in the shared greetings, in the ways children transition from activities, or in the daily rituals like a read aloud, that are established.
Then, identify those moments. Memorialize them. Celebrate them. And lastly, begin to intentionally plan for them. How can those everyday moments become even more meaningful? Create a plan for incorporating intentional interactions with specific classroom manipulatives. For example, when introducing scissors, layer in Language Modeling interactions by talking about the difference between "sharp and dull."
For more ideas, check out the CLASS Support Kits that have guides for layering interactions with a kit of manipulatives!
2. Expand Out
Cultural elements are known, shared, and prioritized. Meaningful interactions, as defined by CLASS, should also be shared within and outside of your organization. Expand beyond the small, everyday moments, and begin looking for opportunities across the day and across types of interactions. How can you and others leverage the research and strategies behind CLASS to improve the interactions you have with colleagues?
One consideration you can dig into is the environmental elements of the classroom. How can learning environments be leveraged to promote interactions? Do educators have clear sightlines so they can easily monitor behavior and respond to children's needs? Do children have access to materials they are interested in using?
You can also consider sharing the concepts of CLASS with the families within your organization. By incorporating caregivers into your culture of CLASS, you'll help create a shared language that support children at school and at home.
3. Maintain Foundation
As you engrain CLASS in your program's culture, it's important to plan to maintain that shared understanding and perspective. How will new team members be onboarded to your organization, to your culture, to your CLASS initiative? How do you plan to recognize and celebrate meaningful interactions? In what ways can you continue building your team's knowledge of meaningful interactions?



And, as you continue to add to and upskill your workforce, consider solutions like CDA with CLASS. Not only will you support their professional growth with a new credential, but you'll also support their foundational awareness of CLASS.

CLASS is a proven approach to improving teaching quality and child outcomes at scale. And, when embodied within an organization's culture and put at the center of continuous quality improvement initiatives, the opportunity for impact and changing the lives of children is only strengthened.