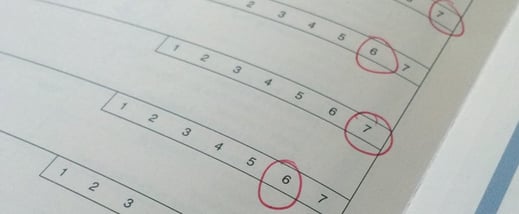 "Lacey was born a teacher, she has it in her blood. And CLASS didn't phase her. She found it as a way to make her teaching better."
That's how my interview with Pam Miller and Lacey Hetzel Austin started. And over the course of our interview, I understood what Pam meant. Lacey works as the pre-K teacher at Hathaway High School, a pre-K-12th grade school in Jennings, Louisiana, a rural town in Jefferson Davis Parish. Lacey's classroom has consistently received high scores across her CLASS Observations including 6s and 7s in Instructional Support. I needed to learn more.
Pam, can you tell me a little bit about your background?
I've been in education for almost 20 years with a focus in special education and early childhood. I serve now as the pre-K facilitator/coach for Jefferson Davis Parish Schools. (In Louisiana, parishes are similar to a county or district.) As a coach, I support the whole parish plus our Head Start programs and child care programs that receive federal funding.
How is CLASS being used in Jefferson Davis Parish Schools?
In 2012, Louisiana passed Act 3, the Early Childhood Education Act, with a focus of moving toward a unified Early Childhood System. CLASS is one of the ways we're working toward that unified system. Since 2013, 31 communities across the state served as pilot networks to help test implementation and programs. After three years of piloting, Louisiana rolled their plan to the whole state starting in the 2015-2016 school year.
Jefferson Davis Parish was part of the second pilot cohort, so we were introduced to CLASS in 2014. During that time, we learned all about CLASS by participating in Teachstone's online foundational programs as a way to provide professional development opportunities to our teachers. We have also been collecting CLASS data on our programs through observations.
Part of the law requires third party observation which was administered by the Picard Center. In addition to these third party observations, we also observe a percentage of our classrooms using local dual coders (or shadow scoring). CLASS scores along with informational metrics (such as standards-based curriculum, family satisfaction, Teaching Strategies Gold inter-rater reliability, level of teacher degree, and student/teacher ratios) are used as an evaluation of the school, school district, and network as a whole. Using these scores, each school receives a performance profile or report card. In each observation, Lacey's classroom consistently receives very high scores across all three domains including 6s and 7s in Instructional Support.
CLASS is just one component of the performance profile. There are other parts of the profile like the Teaching Strategies Gold Assessment and environmental aspects like teacher-child ratios.
Lacey, tell me a bit about you and your experience in the classroom.
I've been in the classroom for 10 years, nine of which have been in pre-K. I have a master's degree in educational technology.
This year, I have 16 children in my classroom (including my own child) and they are eager to learn. We talk about what we're seeing in our environment all the time, even on a walk to the library and I love watching their brains work and their curiosity. I also believe that because these kids are four or five years old, they are going to make mistakes—and we have to teach them through those mistakes. I'm here to support their social and emotional development. I want to make sure the children in my classroom have choices and have the opportunity to lead. I don't want to tell them what to do, how to do it, and why to do it.
Pam mentioned that you have done very well on your Picard evaluations, and your classroom scored very highly in Instructional Support. How do you do it?
I think preparation is key to being a good teacher. You have to know what you are going to do when you get into the classroom. You can't just wing it. Louisiana used to score us on the ECERS and I think that my understanding of that tool has helped build a strong foundation for my use of CLASS. I keep the classroom materials fresh, new, themed, and connected to what we're doing, so when I rotate to each center to work with the kids, I have extra tools available to me to use. That, in turn, gives me more time to focus on the interactions I'm having. For example, right now we're studying farms. In each of my centers, I've thought about what you might see on a farm—animals, hay, a barn, bins, tractors, etcetera—and make sure those manipulatives are available for the children. When it's time for the children to choose their center, we talk about what's available in each and prompt some ideas so they can connect it to what we're learning about. When I move around to the different centers, I already know what materials are there and can deepen the conversation and encourage deeper play and thinking. Then we regroup after centers and talk about what each other did and learned.
Larger group lessons were hard for me to be able to measure my students' learning. You have children at all different stages of development and understanding. I started splitting my large group sessions into a rotating three group cycle. I take about half the children to work on the concept lesson while my co-teacher takes a group to review the concept we're working on and then a small group of children works on independent play (another good reason to have materials ready!). Then we rotate so each child gets a turn in each of the three groups. This way I can match my teaching to the needs of the children, and they can continue building those concepts in different learning situations.
We started using this 20-minute cycle method throughout the day and it was my "aha moment." Before, it was really hard to figure out how to fit all the CLASS interactions into the day, but a 20-minute segment is manageable. I think about the key points I want to touch on in each 20-minute segment. What do I really want this child to know? What do I want to find out from them? Then I can try to fit in the best interactions into each. My coworkers jokingly tease me because I talk about color-coding my clock into 20 minute segments!
How do you prepare for an observation?
I don't know when Picard is coming, so I can't plan for the assessment. I have to be on my "A-game" every day. If my centers are set up and meaningful to my students, it's easier for me to build those important interactions, provide language modeling, develop those concepts they need to be successful.
I really think understanding the CLASS tool and what observers are looking for has helped me change my teaching practice. I work with my coach and supervisor using the CLASS Manual and CLASS Video Library so I can get ideas about strong interactions and ways I can make my teaching better.
What are some of the hardest parts of using CLASS for you?
Self- and parallel talk was a big challenge for me. I got the parallel part but couldn't get the self talk. I realized that I needed to plan my own actions for each 20-minute segment and talk about what I'm doing in the centers too. It started working when I just talked out my thought processes while playing with a child in a center.
Instructional Support in general is the hardest domain and the one I think most people struggle with. The 20-minute chunk was my answer. It made the concepts all more digestible. CLASS is a lot of information and it's overwhelming to think about over the course of your whole day. You can probably fit in some language modeling over the course of your whole day, but it might take you until the end of the day to fit it in. Every 20 minutes, I try to fit in every dimension.
Pam, what do you think is Lacey's key to success?
I think the 20-minute segments are a way to make CLASS more digestible and doable for teachers and Lacey has figured out how to make them work for her. I also think Lacey was born a teacher and has an incredible work ethic. As a coach, I sometimes videotape the teachers and then we review the film together. Lacey looked at her video and immediately said, "I think I know how I can improve."