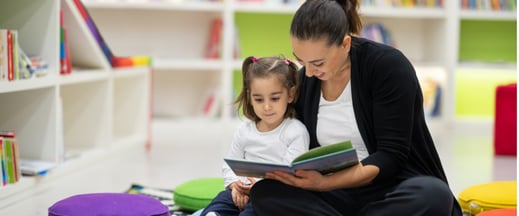 A read-aloud is a powerful tool. In shared reading experiences, young children explore new worlds, hear new vocabulary, build relationships with their caregivers, and start to apply concepts to their own lives. Books, as it turns out, really are magic.

This year, we've seen a renewed focus on children's emotional and social skills. With 2020's isolation and turmoil, there were fewer opportunities for children to practice and build these critical competencies. Now, teachers and families want to know how to best emotionally support children while making up for lost instructional time. But CLASS®-savvy teachers know the way they interact with children affects all areas of development - including social emotional learning, or SEL.

And what better way to introduce these skills than through a great book? We've compiled a list of picture books to read aloud to young children that get at these crucial SEL skills. (They are also aligned to the CLASS domain of Emotional Support!)
Here are 13 of the best children's books to reinforce Emotional Support and build children's social and emotional skills:
When Sophie Gets Angry - Really, Really Angry, by Molly Bang
Everyone gets angry sometimes - including main character Sophie. The vivid illustrations show how it feels when you're upset and introduce self-calming strategies.
The Knuffle Bunny series, by Mo Willems
Whether it's a blanket, a special toy, or a stuffed animal, most young children have a favorite object. For Trixie, that's Knuffle Bunny. Across the series, Knuffle Bunny gets lost, brought to school, and eventually shared with another child. Children can relate to Trixie's real-life feelings of worry, jealousy, and growing up.
The Rain Came Down, by David Shannon
A bad mood can be contagious. Then again, so can a good mood. As the weather shifts from a downpour to sunny skies, the characters in The Rain Came Down also change their attitudes. In its illustrations of many feelings, this book builds children's emotional understanding and empathy.
Jabari Jumps, by Gaia Cornwall
It's a big day for Jabari: today, he will jump off the diving board. With his dad's support, he overcomes his fears and makes a big splash. This book emphasizes the connections between emotions and physical responses, making it a can't-miss text for teaching about feelings.
I Am Human: A Book of Empathy, by Susan Verde
We connect to others through our shared humanity. I am Human explains this idea of empathy with spare, imaginative illustrations. If you want to move beyond singing "We Wish You Well" during circle time and help children connect more deeply, this book is an excellent next step.
Rita and Ralph's Rotten Day, by Carmen Agra Deedy
Rita and Ralph are best friends, but when a game goes wrong, it leads to an argument and hurt feelings. This book teaches the importance of sincerity and compromise between friends. Don't miss the author's note in the back with suggested hand gestures to enhance reading and engage children!
Enojo Es… / Angry Is…, by Connie Colwell Miller
We teach kids about their feelings - all of their feelings. Anger can be one of the hardest feelings for children to navigate. This bilingual text uses pictures of real children. It describes relatable scenarios like a sibling sitting too close or being served hated foods. (Broccoli - yuck!)
The Way I Feel, by Janan Cain
Seeing and naming feelings is an important part of helping children learn to identify them within themselves. Characters in The Way I Feel show off a variety of facial expressions, paired with rhyming text that names and describes their emotions from silly, to disappointed, to proud.
Alexander and the Terrible, Horrible, No Good, Very Bad Day, by Judith Viorst
This is a classic for a reason. Sure, Judith Viorst first wrote about Alexander and his family nearly four decades ago. But the feeling of having a day that just won't go right is timeless. As Alexander learns, some days are like that. He goes to bed knowing that tomorrow will be better and teaches kids about resilience and managing emotions.
While We Can't Hug, by Eoin McLaughlin
Hedgehog and Tortoise can't hug right now, but they can still show their love! This book gives children great ideas for showing affection while respecting boundaries. What a great opportunity to teach social skills!
A New Kind of Wild, by Zara Gonzalez Hoang
Based on the true story of her father's childhood, Zara Gonzalez Hoang tells the story of Ren. When Ren moves from his home in Puerto Rio to the city, he desperately misses his "wild." But with the help of new friend Ava, he finds that, when you know where to look, the wild and wonderful are all around.
Carmela Full of Wishes, by Matt de la Pena
On Carmela's birthday, she finds a dandelion. The problem is, she isn't quite sure which wish to pick. The beautiful, expressive illustrations show a wide range of emotions and add to the depth of the story. Use this book to support children's exploration of their own feelings and empathy.
Love, by Matt de la Pena
Other books on this list have tackled strong, challenging emotions. But the final book on this list explores the most powerful feeling of them all. Love shows many of the different ways love can show up in children's lives. It names and celebrates this feeling with poetic text and beautiful illustrations.
Connect to children through books and more.
In the early years, children are learning to recognize and manage feelings, develop social skills, and practice both in their budding friendships. The stories and images in a good picture book can teach important lessons about all three.
But most important of all?
The relationship built with a caring adult.
If you're looking for more tips, activities, and materials to connect with your early learners, explore the CLASS Emotional Support Kit.