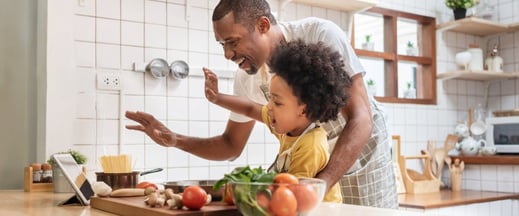 Teachstone is celebrating Week of the Young Child, hosted by the National Association for the Education of Young Children (NAEYC). We'll be posting articles, videos, activities, and more all week on Facebook and Twitter.
For Tasty Tuesday, we've gathered up a few nutritious recipes for every mealtime, including dessert. These recipes are easy to assemble and make, and your early learners can help out as well. What are your favorite healthy recipes?
Breakfast
Chocolate Zucchini Muffins
The recipe is from Fresh Tastes, via PBS.org.
Baking with young children opens up many opportunities to talk about science and math concepts. Discuss measurements as each ingredient is added in. Ask why each ingredient might be important to the recipe. Invite children to share their observations about the batter, then compare and contrast with the finished product...if you don't have a mouthful of warm muffin!
Ingredients
2 cups grated zucchini (from about 2 medium-sized zucchini)
1 ¼ cups all-purpose flour
¼ cup cocoa powder
1 tsp baking soda
½ tsp salt
1 large egg
½ cup white granulated sugar
¾ cup buttermilk
⅓ cup olive oil
1 tsp vanilla extract
Directions
Transfer the zucchini to the center of a few layers of paper towels. Wrap up the zucchini and squeeze all the water out. You'll be surprised at how much liquid comes out! Set aside.

Preheat the oven to 350 degrees F. Line a muffin pan with muffin liners. In a medium bowl, whisk the flour, cocoa powder, baking soda, and salt together.

In a medium bowl, whisk the egg and sugar together until it turns pale yellow, about 1 minute. Pour in the buttermilk, olive oil, and pure vanilla extract. Add the wet ingredients to the dry ingredients; mix until you no longer see any flecks of flour.

Fill the muffin liners up about 3/4 of the way full. Bake for 15 to 20 minutes, until a skewer inserted into the center comes out clean. Allow cooling in the muffin pan for 5 minutes before transferring them to a cooling rack.
Lunch
Curried Tofu Salad
The recipe is from Budget Bytes.
Unlike a meat-filled version, this tofu salad does not require any cooking, which means that young chefs can help with nearly every step. This can be served on its own, with crackers, or in whole-wheat pita pockets that help keep small hands from losing the filling. Check out these helpful step-by-step pictures from the original recipe.
Ingredients
¼ cup mayonnaise
¼ cup plain greek yogurt
1 tsp lemon juice
1 tsp mustard
1 tsp honey
½ Tbsp curry powder
½ tsp salt
¼ cup chopped cilantro
14 oz. block of extra firm tofu
Directions
Remove the tofu from its package and allow it to drain in a colander as you prepare the dressing.

In a medium bowl, stir together the mayonnaise, yogurt, lemon juice, Dijon mustard, honey, curry powder, salt, and chopped cilantro.

Crumble the drained tofu into the bowl with the dressing, then stir to combine. Serve immediately, or refrigerate until you're ready to eat.
Dinner
Buddha Bowls with Crispy Roasted Shawarma Chickpeas
Buddha Bowl inspiration from RealMomNutrition.com; chickpea recipe is from Peas and Crayons.
Many children can be wary of mixed-up foods. Give them the agency to build their own nutritious meal in the form of a buddha bowl - a plant-based grain bowl that can use whatever veggies are available. Let children scoop their own base of brown rice, quinoa, or farro; have them add raw, pre-cooked, or leftover vegetables (carrots, edamame, spinach, broccoli, sweet potatoes, beets, mushrooms…); give them the option to add a light dressing or not; and offer a protein choice such as chicken, nuts, beans, or these crispy roasted chickpeas.
Crispy Roasted Shawarma Chickpea Ingredients
15 oz can of chickpeas
1 Tbsp olive oil
¼ tsp salt
½ tsp ground cumin
¼ tsp smoked paprika
¼ tsp ground turmeric
⅛ tsp cayenne pepper
½ tsp lemon zest
Directions
Preheat oven to 400°F
Drain the chickpeas in a colander or sieve and rinse well.
Pat the chickpeas very dry with a clean dishtowel.
Next toss the chickpeas with olive/avocado oil and salt until lightly coated, then arrange in an even layer on a baking sheet.
Roast on the center rack for 20 to 25 minutes until crispy on the outside and soft in the middle.
While still hot from the oven, add to a bowl with your spices, then mix with a spatula or spoon.
Dessert
3-Ingredient Banana Pudding
The recipe is from Food Network.
This recipe is simple, using only three nutrient-dense ingredients: chia seeds, full of omega-3 fatty acids; fiber- and potassium-rich bananas; and chocolate almond milk, which contains plenty of calcium. Get this dessert started after breakfast or lunch, so that the chia seeds can work their thickening magic. Use the wait time to discuss what the nutrients found in these ingredients do for children's growing bodies.
Ingredients
2 Tbsp chia seeds
4 bananas (plus optional banana slices for topping)
½ cup chocolate almond milk
Directions
Blend the chocolate almond milk and bananas together in a blender until smooth.

Stir in the chia seeds.

Transfer the mixture to an airtight container, and refrigerate for at least 4 hours (to give the seeds enough time to plump up) and up to overnight.

Serve with banana slices on top.