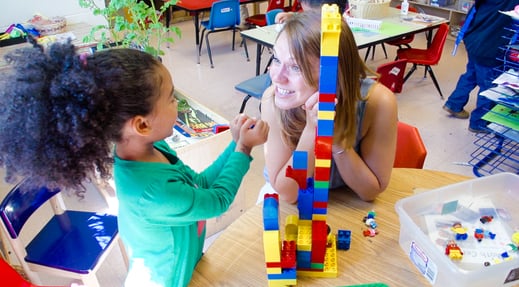 Teachstone is excited to join community organizations across the country in observing Child Care Provider Appreciation Day® on May 6 to celebrate the efforts of child care providers across the nation.
About Provider Appreciation Day
Provider Appreciation Day is celebrated the Friday before Mother's Day every year to recognize child care providers, teachers and other educators of young children everywhere. Provider Appreciation Day was started in 1996 by a group of volunteers in New Jersey, who saw the need to recognize the tireless efforts of providers who care for children of working parents. Today, Child Care Aware® of America (CCAoA) runs the celebration to recognize the impact that early childhood educators have in the lives of children and families, and on the importance of their work in the broader economy.
This celebration has grown each year. We're joined by Child Care Resource & Referral agencies, child care advocates, community-based organizations, government entities, business leaders, and individuals throughout the United States. And as recognition has grown for the critical role early educators play in our communities, so has the momentum to ensure they have the resources they need and deserve.
"Child care providers were 'essential' long before the pandemic. They keep our children safe, nurture their curiosity and prepare them for a lifetime of learning and growth," said Lynette M. Fraga, Ph.D., CEO of Child Care Aware® of America. "Together with our network of Child Care Resource and Referral Agencies, nonprofit and business partners, we invite you to join us in thanking and celebrating child care providers across the nation."
Why We Celebrate
Despite the challenges of the last year (or face it, the last 2+ years!), teachers and caregivers have continued to show up. We've heard from the field that collectively, educators have a strong sense of why—why you do what you do, despite all the uncertainties and changing circumstances facing the classroom.
So we wanted to learn more about that why. We invited teachers to tell us why they teach. And, you shared your heartfelt responses telling us your why, what inspired you to become a teacher, and what drives you to make a difference each day.
The passion of early childhood educators is unrivaled. So, thank you for continuing to show up, for loving children, and for creating life-changing interactions with your students.
"Teachers enter the profession because they want to impact the lives of children," explained Teachstone CEO, Bridget Hamre. "But too often they fail to get the support and resources they need to do that most effectively. That simply has to change. Now, more than ever before, we need to center our efforts on supporting the educators who are giving so much to the enhance the lives of the children they work with each day "
We encourage you to celebrate the educators in your program, in your community, and collectively, across the country by wishing them a Happy Teacher Appreciation Week and Happy Child Care Provider Appreciation Day.
For more ideas on how to celebrate, visit providerappreciation.org to find:
Ideas for celebration
Resources, including a sample letter to request a proclamation from your local government officials, and templates to create certificates or thank you cards for providers
Video tool for parents and community members to thank their local child care provider
Join in the virtual celebration on social media using #ThankYouChildCare.