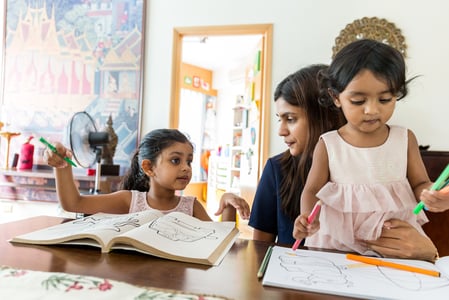 The foundations for language and literacy success are built in the early years. Trajectories for reading proficiency in third grade and beyond are set in birth to five early learning environments. Knowing this, preschool and early elementary educators work hard to provide literacy-rich environments and interactions, but the COVID-19 pandemic threw a wrench into the plans of even the most veteran teachers. These disruptions have changed learning across the board, including in the critical area of early literacy.
For example, every year, nearly every K-3 student across Virginia is given the Phonological Awareness Literacy Screening (PALS), giving educators and policymakers an annual snapshot of children's incoming language and literacy skills. Results from Fall 2020 show that kindergarten and first-grade students were significantly more likely to be identified as high-risk for reading failure than in previous years. What's more, this increase was most significant for Black, Hispanic, economically disadvantaged, and Dual-Language Learner (DLL) students, all of whom face compounded systematic disadvantages as they progress through elementary school.
This data for Virginia is echoed by teacher anecdotes from across the country. After a year of virtual, blended, and occasionally face-to-face instruction, it's hard to know exactly how children's language and literacy development has been affected or how lasting those effects may be. But the challenges posed to literacy learning by the COVID-19 pandemic and the equity issues that have shown to be further exacerbated make it even more important to pinpoint practices that best support student learning.
That's why we are excited to share our newest research summary on the links between the Pre-K CLASS tool and children's language and literacy outcomes. Pre-K CLASS measures adult-child interactions in three key domains. Emotional Support (ES) describes how teachers create warm, supportive environments for learning. Classroom Organization (CO) captures how teachers manage children's behavior, time, and attention. And Instructional Support (IS) measures how teachers promote higher-order thinking skills and language.
So, how does CLASS relate to language and literacy? Here are some key takeaways from this research summary:
All three Pre-K CLASS domains are related to children's language and literacy outcomes. Studies found that emotionally supportive, well-organized classrooms were linked to stronger student performance on measures of phonological awareness, print awareness, letter-word recognition, alphabet knowledge, and more, particularly when scores on Emotional Support and Classroom Organization were in the high range of 6 or above. On the other hand, students in classrooms that lacked these supportive relationships (i.e., scored low in Emotional Support) tended to have lower receptive language skills.
Instructional Support just might be the most important lever. It makes logical sense for the Instructional Support domain, which explicitly measures Language Modeling, to be positively related to children's language and literacy outcomes. However, the research shows that IS is particularly important for children from less privileged backgrounds. These kinds of intellectually stimulating interactions can serve as a buffer for children who come from families with lower income or levels of education.
Dual-language learners stand to benefit from CLASS-based interactions in multiple languages. Just like monolingual students, children who are DLLs showed growth in their English expressive and receptive language skills in classrooms with higher levels of Emotional Support and Instructional Support. In fact, DLL students who scored lowest on vocabulary assessments at the beginning of the year benefited the most from stronger Instructional Support.
Children continue to benefit from supportive Pre-K classrooms into elementary school, but more is better. Research shows that the language and literacy advantages from having a warm, organized, and appropriately challenging pre-K classroom can extend at least through the end of third grade. Several studies also showed that having multiple consecutive years of strong instruction compounded these effects. While it's wonderful - and academically beneficial - to have a great preschool teacher, supportive interactions in kindergarten and beyond continue to build children's strengths and avoid the potential for these gains to fade out.
You can read more about the research on how CLASS® improves literacy outcomes in our PDF here.