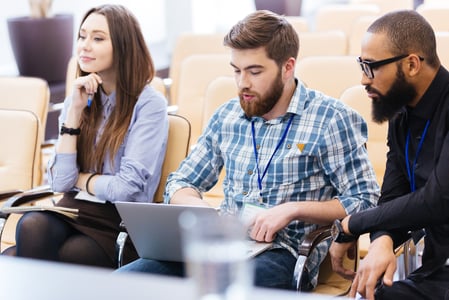 It's almost 2022, and with the new year comes a new chance to re-focus on our role as educators and ECE leaders. Knowing the challenges in our field, it's our responsibility to do better, and "back to normal" isn't good enough. Let's join together for discussions on how we can better support educators and children.

Teachstone is excited to announce that registration is now open for the 2022 InterAct Now: CLASS® Summit. This year's virtual event takes place over three half-days—from March 15-17, 2022. Each day, sessions will take place from 12-4 p.m. EST on our engaging online platform.

We invite you and your colleagues to join us as we come together to confront inequity, explore the potential of our impact, and support the amazing work that ECE educators do every day.
What to Expect at InterAct Now 2022
This is the seventh annual Summit hosted by Teachstone, and this year may be our best yet. Attendees can choose their own pathway of learning during three days of keynotes, breakout sessions, and live networking opportunities. All content and videos will be available for up to six months after the event for ongoing use.
Sessions will be focused around one core theme – that every child and every educator deserves life-changing interactions. The pandemic has only magnified some of the challenges that both children and teachers have been experiencing. But it also presents an opportunity for us to fix what's broken. Now is our time to do better.

This March, we invite you to join Teachstone in finding ways to lift up and support our incredible workforce, confront and challenge inequities, and make the biggest impacts for both adults and children.

Registration is open now with limited-time Early Bird pricing of just $180 per person. This special, discounted rate ends February 4, 2022. We'll be announcing more details soon, so stay tuned for more exciting news!
Submit a Session
InterAct attendees are a global network of educators who work together to share perspectives and strategies. If you're interested in leading a discussion and presenting this year, please submit your session proposal. We want your help creating sessions that speak to and reflect your community. Submissions are due January 9, 2022, and we will inform you if your proposal is accepted by January 19.
There are three formats for presenters to choose from:
Lightning Talk: 10- to 15-minute sessions. Think TED Talk.
One-Hour Session: An interactive, 60-minute lecture.
90-Minute Session: These longer sessions allow for the use of breakout rooms and provide more time for audience interaction, creation, and discussion.
Suggested topics include (but aren't limited to!): diversity, equity, and inclusion; your stories of impact; ways you're using data to drive change; CLASS content and curriculum; and systems planning. To learn more about what kinds of presentations have happened at previous InterAct Summits, you can find recordings on our website.