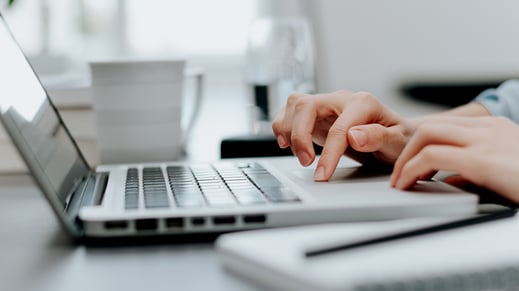 From coast to coast and around the globe, there's a common thread that unites teachers: wanting to be better for their students.

Even when things are tough in education, educators are striving to be their best. Their dedication to equitable, ongoing development is what inspires Teachstone's work. It will take a systematic, data-driven approach to reach the day when all children are afforded excellent education and care. And, we are enthusiastic partners in getting to that goal.
That's why we invited two experts on Continuous Quality Improvement, or CQI, and CLASS® to speak at a recent webinar: Dr. Darlene Estes-Del Re, Senior Director of Strategic Partnerships at Teachstone, and Melody Hobbs, District Preschool Program Director and Teacher at Lenoir City Schools. Both have a background in Tennessee early childhood, where CLASS is used to help teachers, programs, and state decision-makers focus, measure, and improve on what matters most for young children. Here's what they had to say about CQI and CLASS:
CLASS improves teaching quality.
Imagine someone dropped you into a great classroom, with an incredible teacher and outstanding child outcomes. How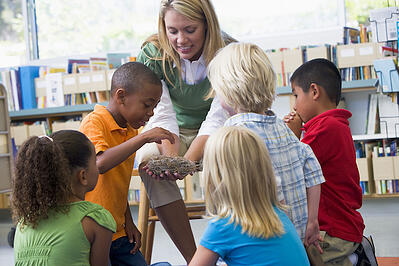 would you know it was wonderful? Would it be the curriculum they were using, or the materials on the walls? While those may be helpful hints, what you'd probably actually look is the way teachers are interacting with their students.
That's what CLASS measures. It looks at the "how" of teaching, rather than the "what." Responsive, sensitive relationships; structured, well-managed days; and challenging, language-rich interactions and activities lead to meaningful growth. As one educator put it:
Very seldom does anyone get granular enough to help [teachers] understand the immediate action they can take to transform what's happening in their classroom. CLASS does that.
When educators, coaches, and leaders are aligned around what quality teaching looks, sounds, and feels like, they're able to take teaching from good to great. As Darlene put it: CLASS is a single focus, with a big impact.
CLASS is a natural fit for Continuous Quality Improvement.
When Darlene asked participants how they would describe CQI, they suggested:
A culture of learning
Connected to everything teachers are doing
Ongoing

Data-driven
Systematic
Cyclical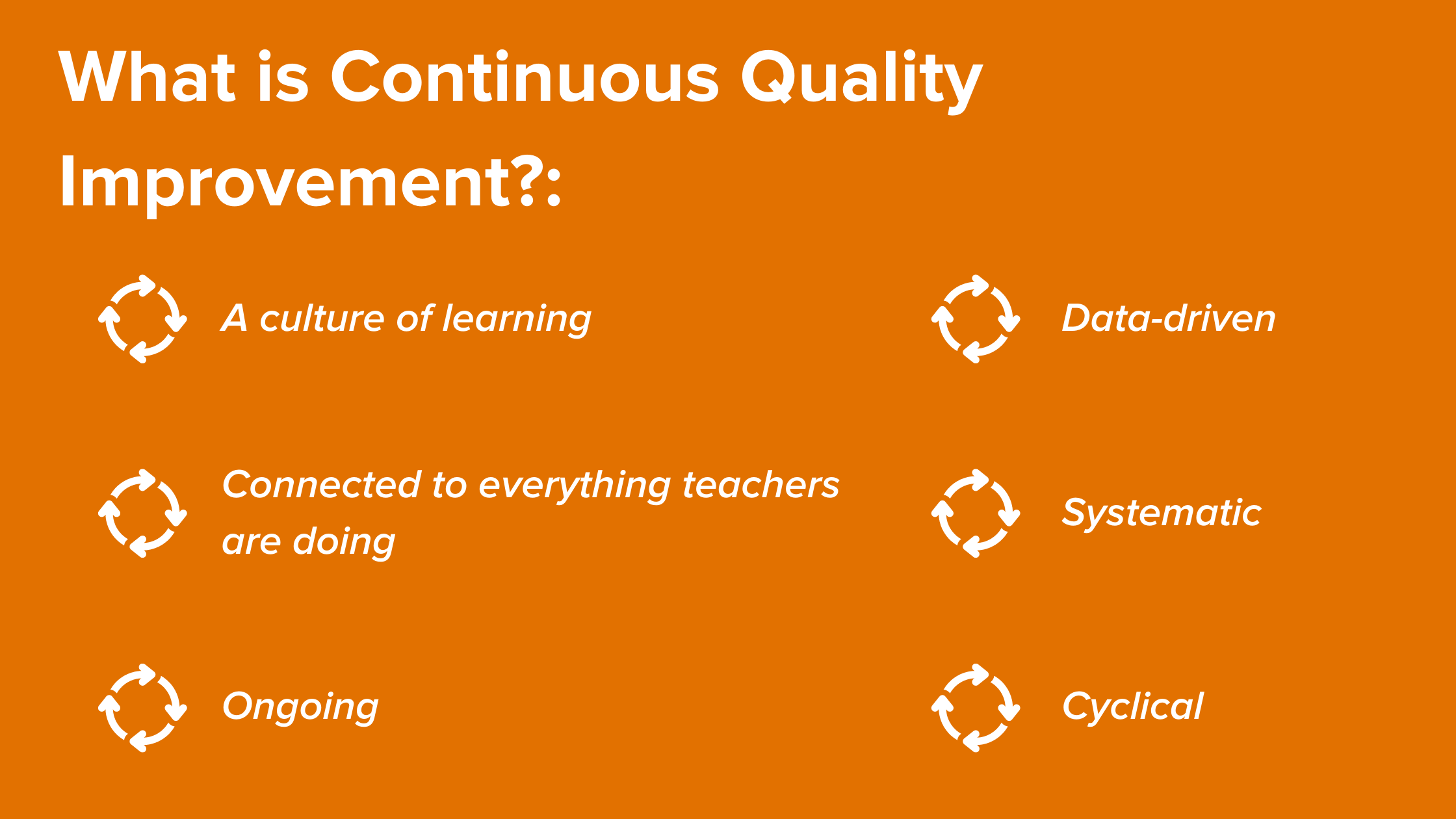 All of those – and more! – are characteristics of continuous quality improvement. CQI is the intersection of accountability and improvement. Equity – ensuring high-quality experiences for all children by meeting them where they are – is at the heart of the ongoing cycle of planning, doing, studying, and acting. These changes are supported through formal and informal data collection.

CLASS supports teachers, programs, and systems with all stages of the CQI process. At the "Plan" stage, it's important to see how CLASS fits in – and actually, strongly supports – existing initiatives and curriculum. When programs are ready to "Do" CLASS, the Video Library can help educators see great teaching in action, and observations can collect the data that informs your understanding of current practices in classrooms and across programs. To "Study," tools like myTeachstone can help dig into the data. And to "Act," teachers and programs can further knowledge and implementation of effective interactions through training, resources, and professional development.

Whatever stage your program is in, CLASS can support you along the cycles of continuous quality improvement. CLASS helps data and improvement work in an integrated way, rather than in isolation. As Darlene put it, "Having the tools and resources is just as important as having the data."
CQI is practiced effectively across systems.
For Melody, using CLASS to support continuous quality improvement at the district level helped give a clear and necessary focus. She pointed out that early childhood spaces are messy, not just because of the materials used or the environments, or the noise level, or the back-and-forth activity. The way that effective instruction happens in early childhood is less didactic, more adaptive and hands-on. Teachers with wildly different styles can be equally effective.
CLASS helped Melody's district – from teachers to administrators – understand the common threads of high-quality classrooms. With this shared understanding, teachers felt empowered to identify ways to make change and use data to target their improvements.
Melody explained how impactful CLASS has become for continuous quality improvement: "I can't say enough about teacher agency and how CLASS can help elevate teachers in making in-the-moment classroom decisions as well as provoke them to want to know more about certain areas of their practice that they can come to know and to grow further. It's a totally different mindset than a top-down kind of structure."
For Darlene, in her former role as Assistant Commissioner for Early Learning with the Tennessee Department of Education, she saw the challenge of evaluating with CLASS as an opportunity to better support programs.
Program evaluators became certified CLASS observers, and when they visited early learning sites, they didn't just engage in monitoring – they also became a source of quality support for programs. From classrooms to the state department of education, all of the stakeholders within the system talk and look at quality the same way and target meaningful change. Teachers specifically learned about their strengths and areas of growth, with clear action steps to make change. Schools and centers knew how to support these changes across their teaching staff. And Darlene's team at the state level could differentiate their support and allocate resources for training, professional development, and building local capacity.
Whether you're hoping to improve in one classroom or one thousand, the cycles of continuous improvement supported by CLASS can help make meaningful change. Watch the full webinar, and learn more about how Teachstone can help you focus, measure, and improve on what matters most.