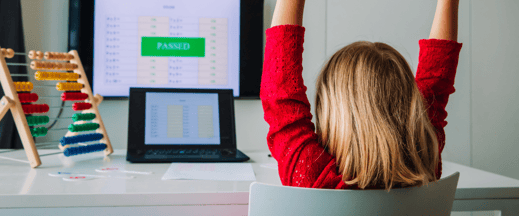 Jess Pablo is an early childhood coach and grade level chair at The Primary School, a non-profit school in East Palo Alto, California, that serves children aged pre-K through grade 3, bringing together education, health, and family support services to support children's holistic growth. Below are some of the ideas, concerns, and suggestions she shared as her program resumes this year in a mostly virtual learning environment.
What does school look like this year?
For our ECE families, we offered several choices.
Go fully remote for the school year.
Hold your child's spot until next year.
Join a playgroup that meets twice a week for two hours, so that your child can build a relationship with their teacher in person, and then shift to fully remote learning on week four or week five
We're also offering a pilot class for children whose parents are unable to stay home with them during the day. We have three teachers working with five students in the ECE program, as well as a few older students. The teachers help the older children set up their iPads and log in to their work, and then monitor them throughout the day.
Each of our virtual classrooms has roughly 16 students with two teachers, so often the head teacher will take ten children and the associate will take the other six.
Last year was the first year we had the whole school using CLASS, so we all received coaching and training on how to support children and strengthen interactions in each dimension. Prior to that, only half the school used CLASS. Adopting CLASS gave us all something to focus on and grow into. We're proud that one of our strengths as a school is our teacher-child interactions.
Strategies to engage students and families
Planning and Consistency
It was really helpful to have time over the summer to plan ahead, so that now we can provide children and families with consistent expectations. This year, everyone is logging on to school at nine o'clock. We have more uniform expectations for families as well.
We also supply home kits. When we started, we asked our families what would be most helpful, and they asked for packets. So we've sent home some packets, as well as gross motor, fine motor, social-emotional, and literacy activities. Each day, children can complete one page in the packet and do one activity in the home kit.
It's good to plan for whole group, small group, and individualized instruction. Teachers should set up a time to meet with each child at least once a week, even if the meeting is virtual. If a teacher notices that a child needs a little more support, they should have this meeting twice a week instead.
Offer a range of supports for families
Every family in the program is assigned a family coach. The coach helps them access resources and work through whatever challenges they may have going on in their lives, from needing food or shelter to just needing someone to talk to when they feel like there's too much going on. That way, it's not just the children receiving services, but also the families. The family coach can model adult-child interactions for families, answering questions like "How do I talk to my child? How do I sing to them? How do I read to them?"
If a child isn't engaging in learning, the family coach will also be able to provide support. They'll be able to ask, "What do you need, Mom and Dad, so that your child can come to school?"
We've also offered online office hours. Parents often log on during these office hours to share what's working well and bounce ideas off each other.
Continue to focus on the school community
We've always been big on not only our classroom families but also our school families. Before COVID-19, we often had school assemblies and explored places like the office and the kitchen to show the students that we're all in this together. This is our community. So our returning students already understood what it meant to be a part of this community. For our new students, starting the year off on the playground has allowed us to introduce the school, the staff, and the teachers and begin building that sense of community.
We're remote, and it's hard. It's so hard! But I think we all have that same passion. So we've just channeled it into remote learning and making the best of what we have. And we lean on each other, too.