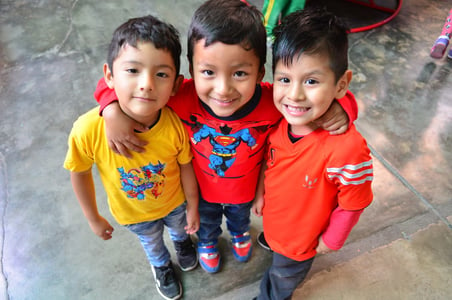 With the introduction of CLASS® 2nd Edition, Teachstone's commitment to support interactions at the heart of all quality early childhood experiences remains steadfast. At the same time, in order to provide positive interactions, we recognize that a stable foundation is necessary for all early childhood programs. In 2023, early childhood programs face mounting challenges due to workforce shortages, teacher burnout, and inequitable access for children and families.
Amid these hurdles, momentum has been built to strengthen early childhood's foundation. Congress, state legislatures, and local communities are having important conversations on what investments and strategic policies are needed. It is important for professionals in the field to know where to act.
In the U.S., early learning is structured as a public-private partnership. The largest collective source of funding for early learning comes from fees charged directly to parents. Yet, the government also contributes funding to support access to high-quality early learning settings.
The following public resources serve as the basis for the nation's early childhood system — and as the levers to improve and increase opportunities for early learning programs to thrive.
CCDBG

The Child Care and Development Block Grant of 2014 (CCDBG) sends money from the federal level to states—approximately $6.2 billion as of the FY22 federal budget—to enable low-income working families to afford child care. CCDBG was initially created to support working parents, but more recently changes have occurred that connect this funding source to improving the quality of early childhood programs as well.
CCDBG is a block grant, meaning the federal government sets minimum requirements in order for states to receive the funding. These requirements include annual health and safety inspections, minimum health and safety training, and background checks for early childhood professionals. States must provide their matching funding to receive, or draw down, CCDBG federal funding.
Once funding is in place at the state level, state leaders have discretion to further shape the policies that say how CCDBG funding is used to reach a state's goals for children and families. For instance, within CCDBG, state leaders set income thresholds for families who receive a child care subsidy, measures of quality, professional development offerings, and the method to assure health and safety standards.
Head Start

The Head Start Act of 2007 is the law that sets the parameters for Head Start and Early Head Start, a federal-to-local community program which provides funding for early learning classrooms and in-home support services. Local agencies receive funding directly from the federal government to operate as a Head Start program which serves preschool age children or an Early Head Start program which serves infants and toddlers. These programs must follow a comprehensive set of Performance Standards that assure high quality. In FY22, Head Start was funded for a total of $11 billion.
Many Head Start programs offer center-based services where 3-5 year-old children attend a preschool. In some communities, Head Start may operate as a home-based program where trained home visitors bring the Head Start program to families in their homes. The Head Start Act also requires states to establish a Head Start State Collaboration Office to support coordination efforts across state regional Head Start grantees.
In addition to the programs funded through the Head Start Act, the Early Head Start-Child Care Partnerships Program provides funding to provide comprehensive and continuous services to low-income infants, toddlers, and their families. EHS-CCP enhances developmental services and supports for low-income infants and toddlers, and their families, by providing strong relationship-based experiences and preparing them for the transition into Head Start and pre-kindergarten.
State and Local Pre-Kindergarten

States and local municipalities also invest in early childhood, most prominently through pre-kindergarten programs for 3 and 4-year-olds. In 2021, 44 states and Washington D.C. funded preschool programs.
State implemented pre-k programs provide early learning classrooms in a variety of settings. Some states support pre-k in elementary schools, while others support a mixed delivery system that allows community-based child care providers, Head Start programs, and school districts to provide pre-k to families.
As states fund these programs, state leaders set policies that guide pre-k program quality and eligibility thresholds for qualifying families. Three states—Florida, Oklahoma, and Vermont—and Washington D.C. offer pre-k to all 4-year-olds, while several other states have mechanisms to offer universal pre-k but do not have full funding for all families to participate.
Within the various structures of funding early childhood is the opportunity to influence the changes necessary to create an equitable foundation for all children, families, and communities. Understanding who makes the decisions at each level of government, and joining the policy table as conversations continue, can drive reflective policies that better meet the needs of early childhood programs.