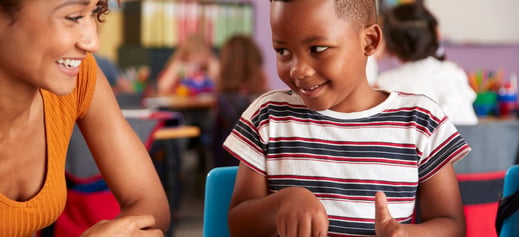 We know positive relationships are important, but factors such as absenteeism, racial or cultural differences, and other biases can make it difficult for teachers to form those meaningful relationships with every child in their class. And, after a tumultuous 2020-2021 school year, teachers and students alike may need stronger relationships more than ever before.
Connecting with every child can be difficult, but it doesn't have to be.
With Teachstone's newest offering, Banking Time: Investing in Relationships, teachers learn evidence-based strategies proven to form stronger relationships that can positively impact children's development and learning.
Making a powerful intervention, easier than ever.
The concept of "Banking Time" is a known strategy that helps repair or nurture relationships. And now, Banking Time: Investing in Relationships makes implementing this evidence-based strategy easier than ever.
Available as an online or facilitated training, Banking Time: Investing in Relationships:
introduces educators to the evidence-based strategy for birth-third grade classrooms
gives the knowledge and the tools needed to implement the strategy effectively
provides access to a Teacher Manual and Planning Resources
includes a Banking Time Video Library to show strategies in action, in real classrooms
As we look to welcome children into new classrooms (or virtually) this fall, it's a crucial time to form a connection with every child. Teachers will feel supported to nurture stronger, more equitable relationships after taking this training. Positive relationships are effective.
In fact, positive teacher-child relationships can:
Help educators feel more fulfilled and empowered
Decrease behavioral and discipline referrals
Increase children's success in the classroom and beyond

The impact those outcomes deliver are powerful. And, they may just be the key to driving a more successful school year.
Originally published August 19, 2021