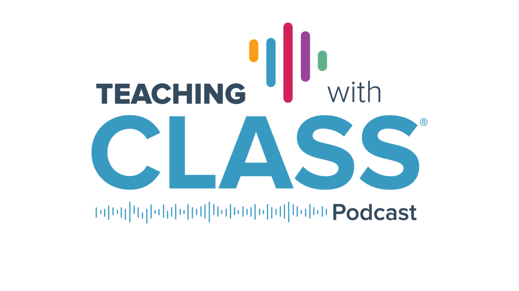 As an educator, you're busy. Your time is being split by competing priorities, from managing students' needs, meeting your program's goals, and communicating with parents. While you're juggling your work, it can be difficult to keep learning about important ways to improve your daily teaching practice. Teachstone is here to help!
Listen to Teaching with CLASS®
Teachstone is proud to announce the return of Teaching with CLASS®, the podcast that explores topics that are important to you while giving tactical strategies you can implement right away in your classroom. And I'm your host, Mamie Morrow!
With over twenty years in the field of education — as a preschool to secondary teacher and as a coach — I will use my perspective to interview inspiring guests with real classroom experience and ask for their best tips and tricks.

Each episode probes topics selected to help you deepen your connections with children and enhance their social, emotional and cognitive development. We're keeping conversations short and sweet because we know you're strapped for time. Episodes won't be more than 25 minutes. There are already two new episodes!
Episode 1: Reframing "Challenging" Behavior and Why Our Response Matters
Guiding positive behavior is a learning process for young children as their brains are growing and developing the ability to regulate behavior, emotions and manage impulses. Creating safe, warm and supportive environments motivate children to learn and practice positive behaviors when adults are responsive and consistent. As a specialist in early education with six years of experience as a CLASS coach, Michelle Galindo has supported many educators in classrooms with infants, toddlers and preschool children with positive behavior strategies.

In this episode, Michelle shares her three tips to help you with behavior management in the classroom:
Model Composure to support self regulation
Create a safe space to release strong emotions
Acknowledge feelings while stating a boundary



Episode 2: Keeping Families Engaged in the Early Childhood Years
Many programs struggle with family engagement—particularly with engaging families in helping children with reading and homework at home. Educators may sometimes live in fear of complaints from caregivers and that can lead to a lack of trust between teachers and caregivers. In this episode, we speak with Heather Sason, an early childhood professional who's been supporting families since she was 15. Now, she has a child of her own and a community-based playroom where families and children are invited to play and interact with other families. Heather is passionate about the topic of family engagement and will share some tips that educators can use to keep families involved in their children's learning.

Here are some tips that Heather shared on how teachers can develop relationships and build trust with families, both in remote learning and in-person settings:
Teachers should be themselves! Showing your true self as a teacher, will make parents/caregivers feel more at ease.
Bank time with the parents to build those relationships. This helps tremendously, especially at conference time.
In remote settings, take the time to schedule virtual parent/caregiver gatherings every few months. Let them talk and get to know one another, and you better.


Need More?
Let us know what topics you'd like to hear on the podcast. Send us an email at interactions@teachstone.com.

And, after each episode, you can continue the conversation in the CLASS Learning Community. Share your own strategies or learn from other teachers and coaches who are focused on what matters most: meaningful interactions.

I hope you'll join me on this journey. Subscribe today on Apple Podcasts, Spotify, or wherever you listen to your favorite podcasts.