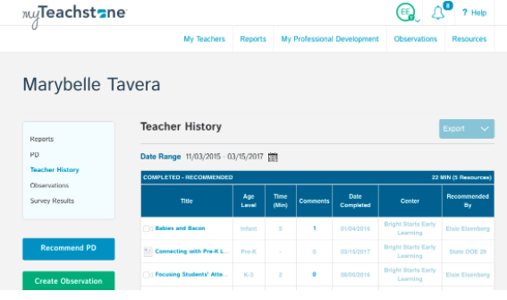 It's been a while since we shared what's new in myTeachstone here on the blog. You're in for a treat! Here are a few highlights from the past winter!
Have you ever wanted to see a breakdown of Professional Development (PD) resources for your teachers?
The Teacher History page lists each PD resource your teachers have completed as well as resources not yet completed. The lists include: Completed Recommended, Completed Self Study, and Not Completed Recommended. You can also track teacher engagement by viewing the comment count on each resource. This page is accessible to coaches and admins from the left menu when viewing a teacher. All users (including teachers) can also access their own PD history through the My Professional Development page.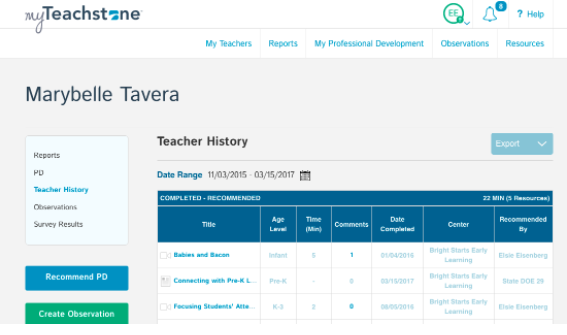 Have you ever had trouble finding an Observation in myTeachstone now that you have many observations entered into the system?
We are excited to share that you can now search and filter for Observations! You can search for Observers, Teachers, Classrooms or Centers. You can Filter Observations by date, observation type, age level, observer, teacher, or by organization level.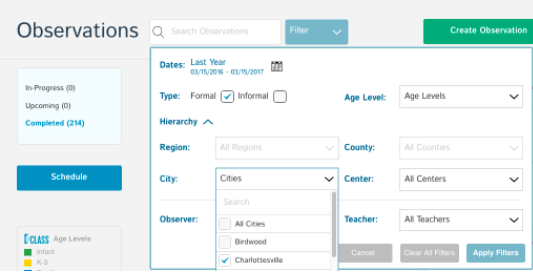 Bonus: The search area will give you suggestions as you type!
Recommending to Teacher Groups just got easier!
Great news! You can now recommend resources to teacher groups the same way you make recommendations to individual teachers. No need to go through the Teacher Group page to send a recommendation to the group, just select the teacher group when creating a recommendation through the Resource Library!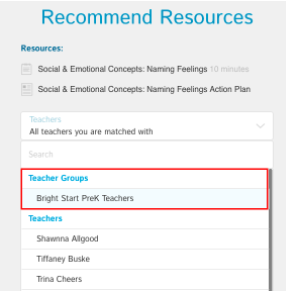 Welcome to the commenting game, Admins!
Admins can now choose to start a conversation when recommending resources to teachers OR coaches! Click the check box when sending a PD Recommendation to enable commenting!


Did you know that all of these updates were made in response to client feedback? The products team is always listening! If you have a feature that you would like to see in myTeachstone, add a comment below and we will do our best to make your wishes come true!