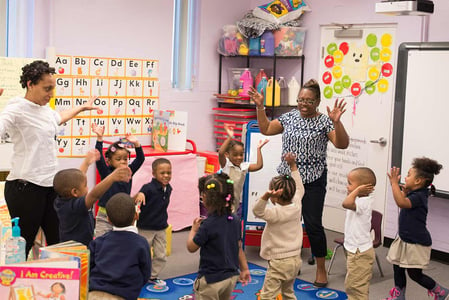 Summer is winding down, and every teacher has plans in the works as they look forward to the new school year. Whether you work in a public school, private school, or a child care facility, it's time to make some plans to get your classrooms ready!
While we focus on the all-important interpersonal interactions that build relationships with our children, we need to think carefully and intentionally about how the classroom setup allows us the time to interact. We need to plan our days so that our kids have consistency, know the routine, and feel free to explore their curiosities.
Setting Up Your Classroom
Let's take a look at a few things to consider. Remember, your classroom sends a message to children.
A child wants to know: "Do I belong here?" "Am I safe here?" "Is it okay to ask for help?" "Is this a place where my concerns and needs are noted and responded to?" "Will there be fun things to do?" "Will I make friends?"
A classroom that has inviting spaces, interesting and accessible materials, and provides TIME to explore sets the stage for all those wonderful teachable moments that make our day! A classroom that has a predictable flow, a warm and nurturing place where a child can choose how and where they play, or maybe has a place to find some quiet space does much to create opportunities to connect with their classmates and their teacher.
Classroom Setup Checklist
I've compiled a quick classroom setup checklist you can use while arranging your classroom this fall. If you need examples of classroom setups or materials you can use to promote different types of skills, the Teachstone Pinterest boards are a great resource to browse through.
Classroom Setup
Are the areas of the classroom clearly defined?
Can the teacher see all of the children at all times?
Is the classroom warm and inviting?
Classroom Materials
Are the classroom materials interesting to the children?
Do they encourage open-ended play?
Are there sufficient classroom materials for the children's play?
Do the classroom materials promote different types of skills?
Classroom Schedule
Is the classroom schedule predictable?
Is it posted so all children can see it? (ideally with pictures)
Is there a balance of teacher and child-led activities?
Does the classroom schedule take into account the developmental need of the children?
If you need help planning your classroom setup, check out our webinar, Ready for School? Setting Up Your Classroom for Success. We discuss how the classroom materials teachers select, the setup of a classroom, and a daily classroom schedule work together to provide a foundation for great instruction that promotes social and academic outcomes for children.
Originally published August 7, 2019