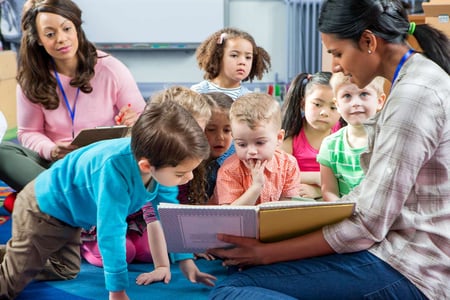 Most parents, teachers, and children would agree—there is something special about story time. I can recall the thrill I felt at seven years old, sitting on the primary-colored carpet of my elementary school's library, listening intently as the school librarian read us The Widow's Broom or Alexander and the Terrible, Horrible, No Good, Very Bad Day. Some of my fondest memories include my mom reading me passages from The Secret Garden before bedtime, or my dad curling up on the couch with me to read Tales of a Fourth Grade Nothing, or my absolute favorite, Curious George.
For me, the best part about reading books was being able to relate to the characters—and it still is to this day! When my parent or teacher made a direct connection between the book and my own life, the conflicts in the stories became real to me. I felt deeper empathy for the characters and imagined what I might do in similar circumstances. Now that I have been studying the CLASS tool for several years, I've realized that what I loved about reading as a child was aligned with interactions related to the Concept Development dimension—connections to the real world.
Creating Connections to the Real World through Stories
Concept Development can be a tough dimension for teachers to build in to their day; it involves providing children opportunities for higher-order thinking. It may sound daunting, but the good news is that reading stories to children almost consistently affords teachers opportunities to help children connect concepts from books to their own lives. To make learning come alive for children, teachers can plan questions that encourage children to connect concepts from the story to their world. Almost every book contains a central conflict or concept for children to consider in their own lives.
Encouraging Children to Make Connections
Here are some questions you can ask to get children to make these important connections:
How would you feel if this happened to you?
Has anything like this ever happened in your life? What did you do?
If this happened in school, what would you do about it?
How do you think the character feels? Tell me about a time you felt that way.
Have you ever been to a place like this? What was it like?
Making real-world connections is important. Not just because it is an indicator of Concept Development, but also because it can help foster a love of learning for years to come. I'm living proof of it!
How do you make learning come alive for children? Share your experiences and tips below!