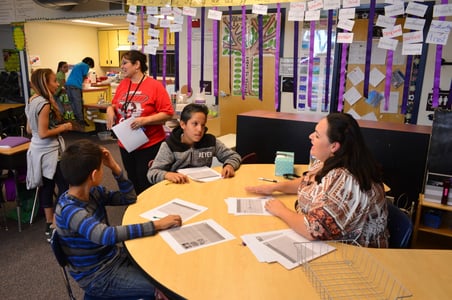 Charlottesville, VA - Teachstone, a leader in the field of classroom observation and professional development, is proud to announce a new partnership with Teach For America (TFA) to enhance coaching supports and educator-child interactions. TFA will be using Teachstone's Classroom Assessment Scoring System (CLASS®) tool to prepare coaching staff to reliably and accurately observe and collect data across diverse classroom settings. As part of this partnership, 120 coaches will be trained, who collectively support 4,000 teachers who work in high-need schools.
Teachstone's mission is to help every child reach their full potential by measuring and improving the interactions that matter most, with the vision of ensuring that everyone experiences life-changing teaching.
For over 30 years, TFA has worked to recruit and develop teachers and leaders across the country. TFA is committed to pursuing their goal that by 2030, twice as many children in communities where they work will reach key educational milestones indicating that they are on a path to economic mobility and a future filled with possibility.
By using CLASS, TFA will have a new, research based tool to help them as they work to improve outcomes for children and communities. CLASS allows educators to focus on, measure and improve the classroom interactions that have been proven to support children developing in literacy, math, and social-emotional learning. The tool works across diverse settings and populations and helps teachers be more intentional in how they interact with students, enabling them to build stronger relationships and respond appropriately to each student, closing gaps in learning outcomes.
TFA will use CLASS data as steering metrics to: (1) Support corps members in their instructional development and provide customized supports based on rigorous data, identify corps members who are struggling and need intensive supports or interventions, (2) drive continuous improvement of program, policy, and/or practices, and (3) inform strategic decisions at the local and national levels.
And, finally, as a result of this partnership, TFA will have year-over-year data from thousands of classrooms enrolling historically marginalized students across the country. This is an unprecedented amount of data that will be used to improve practice and inform the broader field.
"We are excited to expand our impact by partnering with Teach For America," said Bridget Hamre, CEO of Teachstone. "Our organizations share a commitment to ensuring that each and every child has a meaningful and equitable education. We are excited to learn alongside TFA as we seek to understand how to create meaningful change in children's daily classroom experiences at a very large scale."
"Teach For America's partnership with Teachstone puts us on a path to train our teachers to use rigorous data to improve the quality of interactions students are having in classrooms. " said Noemi Wierwille, Teach For America's Chief Learning Officer. "By making meaning of the data, identifying areas for improvement, and building the skills to continuously evolve their practice, our teachers can maximize student learning and development. With thousands of classrooms in our network using CLASS, we can contribute important insights to the field and ensure more educators can foster dynamic and inclusive learning environments, especially early in their careers."
About Teachstone
Teachstone is a leader in the field of education from birth to 12th grade. Its CLASS tool measures and improves interactions between teachers and students, with the vision of ensuring that everyone experiences life-changing teaching. For more information, please visit teachstone.com.
About Teach For America
Teach For America is a national nonprofit organization that recruits and develops a diverse network of leaders committed to expanding educational opportunity. Its goal is that one day, all children in the United States will have the opportunity to attain an excellent education. For more information, please visit teachforamerica.org.