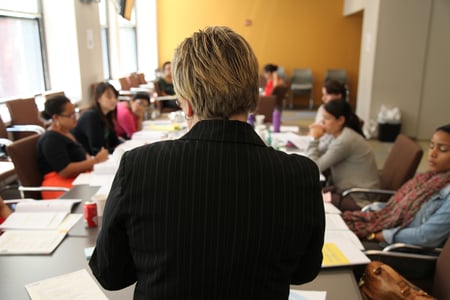 Ok my Affiliate Trainer friends, remember when I closed out the trainer panel on the final day of training and sent you off into the wild to begin conducting observation trainings? You were totally comfortable and prepared, right?
Ha.
Even if you nailed all of your video facilitations and are completely immersed in CLASS and the language of the Manual, conducting your first observation training is, well, terrifying. Not only will you have up to 17 trainees looking to you to keep them engaged over two full days, you will be responsible for making sure they get reliable.
Gulp.
All of a sudden, you can't remember which facilitator guide is which, where you put your Master Code Justifications, or how to use the pacing guide. Oh, and the projector is suddenly broken. You are a nervous wreck.
Too dramatic? Maybe. But I remember my first training and it was no walk in the park. But fret not, each training becomes a little easier and you get better and better each day. To help you on this journey, here are a few reminders and tips as you prepare to conduct your first observation training:
Prepare to introduce yourself and the observation training. You need to send an email around 2 weeks ahead of time.

This is a welcoming gesture, helps them prepare, and allows you to share the agenda, food options, what to bring/wear, etc.

Some of your trainees might have lots of CLASS experience, but others might have been sent by their supervisor with little idea or advance notice and be uncertain about why they are going. Tell your participants a bit about yourself, why you're conducting the training, expectations for the training, and remind them that they are there to help support teachers to help children. Setting some context will make the two days more meaningful for them and more interesting for you.
Review the pacing guide. Time is not your friend. You want to plot out how long you think each activity will take you and make sure you plan accordingly.

Have a back-up plan. Where can you make up time if you're running behind? On a related note, buy a small clock that you can see if you walk around while you present. It's easy to lose track of time and the worst thing you can do is go past time.
Read the Manual, read the Manual, read the Manual. Don't forget to include the Introduction that is packed with good stuff. 'Nuff said.
Review the Master Code Justifications. Highlight what you want to talk about. Teachstone's Master Coding teams take their responsibilities very seriously and the justifications contain a lot of very good information, so refer back to the Master Code Justifications often

.

Your participants need to know that what you preach is something you believe in, but more important, it's sanctioned by the powers that be.
Get comfortable using your trainer panel.

There's a lot of valuable information here, but it can also be overwhelming.

There's a video that shows you how to register your trainings, as well as other information that will help you as a trainer. Go exploring!

Questions? Reach out to contact@teachstone.com.
Leave yourself 6 weeks to plan out your training.You'll need this time to find space and arrange logistics, order materials, and collect participant information.
Review the PowerPoint slides.

During our Train-the-Trainer program, we reviewed some of the slides and activities, but you'll definitely want to go back, practice delivering them, and make sure that you align your preparations with the pacing guide so you don't run out of time.
Still feel a little shaky? Check out Teachstone's Affiliate Trainer Blog, which is full of nuggets of helpful information and suggestions.

You can access the blog via your Affiliate Trainer Panel. You can also join our Facebook group for Affiliates to connect with other trainers and share challenges and how you've overcome them.
Remember why you're doing this training in the first place. With the logistics and nerves, it's easy to lose track of the true meaning behind CLASS trainings: driving outcomes for kids.

That's our shared mission and we are here to help. Share your comments, tips and questions below. Together, we'll host some amazing trainings and continue impacting the quality of our early childhood programs!


Remind your participants, and yourself, that the reason we have a system of reliability is not to drive everyone crazy with test anxiety, but to honor the teachers and the children who are allowing us into their classrooms. They deserve to have competent reliable observers who are using the tool right and scoring correctly.