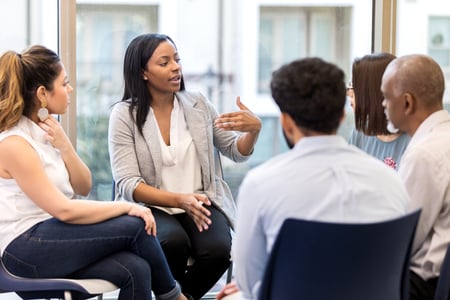 Given the context of today's educational landscape, the global pandemic we are still fighting, and the divides our country is facing, strong leadership is essential. There is a clear need to restabilize and improve education for every child, and every educator. But, what does that mean exactly for educational leaders who are leading the way?
A Charge for Strong Leadership in Early Childhood and Beyond Requires:
A focus on enriching socio-emotional and academic learning opportunities during the formative years that are consistently nurtured beyond early childhood
Early learning experiences shape student achievement across an academic career. This is especially true for literacy, which has a window of development in the first five years of life, after which it becomes difficult to remediate the skills that develop through intentional fostering in young children. For this reason, it is imperative that young students have the most enriching socio-emotional and academic learning opportunities in their formative years. And, it is the charge of school administrators to lead and ensure this aim is achieved.

To realize all of these gains, however, this commitment to developmentally appropriate, rigorous, and warm instruction must extend beyond pre-K. The CLASS® tool takes the full range of children's educational experiences into account - from birth to 12th grade - because research makes clear that this is necessary for students to thrive. All learning is rooted in the relationships between learners and educators, and it is critical for leaders to prioritize relationships at every level.
A focus on administrators being instructional leaders rather than school operations managers
Educators are consumed with the day-to-day logistics of teaching and caring for children. To take on the life-changing work of more intentional interactions, schools must have leaders who are cognizant of what is needed in the classroom and develop systems that support teachers. Thus, it is crucial to provide ongoing professional development opportunities that allow school leaders and teachers alike to fully understand what good instruction looks like in practice.
Examples of sound professional development for school leaders at the district-wide level exist across the country. With a focus on SEL and recognizing the importance of relationships between teachers and students, Dallas ISD has prioritized alignment for pre-K through second grade. After engaging in cycles of data collection and analysis, the district realized that school leaders needed more resources to better support their pre-K - 2 staff. By deliberately correcting course and supporting leadership with CLASS-focused professional development, Dallas ISD has better equipped its school leaders to build capacity at the local level to meet the needs of the teachers and students they serve.
An adoption of a systematic approach for quality, equity, and improvements
Every child deserves life-changing teachers. However, this does not happen by chance. State and district leaders must be intentional when it comes to ensuring students are placed in the care of exceptional educators. This is essential given the fact that webs of systems have perpetuated persistent inequality and inequity. Thus, as we rebuild schooling post-pandemic, we must do so with equity at the center.
The core domains of CLASS - emotional support, classroom organization, and instructional support - are evidence-driven and, by definition, individualized for each child. At the same time, they can be scaled up, measured, and improved upon in a systematic way.
Across the country, CLASS is used by local and state agencies for this purpose. In Louisiana, use of CLASS has allowed policymakers, school leaders, teachers, and other stakeholders to norm and calibrate on a shared definition of high-quality instruction. The unified focus on interactions means that families, too, have meaningful, transparent, and accessible information about program quality. With the same data, large-scale decisions, like identifying and prioritizing areas of professional development, can be made by leaders and instructional changes can be made by teachers who know their students best.
A commitment to leveraging external expertise to support and drive efforts
With limited time and resources, practitioners can benefit from the expertise of external professionals. Partners with a shared dedication to social-emotional learning, instructional leadership, and creating equitable systems for continuous quality improvement are essential to the monumental task of building back stronger. Teachstone has been a trusted thought partner to schools, centers, districts, states, policymakers, leaders, and teachers since 2008, with a body of evidence to validate successes. As a certified B Corporation, the team at Teachstone is dedicated to working with stakeholders at all levels to ensure a future where all students succeed to their fullest potential.
Rebuilding towards a future of equity and quality for every child, and every educator requires a collaborative effort. It requires all of us coming together to articulate a vision, execute plans and processes, and adopt systems that will make our long-held dreams a reality.
Join Us in Exploring Ways We Can Work Together to Rebuild Towards That Future
The Future is Now: Using Stimulus Funding to
Drive Equity and Quality

May 6th at 3pm EST

Overcoming Learning Loss with
Effective Interactions

May 19th at 1pm EST