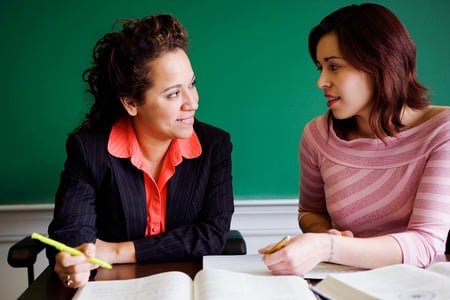 Recently, Teachstone partnered with the National Head Start Association to talk about Why Coaching Matters in a one hour webinar. If you were not able to join us, here are some highlights.
There is no doubt about it, coaching is a complex job, there are many aspects of coaching to take into consideration when planning a visit with a teacher. Everyone seeks to connect with others who share similar experiences, it is what makes us human! What makes coaching matter are the positive, non supervisory relationships established where teachers have the opportunity to work with a coach who understands how complex a day in the classroom can be. When positive relationships are formed, teachers feel less isolated and spend more time reflecting on the children, their classroom, and their own teaching practices.
"Coaching is all about having someone believe in you and encourage you, about getting valuable feedback, about seeing things from new perspectives and setting your sights on new horizons." -

Results Coaching Systems
Strengths Based Approach
One way to begin building a strong coaching relationship with a teacher is by using a strengths based approach. This is a strategy that is used in all of Teachstone's coaching and training programs. Strengths based means looking at what's working and how to do it more often, and with better quality. Alternatively, deficit-based means looking at what is not working and fixing it. When coaches use a strengths based approach, teachers are more motivated to learn, happier in their work, and eager to try new strategies in the classroom. Sticking to a deficit-based model leaves teachers feeling unempowered and demotivated to try different strategies. Building relationships by using a strengths based approach to focus on effective interactions not only helps coaches to create an environment for teachers to feel comfortable trying new things but it also opens the window of opportunity to use parallel process.
Parallel Process
The parallel process is a strategy in which the coach applies CLASS to coach-teacher interactions, just as they are coaching the teachers to do with children. For example, let's say a coach is supporting a teacher in Teacher Sensitivity and their focus is on the indicator of Awareness (being aware of children's individual needs/cues). At the same time, the coach is also aware of the teacher's individual needs and cues for support. When teachers feel understood they are more open to trying new strategies. The parallel process of CLASS-based coaching interactions allows coaches and teacher to build off of their strengths and continue to grow.
The Learning Cycle
We know that coaching jobs are complex and it can sometimes feel challenging to know where to focus improvement efforts. The learning cycle is a way teachers and coaches can focus their work and set goals. Taking the time to learn about new skills and set specific goals helps make meaningful progress, one step at a time.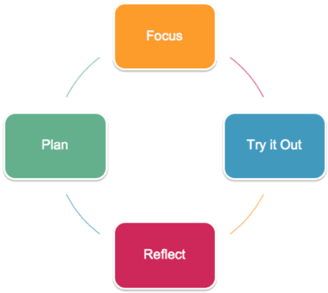 Focus: The dimension or area of focus is established and a plan is created.
Try it out: Teacher tries out the strategies that were created collaboratively with the coach. As the teacher is trying out strategies, this would be a great time for the coach to complete the focused observation.
Reflect: After the teacher tries out the strategies and the observation has been completed, it is time to reflect and share feedback about the teaching practices.
Plan: Collaboratively plan next steps to prompt behavior changes.
The learning cycle builds off of an educator's prior knowledge and may take multiple cycles focused on the same CLASS dimension, topic, or skill for the teacher to reach the desired effectiveness in the classroom.

Do you want to know even more about the strengths based approach, parallel process and the learning cycle and as well as how the learning cycle aligns with Practice Based coaching? Watch the webinar below.