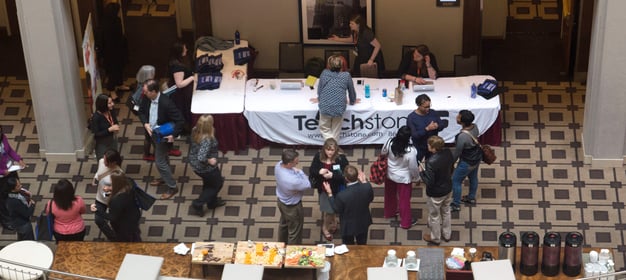 InterAct: A CLASS Summit returns on April 24-25, 2017 to Austin, Texas. For those of who don't know, InterAct is Teachstone's annual CLASS-user summit. It's a place where education leaders can gather to network and discuss the challenges, successes, and stories about using the CLASS tool across the world.
Last year, 185 attendees and Teachstone staff members came together over two days in Chicago. Sessions covered topics such as: Using CLASS with DLLs, The History of Head Start's DRS, and How States Are Focusing their QRIS Work.
"All of the presenters were truly wonderful," one attendee said after the last summit. "I am so thankful for their transparency as they talked about the implementation of CLASS in their communities. I gained a lot of helpful and timely information, not only from the presenters, but also from those who asked questions and shared their experiences."
So why should you present at InterAct2017?
Simple. Everyone benefits by sharing their CLASS stories.
As we, at Teachstone, have been talking to our regional training attendees, our clients, and last year's InterAct attendees, we've learned one thing—we all love hearing from each other.
"Other than learning about the CLASS tool, I would say my favorite part of regional trainings was being able to hear how other people are using the CLASS," said one of our recent trainees.
And at InterAct, attendees not only join, but they also help build the CLASS community. You'll hear how others are researching, observing, and offering professional development on the CLASS. You will be able keep in touch after the summit to get feedback from others familiar with the nuances of improving the quality of classroom interactions.
Finally, as a thank you for sharing your CLASS story, one speaker from each organization will receive free registration. Up to two additional speakers from an organization will be guaranteed early bird pricing of $250. Registration will go up December 31, 2017 to $350 per attendee.
Interested in presenting at the Teachstone conference? Submit your proposal(s) by October 17.
Need help with your submission? Contact our InterAct manager, Meghan See with questions.