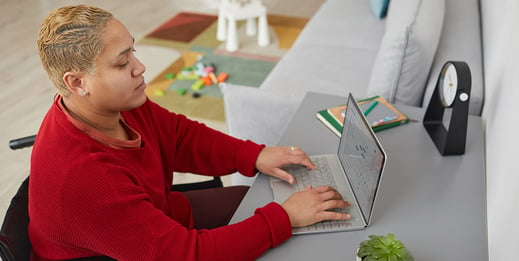 We are invested in making myTeachstone your one-stop-shop for continuous quality improvement (CQI). Most recently, we've made enhancements that will help you collect CLASS® observational data from your classrooms, receive reports that help you better understand your organization's needs, and facilitate professional development that creates lasting impact. And, we are committed to do this all within one platform.
Since our last update on myTeachstone, we've made great progress that we are excited to share.
But before celebrating the latest enhancements, if you aren't familiar with myTeachstone, it is our research-based, all-in-one platform designed to focus, measure, and improve teacher-child interactions—a key factor proven to drive children's academic and life-long success. This platform allows programs to guide and track professional development and support observation and CLASS implementation.
4 myTeachstone Enhancements in 2022
1. We have designed a new data collection tool that makes collecting actionable CLASS data easier than ever.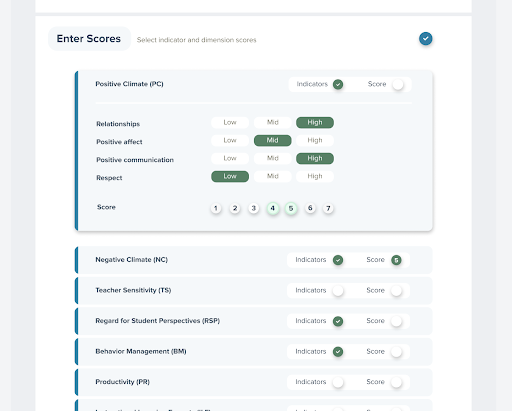 Within this new tool, as data is being entered, the system will alert to possible errors, provide detailed warning messages, and has an updated user interface to make it easier and more efficient to enter CLASS data.
2. We have created new functionality that drives data-informed improvement decisions.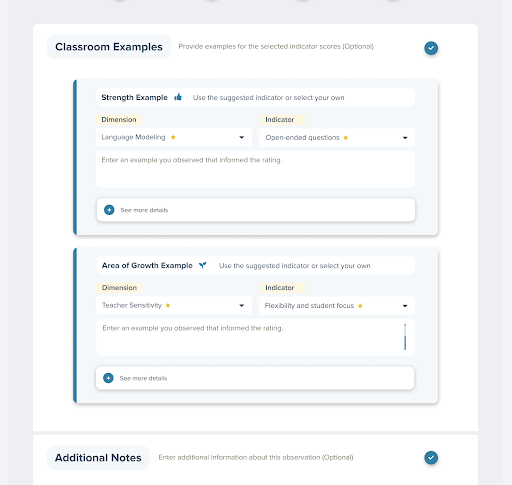 The new data collection tool prompts for data collection at the indicator level, and then uses that data to provide recommended areas of strength and growth. It also includes additional space for observers to add notes with specific feedback about each indicator. Administrators and coaches can now get more value from each observation in their organization.
3. We have improved reporting features and capabilities.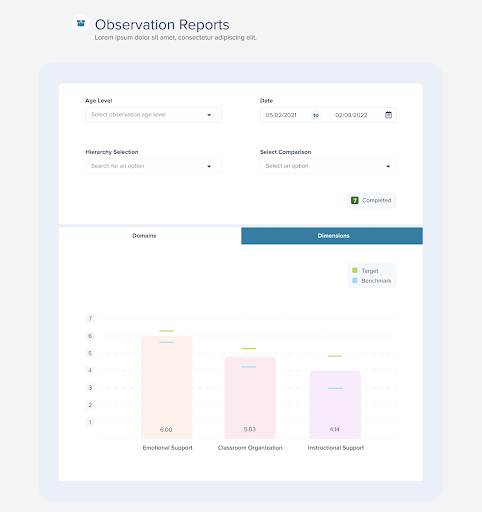 With more robust data, the reporting functionality has been updated to drive actionable data usage. The new CLASS reports will not only provide indicator information about areas of strength and improvement, but also allow for score comparison based on funding streams and program descriptions.
4. We have made sharing CLASS data possible.
Most importantly, our new data collection application also enables CLASS observation scores to be shared with your organization's information system via our API (Application Program Interface). By entering scores in myTeachstone, you can leverage our reporting features and seamlessly transfer data to your accountability system without having to reenter your CLASS scores.
These exciting updates and new features are just the start!

We are committed to making your lives as educators easier by making the tools you rely on faster, simpler and more connected to your network.
We know that your focus needs to be on your program, creating the best educational experience you can provide for your children, and we want to support that goal. We are investing in providing you data-driven insights and making our products easier to use, so that you can make meaningful improvements in your classrooms.
Continue to connect with us in the community and tell us the ways you'd like us to invest in myTeachstone to make CQI implementation easier in your program.