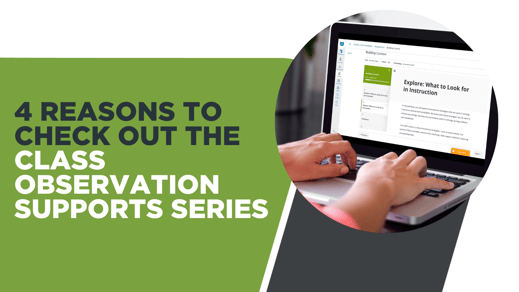 As an observer, leader, or coach, you have a unique opportunity to support high-quality interactions in your program. In order to make a true impact, you need the right tools and training to feel equipped for observing across a diversity of settings.

Our new training series, CLASS Observation Supports, is designed to do just that through focused topics, including:
Reducing Bias
Settings Serving Children with Disabilities
Settings with Dual Language Learners
Here are 4 reasons why CLASS Observation Supports is a must-have for any observer, leader, or coach:
1. They are CLASS® Edition Neutral
Regardless if your program is using CLASS® 2008 or beginning to transition to CLASS® 2nd Edition, the CLASS Observation Supports series is designed to support the ongoing learning of observers, leaders, and coaches. While some of the language may be different, the CLASS tool remains the gold standard for measuring and improving interactions. This series can help build the foundational bridge for moving to CLASS 2nd Edition while sharpening observation skills.
2. They are free for all certified CLASS® observers
That's right, you read that correctly! FREE! The on-demand courses are available at no cost to certified observers and can be accessed through myTeachstone. You can access them by doing the following:
Click "Learning Hub" located under My Professional Development
Select the course you want to start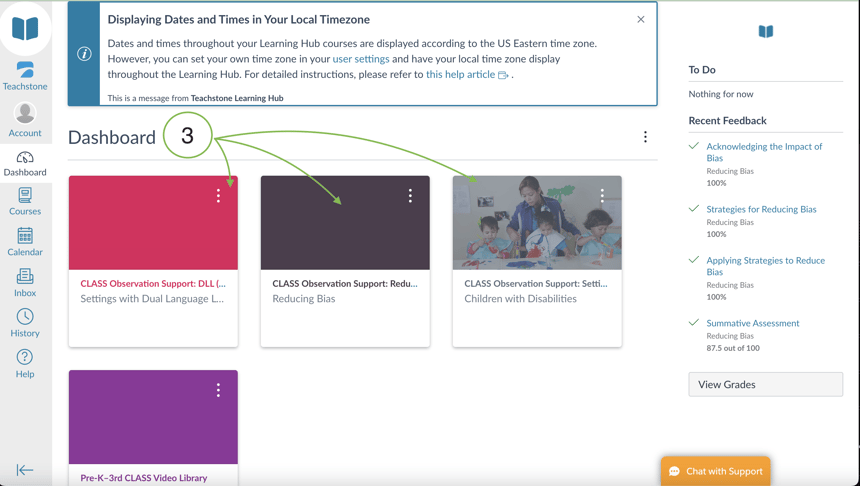 Feeling confident before going into an observation is critical, and these courses help grow an observer's skills and knowledge. If you are not a certified observer and still want to learn, you can head to the Teachstone store to purchase and receive 12-month access.
3. They are offered in multiple learning formats
CLASS Observation Supports are offered in two formats; on-demand and live virtual facilitation. Both learning formats provide benefits to meet a busy schedule and learning needs. The on-demand courses are perfect for someone with a busy schedule who may need to take a break in their learning and come back at a later time. There is no need to manage the logistics of setting up a time and place for observers, as learners can access from any device that can connect to the internet.
If you are an observer, leader, or coach looking for more in-depth, focused learning, consider a live virtual training with a Teachstone CLASS® Specialist. Live virtual trainings allow participants to ask questions and hear thoughts from their peers, extending the learning and reflection opportunities.
4. They offer New Focused Content
Learners of CLASS Observation Supports will experience new content not covered in observer trainings. The narrow focus of each course allows learners to reflect thoughtfully on their current practices, discover new strategies, and create a plan to implement their observations. These courses and trainings are the perfect addition to any observer, coach, or leader toolbox.
Are you ready to hone observation skills and make a real impact in your program?

The CLASS Observation Supports series provides everything you need to feel confident observing across a diversity of settings.