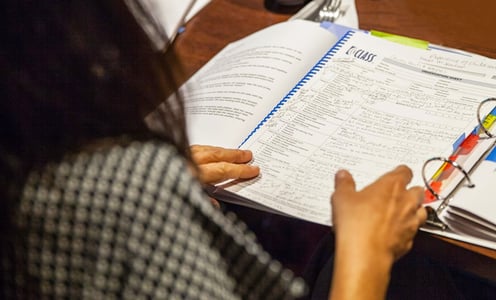 I had to get CLASS certified for my job, but I'm not really doing anything with it. Is there anything else I can do with my certification?
What a great question. It's one I've heard a few times in the field—an observer was asked to get certified to code once, and then she doesn't get another opportunity to use her CLASS skills. The good news is that there are paying opportunities for reliable observers.
Here a few steps you can take toward getting hired to conduct CLASS observations.
Step 1: Add Certified Observer to Your LinkedIn Profile
Help potential recruiters find you. Add your CLASS certification to your LinkedIn profile. To do this, scroll toward the bottom of your profile to the section called "Certifications" and click the "Add certificate" button. A form will appear where you can fill it out like the one below.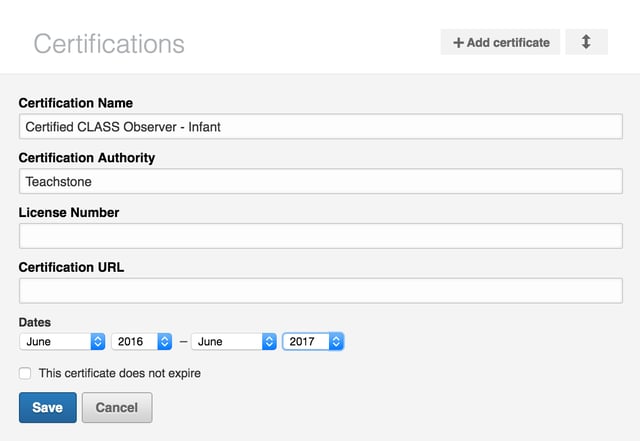 Don't forget to hit Save. Repeat for each age level on which you're certified. Now you can proudly list your certifications for all to see (like the image below).

Step 2: Join the CLASS Community Facebook Group
While you're on social media, go ahead and join Teachstone's Facebook group, The CLASS Community. Here you'll be able to stay connected with other observers by getting the latest information about CLASS, taking part in discussions on the complexities of the tool, and more. You are even welcome to submit a post explaining that you're looking to conduct more observations in your region. Joining this group is one way to quickly expand your CLASS network.
Step 3: Join the Observer Directory
Teachstone offers a monthly directory to organizations that are looking for CLASS observers. The CLASS Observer Directory includes information like where observers are located, the age levels on which their certified, and any additional languages they speak.
Over 1,200 administrators from around the world use the Directory each month to find observers. Teachstone validates this list and removes any observers who no longer have a valid certification.
Did I mention this tool is free to both join and receive? Observers can add themselves to the directory by filling out a simple form, and administrators who are looking for observers can download the directory on our website.
Step 4: Stay Reliable with CLASS Calibration
If you're trying to do more with your certification, it's important to make sure you're reliable. CLASS Calibration allows you to check yourself between annual recertification tests. After purchasing Calibration from your myCLASS account, you'll get access to a classroom video. Once you submit your scores, you'll be able to see how you did against the master codes with an individualized score report (similar to the example below). You can then watch a prerecorded webinar that discusses the master codes and justifications for each dimension.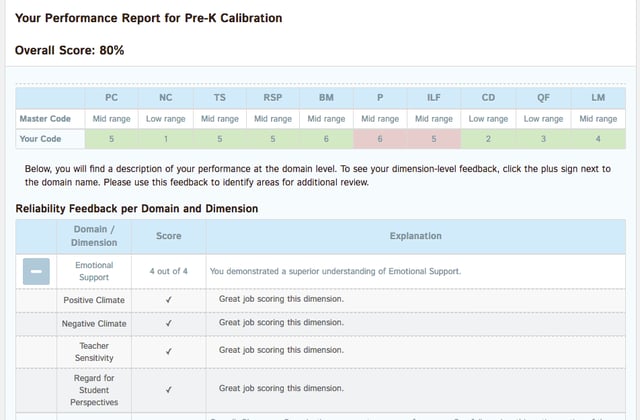 So, there you have it. Take those four steps toward getting hired to conduct CLASS observations and put your certification to use! Have you been hired to conduct observations? How did you get hired? What advice would you share with others?