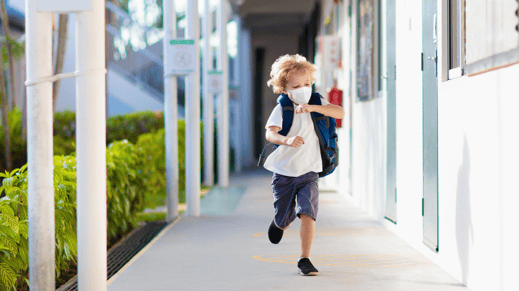 As a classroom teacher, I always viewed the start of a new school year with a lot of excitement and a bit of trepidation. Excitement because I loved meeting a new group of children and looked forward to getting to know them and supporting their learning. Trepidation because I was never quite certain what curveballs might be thrown my way.
This year, the curveball is already in play. All across the country, teachers are gearing up for a kind of year that no one ever anticipated. COVID-19 wreaked havoc on schools in the spring of 2020, and the continued spread of the virus has led many schools to adopt safety precautions that turn some traditional practices upside down. Gone are the days when children cozied up to one another to look at a book side by side or huddled together to brainstorm ideas. Teachers who like to greet every child with a hug or a high five are now finding that they cannot safely do so. These changes have led many to wonder what effective interactions look like when teachers and children are physically distanced.
This post responds to some of the most common questions we've been hearing from members of our CLASS Learning Community on this topic.
1) How can we build relationships with kids when we cannot get close to them?
Teaching under guidelines for maintaining a physical distance presents some practical difficulties. Teachers—especially teachers of younger children—typically maintain a close physical proximity to their students. This allows teachers to monitor work and provide ongoing support. Because infants and toddler are dependent upon adults to have their needs met, their teachers cannot physically distance themselves. However, they will still work to maintain safety protocols in terms of cleanliness and may discourage children from being too close to one another.
While the term social distancing is widely used, it is a bit of a misnomer, because it suggests that we are not building social relationships. The term physical distancing may be more appropriate, because we are maintaining a physical distance as a safety precaution. However, we are still working hard to develop and maintain those very important social relationships that provide the foundation for learning. Below are some ideas about ways teachers can build relationships in socially distanced classrooms:
Before the beginning of school, send pictures or videos of yourself and the classroom so children aren't entering an unfamiliar environment. Include information about what a typical day is likely to look like.

Engage in social conversations, use a warm and calm voice, call children by name, and say things like "please" and "thank you."

Provide virtual affirmations, such as thumbs-up, salutes, air high fives, happy dances, and air hugs.
2) What if we are wearing masks and children can't see us smile?
Show them pictures of yourself without your mask on. Let them see what your face looks like when

you're

Direct them to look at your eyes so they can see how your face changes when you smile.

Young children are learning how to identify emotions in themselves and others. Teachers may want to

direct them to listen to the tone of voices and look for other signs that display emotion. Teachers may also read social stories to help children understand the different ways that people may express their feelings.
3) How can we be sensitive to children's cues if they are wearing masks?
Teachers rely on reading children's facial expressions to gauge their interest and understanding of what's going on in the classroom. Below are some ideas about ways teachers can be sensitive to children's cues:
Teach children how to get the teacher's attention. They can raise their hands up high or use other signals th

at teachers can easily see, such as raising one finger if they have a question, two fingers if they need to go to the bathroom, three fingers to share an idea, etc.

Pay attention to their body language:

Signs that something is amiss include children slumping over in a chair, putting their head on their desks, or isolating themselves from others. Some children may demonstrate these behaviors now more than before—not participating, shoulders hunched forward, and fidgeting with a pencil. These are all ways that children can communicate their feelings.

Encourage younger children to use pictures or charts of feelings.

Privately check in with older students to see how they are feeling.

Create a set of visual cues that represent feelings, actions, and understanding of concepts.
4) How can we support the physical and emotional well-being of students?
Teachers do not want to raise anyone's anxiety, but at the same time, they are responsible for enforcing safety protocols. Teachers can highlight the importance of staying physically safe in the following ways:
Teach younger children how to wear masks and thoroughly wash their hands. Pair hand washing with catchy songs or poems to make it more fun.

Have plastic dolls or wooden animals wear masks to normalize mask wearing.

Provide children with individual bins of materials.

Use plexiglass barriers to divide tables or desks.

Assign class jobs that do not require children to touch group materials.

Provide many sanitation stations and "yuck buckets" for things that need to be cleaned.

Use disposable materials.
5) What about the physical well-being of the teachers?
Have ample personal protective equipment (PPE), including masks, face shields, and gloves.

Stock up on cleaning materials, including hand

sanitizer

and wipes.

Keep a change of clothes at work as a precaution against exposure to bodily fluids.

Learn about your program's protocol for how to respond if a child is sick or someone in the class tests positive.
6) What should we do if children seem scared or anxious?
Teachers have to recognize that some children may feel anxious, while others may have experienced trauma. Teachers can support children's emotional well-being by doing the following:
Maintain an upbeat persona.

Acknowledge and validate children's feelings, yet let them know that you are doing everything you can to keep them safe.

Allow children to take a break when they're feeling overwhelmed.

Let older students write about their feelings and younger students draw pictures.
7) How can we take care of our own emotional well-being?
The past five months have shone a spotlight on the critical importance of teachers—especially those who work with our youngest learners. It is only natural that teachers feel concern for themselves, their families, and the children and families with whom they work. In order to be present and helpful to others, teachers also need to take care of themselves. Some ways teachers can do this are below:
Pay attention to your feelings.

Recognize what is and is not within your control.

Eat, exercise, and maintain contact with friends and colleagues.

Don't try to

be a superhero

teacher; just do your best.

Know when to take a break. If you have a co-teacher or someone else who can step in for a few minutes, work out a signal for letting them know when you need a breather. Sometimes a few minutes in the sunshine can do wonders.
8) How can we help children maintain the appropriate distance?
We want all children to learn to cooperate and play together, and older students often engage in cooperative learning activities. Both of these things are hard to do when students cannot share materials and have to physically distance themselves. Some programs are putting students into small groups that they stay with all day, every day, which can help ease this problem. However, this is not necessarily the norm. Because COVID-19 is less likely to spread outdoors, teachers should consider extended outdoor time, which might consist of more playtime for younger children and distanced instruction for older students. For example, a teacher may set out a blanket that younger students can sit on to draw pictures. Older students may spread out for silent reading and then sit in a physically distanced semicircle to discuss the book. Other ideas include:
Discuss the rules and provide frequent positive reminders.

Use positive reinforcement as feedback for children when they adhere to the rules.

Set up the room to help children maintain their distance:

Place furniture far apart.

Use plexiglass dividers for tables.

Stagger transitions to avoid having all of the children wash their hands at the same time.

Use taped squares or Hula-Hoops to show children where to sit on the floor.

Place dots on the floor to show children where to stand in line.

Space cubbies for younger students around the room so they don't have to be near each other when they need to get something.

Set up the room to help children maintain their distance:

Use visuals such as cue cards, posters, signs, and physical barriers to remind children to physically distance.
9) How can we engage children if we're not close to them, their materials are limited, or they cannot do group projects?
Teachers often use a variety of modalities and materials as well as hands-on activities to engage children. However, restrictions on the types of materials available and limited supplies may make this more difficult. Teachers may engage children in other ways:
Modulate your voice.

Use exaggerated gestures and body language.

Use props and other visuals.

Give each child their own set of materials.

Provide older students with more opportunities to lead parts of the lesson or do independent work—ideally something of interest to them.
Do you have other questions? Or other ideas you'd add to these suggestions? Share them in the CLASS Learning Community!