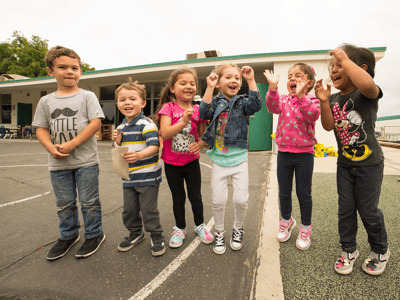 Originally published June 8, 2022
Children experiencing homelessness are subject to stressors that their housed peers typically don't experience and it is difficult for children to "leave their stressors at the door" when they come to school.
The Council for Professional Recognition recently published a whitepaper, The Invisible Children in Our Midst, that explores this topic. The paper discusses steps that some teacher education programs are taking to help future teachers better understand how a lack of secure housing may impact children and their families.
We recently had the opportunity to sit down with the paper's author, Dr. Lisa Yarkony, Senior Content Manager at Council for Professional Recognition, to ask some additional questions about this important topic.
Why was this topic so timely?
Now more than ever, our educators need to gain insight into the issues homeless children face. The number of homeless children in the U.S. is large and likely to rise. In 2018, there were at least 1.5 million homeless children in public schools, the largest number in over a dozen years. And that was before COVID hit the economy hard. As of April 2020, 22 million Americans had filed for unemployment, and this large number of jobless people suggests that the wide-scale homeless problem will only worsen in coming years.
As you were researching this paper, what facts surprised you?
One eye opener was that a substantial number of homeless children attend public schools. Yet they may be invisible to school staff, as one college ECE major saw while assigned to a first-grade classroom. She asked the first-grade teacher if there were any homeless children in the class and the teacher drew a blank. But it turned out there were two, as the teacher learned after some investigation. And this points to the need for teachers to know about the community around them, learn more about children's lives beyond school and consider visiting the shelters where they live.
How can schools support families without making them feel judged or threatened?
In your paper, you share a heartbreaking story about a mom who doesn't feel safe letting her daughter's school know that they are living in their car. Many parents might feel judged or worried that the school could report them, which could further hurt their family. What can programs do to support families facing homelessness?
Teachers can get parents to open up by being respectful and making the conversation about their children. That's what a teacher named Tracy did while talking to the mom of a five-year-old boy who never calmed down in class. Tracy started the discussion by saying, "Things are escalating with Alex, and I don't understand what is happening," Tracy recalled. "I really want to help your child and I don't know what to do"—calm, caring words that gained the mom's trust. "She began crying," Tracy said, "and told me that while she was pregnant and during the first three years of Alex's life, there had been bad domestic violence in her home. Now she and Alex were at a shelter and safe but didn't know where they would go when their 90 days there were up."
At Teachstone, we are all about interactions and were not surprised to read about the study demonstrating that teacher-child interactions promote resiliency. Do you have any suggestions on ways that teachers can build strong relationships with this vulnerable population of children?
Teachers need to stay calm when homeless children act up and look for the hidden causes of the behavior. That's what Tracy did when Alex had a horrible day, throwing things off shelves and hitting the other children. "I had to take some deep breaths," Tracy recalled, "as I told him that 'it is okay to feel angry, but you aren't allowed to hurt other people.' Then I focused on what his behavior was saying and what he wanted from me now. I asked Alex, 'Do you need a hug?' And he looked up, grabbed me and hugged me for five minutes. As I held him tight, I knew what he needed was this reassurance that he was cared for and safe."
For educators and school leaders reading this, what is the biggest takeaway you hope they gain?
It's crucial to realize that anyone can become homeless, and that's been especially so during the pandemic. COVID put a spotlight on long-term inequities as more people lost jobs and a firm footing in life, leading to crises for their children. So, teachers need to keep a key thought in mind when homeless children misbehave: The child is not giving you a hard time. They're having a hard time.
About the Council for Professional Recognition
The Council for Professional Recognition promotes improved performance and recognition of professionals in the early childhood education of children ages birth to 5 years old. The Council recognizes and credentials professionals who work in all types of early care and education settings including Head Start, pre-k, infant-toddler, family childcare, and home visitor programs. As a nonprofit organization, the Council sets policies and procedures for assessment and credentialing. To date, close to one million Child Development Associate® (CDA) credentials have been issued around the world. For more information, visit www.cdacouncil.org.