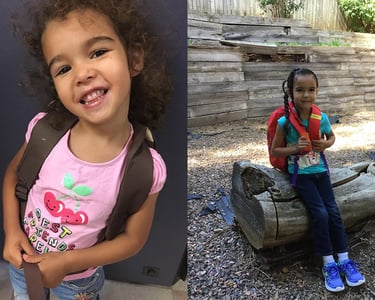 Note: It's the start of another new school year and once again, my thoughts turn to all of the children who are starting school for the first time. But I also can't help but think about those children who are making the big transition from preschool to kindergarten. As we all know, it can be a big adjustment for many kids.
Last year I wrote a post about my great-niece's first day of preschool. For those of you who may have missed it, we are posting it again with a post-script of sorts (except that it's at the beginning and not the end). I am happy to report that my concerns about her adjustment to preschool were not realized. Addison had a good year in pre-k and learned so many of those critical social-emotional skills that put her in good stead to make the most of kindergarten. Here is a picture of her on her first day at "the big school" – still ready for school and raring to go!
I am not a big fan of summer in Virginia. It is too long and it's too hot. However, there is the part of me that looks forward to the end of the school year because it means that there aren't as many cars or school buses on the road. And parking downtown where I work is much easier.
The other day I was sitting at my desk bemoaning the fact that school was back in session (yes, my children are grown), which meant that my commute took longer and I had to walk three blocks in the muggy 90-degree heat to get to my office. But then I heard my phone ping and I saw that my sister had sent me a picture of my great-niece on her first day of preschool. As I looked at the smile on her face and the twinkle in her eyes, I knew that she was raring to go.
My first thought was, "Addison is ready to take on the world" and that made me happy. My second thought was, "I sure hope she has a good teacher." This thought was a bit worrisome because she has not experienced out of family child care and we know that a child's adjustment to and experiences in preschool can greatly shape how they feel about school. I wanted to find out the name of her teacher and send her a Pre-K CLASS Dimensions Guide!
As early educators, we know that all of the domains of the CLASS are important. However, I would contend that Emotional Support is the most important domain to focus on at the beginning of the school year. I looked at this photo of my great-niece and thought about how her teacher would develop relationships with a room full of 4-year-olds.
I wondered what she would do to make the children feel safe and secure. If Addison missed her Mommy, would she notice and comfort her? Would she be able to read the children's cues to see if a child felt uncomfortable? Would she build relationships by watching the children play and follow their leads? All of those questions swirled around my head.
For Addison and all of the children around our country who are experiencing school for the first time, the steps the teachers take now will impact them for years to come, for a long time. And while my sister reported that Addison had a great first day of school, many other children may have felt less secure in their new classrooms. So I'd love to hear from you:
How do you build relationships with children at the start of the school year?