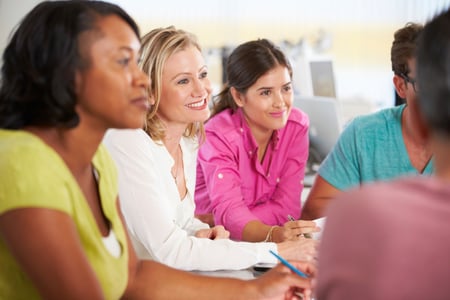 Last month we hosted a webinar, A Closer Look at CLASS 2nd Edition. And, we were blown away from the responses and excitement to the enhancements. As with any big news, there were also questions. We're tackling your top asked questions below, and look forward to continuing sharing more updates and insights around CLASS 2nd Edition in the coming weeks.
The Vision for CLASS 2nd Edition
What research was consulted or conducted in identifying the enhancements for CLASS 2nd edition?
Throughout the development of CLASS 2nd Edition we focused on gathering information about the elements of CLASS that would be most impactful to improve upon as we continue to refine CLASS as the gold-standard system for continuous quality improvement. In the course of that work it was clear that the field was asking for us to build upon the foundation of CLASS, while working to:
Provide greater support for using CLASS equitably across a diverse range of programs and settings;
Increase access to CLASS, decreasing barriers to use at broad scale; and
Build additional aligned tools and items that enhance the impact of CLASS by measuring more of what matters in the classroom.
Over the past few years, we have engaged in an intentional research and design process, working to incorporate feedback and learning from a range of experts including practitioners (teachers, coaches, leaders, policymakers) and researchers. This comprehensive process included:
Consultations with subject matter experts in areas including culturally responsive teaching across settings, family child care, tribal early childhood programs, trauma-informed care, social and emotional learning, executive functioning, literacy, science, and math.

Reviews of quantitative and qualitative research on culturally responsive teaching and use of CLASS in diverse settings.
Focus groups with teachers, coaches, and leaders across many states and localities.
Piloting components of CLASS 2nd Edition through video and live methods and engaging in revisions based on extensive internal coding and video review.


Because the core structure of CLASS remains the same we are confident that the existing evidence for CLASS impacts continues to be relevant with the 2nd Edition. And we are excited to be partnering with the research community to release new findings on CLASS 2nd Edition as they become available. Stay tuned for more to come soon!
Beyond CLASS 2nd Edition for Pre-K–3rd, what's next?
Once CLASS 2nd Edition for Pre-K–3rd is available in July, we'll continue on with our innovations with the following goals:

CLASS 2nd Edition for Infant and Toddler
CLASS 2nd Edition for Pre-K–3rd in Spanish
CLASS 2nd Edition Pre-K–3rd for Affiliates and Train-the-Trainer programs
CLASS 2nd Edition for Infant and Toddler in Spanish
How does the new CLASS Environment measure fit into a CLASS implementation?
CLASS® Environment is a new optional measure of quality that is designed for use in infant/toddler and pre-k/kindergarten environments. Used alongside the CLASS Tool, the environment is observed at the same time as the interactions, thus empowering any organization to begin using CLASS® Environment once they are ready. Ahead of an observation, the observer needs to have completed the low-cost CLASS Environment Observer Training, and it's recommended that teachers have also completed the complimentary CLASS Environment Teacher PD course.
CLASS® Environment can be used alongside CLASS to measure the elements of interactions and environment that matter most to children's development and learning. For many systems the combination of CLASS and CLASS Environment can take the place of using two different measures that require separate training and observation, such as CLASS and ECERS. However it is important to note CLASS Environment was not designed as a comprehensive measure of all elements of the environment and does not measure elements such as health and safety that are typically assessed as a part of licensing.
Intentional Certification Transitions
Do currently certified, reliable observers need to retrain and recertify on CLASS 2nd Edition?

Currently, certified observers will continue to recertify on CLASS at the time of their annual recertification. To learn about the updates in CLASS 2nd edition, observers must complete a transition pathway. To learn more,

click here

to see specific, recommended transition pathways for observers.

Should we delay any observation trainings scheduled for after July 1, 2022 when the Pre-K–3rd CLASS 2nd Edition Observation Training is available?
No, we encourage you to move forward as planned! To support a seamless adoption of CLASS 2nd Edition, we have built out pathways to meet your needs, protect investments, and ensure there isn't any interruption to your implementation timeline. Any currently certified observer will receive asynchronous, online support that introduces the changes in the CLASS 2nd Edition tool and help support their use of the new CLASS 2nd edition field guide. Any newly trained certified observer (trained from Teachstone between March 15-June 30, 2022) will be able to enroll, at no additional cost, into a live, virtual Transition and Overview Training beginning this July.
CLASS in Head Start and Family Child Care
How does CLASS 2nd Edition impact Head Start programs?
We are continuing our close partnership with the Office of Head Start, and are committed to continuing to serve all Head Start programs. We are working closely with OHS to review impacts, explore options, and create an impactful and meaningful path forward. The specific changes to the use of CLASS in Head Start will be communicated out from the Office of Head Start.
How does CLASS 2nd Edition better support family child care providers?
One of the main goals of the CLASS 2nd Edition enhancement was to better and more broadly represent the variety of settings in which children are cared for. As such, we've made intentional updates in the CLASS 2nd Edition to be more inclusive, representative, and offer guidance for the use of CLASS and observing interactions across family child care settings.
Protecting Current Investments
What cost impact can I anticipate with adopting CLASS 2nd Edition?
We've designed the adoption of CLASS 2nd Edition to flow with the observer recertification cycle, and offer free resources to support understanding the 2nd edition improvements. At the time of recertification, observers can choose to bundle their CLASS recertification with an updated 2nd Edition Manual for $180.
For programs who are looking to receive a facilitation transition to support their observers understanding the changes in CLASS 2nd edition, Teachstone has a paid offering of a half-day virtually facilitated training. Please reach out to your CLASS Success team for more details.
For programs who are looking to just receive the new CLASS 2nd Edition, the manuals will be provided at no-additional cost through digital, view-only methods to currently certified observers for one year. Print manuals can be purchased at a low cost of $75 per set, or $55 for the Observation Field Guide.

In our commitment to continue to evolve the CLASS tool, we are also committed to protecting your investments, both in time and budget. We recognize that adopting updated editions takes time, and in the development of all transition supports we are intentionally designing the resources to be as time- and cost-effective as possible.
How does CLASS 2nd Edition impact current training and resource investments and current offerings from Teachstone?
With the foundational concepts of CLASS® remaining the same, all current investments and current offerings remain accurate and appropriate to use in support of your CLASS implementation. As part of our evolution and commitment to innovation, we will continue to identify opportunities and areas for improvement.
Even though we're hearing excitement from across the field, we know change, no matter how big or small, can be uncomfortable. It's why we're committed to being your partner in supporting you in this exciting evolution. We know CLASS 2nd Edition can and will have a greater impact on moving towards a future in which every child and every educator experiences life-changing interactions.
Making the Move to CLASS 2nd Edition: