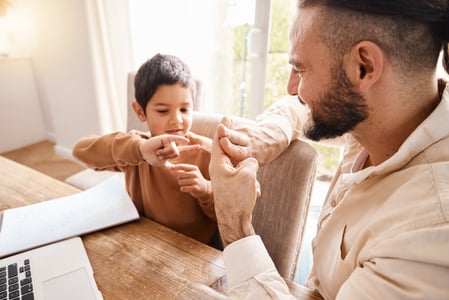 If you are scheduling a CLASS observation for a setting where ASL is the primary language of instruction, the most important consideration is who you select as an observer.
As is true for any language, observers must fully understand American Sign Language (ASL) to observe effectively in settings where ASL is among the primary languages of instruction. Teachstone's general input on this topic provides context for this recommendation:
Organizations should work to recruit a group of observers who represent the diversity of the programs where they will observe. Given that it is beyond any single person to know and understand all possible variations in settings, having a diverse group of observers will help ensure that they have real-world experience and expertise in the setting where they will observe. They will also be able to more accurately capture nuances in behaviors and interactions that may be less obvious to someone with limited experience in that setting (Reference Manual, Classroom Assessment Scoring System 2nd Edition).
If you know ASL and want to learn more about becoming a CLASS Observer, click here. By joining the growing group of certified CLASS observers, you can lend your valuable ASL communication skills to the field by helping collect CLASS data that more accurately captures the nuances of interactions in learning settings where ASL is used.
If your primary method of communication is ASL, here is how you can work with Teachstone to ensure a positive experience becoming a CLASS observer:
Contact us before your training
Communicate with Teachstone in advance of your CLASS training to discuss any aid or service that would help you best experience the CLASS Observation Training. All videos used in the training include closed captioning.
Turn captions on while taking your certification assessment
In order to become a certified CLASS observer, you must pass a test in which you watch classroom videos and then assign scores across each of the CLASS dimensions. Your scores are then compared with the reference codes and you are evaluated on your ability to consistently score classrooms in a reliable manner. All of the videos included in this test include closed captioning.
Review additional recommendations before observing
For general guidance that you can apply to help answer what to do before observations, during observations, and while scoring in ASL settings, check out this resource.