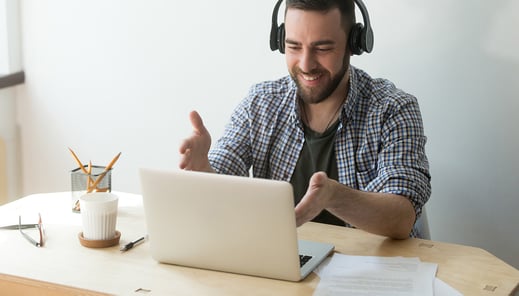 Since the coronavirus has disrupted many of our in-person plans, you might be trying to figure out how you can transition in-person coaching to online coaching. Online coaching can open a number of doors for coaches and teachers that might not be an option in face-to-face work.
If your organization has never coached online before, it can seem intimidating for coaches and teachers. You might be wondering: What are the best ways to talk to teachers virtually? How can coaches and teachers maintain a productive coach-teacher relationship when they can't meet in-person?
How to Take Coaching Online
The biggest area you'll need to account for when transitioning your in-person coaching to online coaching is technology. Make sure your teachers and coaches have access to good internet connections and reliable technology, whether that be computers, laptops, tablets or smartphones. A fast home internet connection is important since many states are asking residents to social distance and stay indoors.
After that, think about the kind of platform you'd like to use. We recommend using a platform that provides educators with a large library of learning resources that are interesting, relevant, and supportive of educators' needs. The platform should promote frequent online communication about the resources, including the ability to assign professional development to teachers and track if a teacher has completed the assignment.
You should also consider giving coaches and teachers a way to connect in both 1-on-1 and group settings via video! This can be on the same platform or through a service like Zoom. Giving coaches and teachers a way to see each other while discussing resources makes coaching sessions that much more personal. It might not be exactly the same as an in-person meeting but it still allows them to see each other and communicate in a more natural way using body language and facial expressions while making a human connection.
Finally, make sure expectations are clear for coaches and teachers. Everyone should know what they are expected to do in terms of engagement with the coach and professional development resources, meeting attendance, and completion of assignments. It's so important to get buy-in from all levels and proactively think through how online coaching will be introduced to educators. If your educators and coaches don't know what is expected of them, they might feel blind sided and not trust the online coaching process. Whether you're requiring participation or making participation voluntary, knowing, in advance, how to be successful is key.
The Benefits of Coaching Online
The most compelling benefit of coaching online is equity and high-quality access for all. There are numerous factors that make face-to-face coaching impossible, short-term, or extremely limited for many educators. Online coaching can bridge the gap by allowing coaches to effectively increase their caseloads, more frequently connect with teachers, and support people in locations that are not easy to get to.
Increased Caseloads
Face-to-face coaches often spend significant time traveling to meet with educators. Online access eliminates travel time, thus allowing coaches to connect with more educators throughout the workday. Another way is to connect with groups of educators online through virtual meeting platforms. Groups might be able to meet more regularly when participants also do not have to travel, arrange child care, and/or secure a meeting space.
More Frequent Connection With Teachers
Educators who receive face-to-face coaching weekly, biweekly, or even monthly typically only receive this benefit for a limited amount of time. Online coaching can support coaches in extending this benefit to more educators and for increased periods of time. More frequent contact has also shown to strengthen coach-teacher relationships.
Supporting People No Matter Where They Live
Coaches can support all educators with access to technology regardless of their home/work location. In some organizations, it might be difficult for coaches to travel to teachers depending on the location and how spread out they are. Including online coaching ensures that every teacher receives equitable access to the benefits of coaching. And coaches don't have to lose valuable coaching time traveling long distances to reach teachers.
How Can Teachstone Help Organizations Do Online Coaching?
Like we mentioned earlier, it's important for organizations to find a platform that gives coaches ways to connect with teachers, provides a library of engaging resources, and has the ability to assign professional development.
Teachstone's online learning platform, myTeachstone, provides over 1000 learning resources designed to meet the unique needs of educators, coaches, and administrators. It encourages online discussion of content/resources in both one-on-one and group settings. It's easy for coaches to individualize, assign, and support professional development. myTeachstone will support you in collecting and tracking CLASS observation data and analyzing it to inform individual and group professional development to increase effective interactions and best practices. Educators will benefit from a selection of hundreds of real-life early childhood to secondary classroom videos, engaging courses, content links, blog posts and downloadable documents.
Remember, good coaching is good coaching, no matter the setting and platform. It's important to promote buy-in as you move to online coaching and make sure everyone is set up for success in knowing what will be expected of them and having the necessary tools available. It is important to know that online coaching doesn't need to replace your current efforts to be effective. Rather than replacing existing improvement and professional development efforts, it should supplement and enhance the good work you are already doing in your organizations with your teachers.