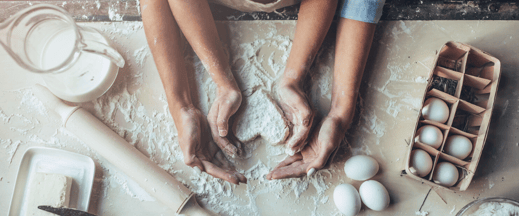 I recently read that the sales of processed foods have soared with the rise of the coronavirus.
'I Just Need the Comfort': Processed Foods Make a Pandemic Comeback. Some of this may be attributed to nostalgia for simpler times - I can't be the only person craving ice cream right now - while some is probably due to the fact that processed foods have a longer shelf life and none of us know when life will return to normal.
Let's be honest, food is comforting. Some of my best memories include sitting at the kitchen table eating dinner with my family. With busy work schedules, it can be hard to sit down to a family meal every night. I'll readily admit that my kids ate their share of Pizza Rolls and microwaved mac and cheese on those days when I worked late and then had to race home to get them to gymnastics, dance, or scouting on time. With many of us at home more and extracurricular activities at a standstill, now might be the time to not only have family meals, but to cook with our children as well.
Make Cooking Fun and Educational
The benefits of cooking together go beyond simply getting a meal on the table. First and foremost, it's time with our children. Meal prep provides a great opportunity to have unhurried conversations and talk about things beyond those logistical issues that take up so much of our time (e.g., permission slips for field trips, snack day at school, etc.). Furthermore, cooking provides a myriad of learning opportunities for kids of all ages: language, literacy, math, science, and even fine motor skills are a part of cooking!
The benefits of cooking together go beyond simply getting a meal on the table.
Language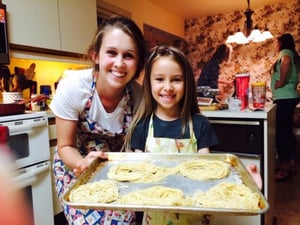 Anyone who has ever watched cooking shows knows that cooking has a whole language of its own. While young children don't have much use for terms such as bain-marie or fricassee, they can learn words like recipe, ingredient, dice, mix, chop, blend, and puree. Let children perform tasks they can safely do. Toddlers love dump and fill play, so let them dump the premeasured flour into the mixing bowl. Preschoolers can use a plastic knife to cut bananas or spread jelly on toast. For those things that children cannot safely do, introduce new vocabulary by narrating the actions you are taking (e.g., "I'm whisking the eggs into the butter to make a sauce for our vegetables.")
Literacy
As you plan your meals, ask your children to tell you how they think you make their favorite foods. Then look at the recipes with them to compare. Older children can read recipes and locate the needed ingredients in the pantry or fridge. Younger children can identify how many teaspoons or tablespoons they need by looking at the numbers in the recipes. In addition, younger children can identify the first letters of words on food containers and sound them out.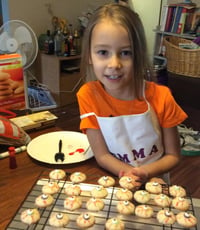 Math
There is a lot of math in cooking, especially during baking. As you follow a recipe, you can talk about seriation - what comes first, second, and third. Teach your children what measuring spoons and cups are for and have them compare the amounts. Ask questions such as, "Which holds more - a quarter cup or a full cup?" "How many half cups do we need to make one cup?" You can also help them think about portion sizes and how they might cut a pie into 8 equal servings.
Science
Cooking is both an art and a science. Heat up milk to the correct temperature, add in live cultures, and set the mixture in a consistent source of heat and voila - you have yogurt! Mix yeast with warm water and sugar and look for the chemical reaction. Mix in flour and wait for the dough to rise...the list is endless. Children can use their senses to smell spices, listen to onions sizzling in the pan, and touch the springy texture of bread dough.
Fine motor skills
Children build fine motor skills when they stir the baking powder and sugar into the pancake mix, sprinkle cheese on the pizza, or fold beaten egg whites into the chocolate mousse. Scooping batter into muffin tins, kneading bread dough, and spreading frosting on cupcakes are other ways to develop children's fine motor skills.
Last, but not least, cooking is a great way to build children's independence and self-confidence. What child wouldn't feel a sense of accomplishment when their cake comes out of the oven and the kitchen has that wonderful smell of baking?
Other Cooking Resources: