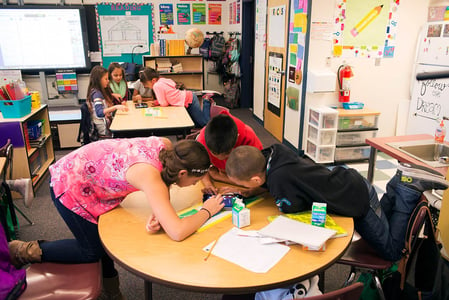 In a previous blog post, we covered the benefits and process of getting a Child Development Associate® (CDA) Credential™. In short, a CDA is a benefit for educators who are looking to advance their careers.
But what's next? What other opportunities exist for early childhood professionals to continue their careers after earning a CDA? In this post, we're diving into the advantages and details around Associates Degrees in Early Childhood.
What is an AA (Associates Degree) in Early Childhood?
The Associates of Arts in Early Childhood is a two-year degree program that helps prepare adults students for careers that work with young children from ages birth to age 8. This degree program prepares students to work with young children and their families in numerous settings including: childcare centers, preschools, elementary schools, home-based childcare facilities, and Head Start Programs.
Advantages of an Associates Degree
Employers often hire applicants with an associate degree over applicants with just a high school diploma. An associate degree can be earned in two years. This allows students to start earning money sooner and saves the costs of two additional years of college. Tuition costs are lower at two-year colleges that offer associate degrees.
So, what do these programs look like exactly? One example of an associate degree program in early childhood is with Waldorf Univeristy. Through the application of child development knowledge and by learning the standards of a healthy, safe, respectful, and supportive classroom, students in this AA program will grasp the ability to establish positive relationships with family and community members to enhance learning and development for young children. Students will also gain experience in working with diverse student populations through social, cultural, and linguistic awareness.
The core requirements that AA Degrees cover include the following:
Early Child Development Knowledge
Early Childhood Education Methods
Classroom Management Strategies
Organizational Strategies
Waldorf University is also proud to partner with Teachstone to offer Teachstone's CDA with CLASS certificate students the opportunity to apply their CDA courses toward an Associate in Early Childhood Development degree. Those who opt into the CDA for college credit track can earn up to 9 credit hours. After completing your CDA with CLASS, you'd only have to take ECE 2030, ECE 2040, and 45 general education core requirements to earn the associate's degree through Waldorf. Receiving credits through the CDA program and transferring them to Waldorf's Associate offers you substantial cost savings.
Our chart below outlines how specific CDA with CLASS courses from Teachstone apply to Waldorf's AA courses.

After Earning an AA in Early Childhood Education
No matter where you earn your associate's degree in Early Childhood Education, you may choose to work with young children in a variety of ways. Career paths may include:
Childcare Provider
Childcare Director
Preschool Teacher
Camp Counselor
Recreation Coordinator
Teacher Aide or Assistant
Special Education Associate/Assistant
Library Workers
Additional Education Support Staff
Substitute Teacher
Tutor
After earning your associate's degree in Early Childhood Education, you may choose to continue your education. Next steps could include a bachelor's degree in early childhood education, where you'll gain additional skills in child development, curriculum planning, and assessments.
Another option for early education professionals is to complete a state teaching certificate program. This looks different in each state, as each state has different requirements. For more information, you can look up teaching requirements in your state.
Dr. Melia Slinger, M.Sci.Ed is an adjunct professor at Waldorf University.