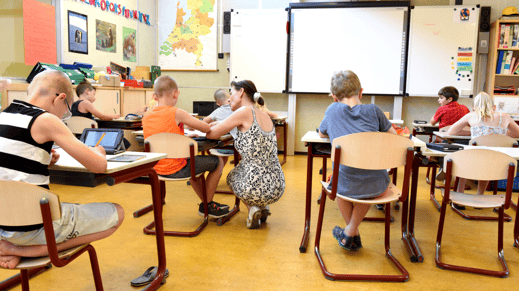 Meet Stephanie.
Hey there, Teachstone community! My name is Stephanie Lewandowski, and I am the Senior Product Manager for myTeachstone. Before joining Teachstone, I built digital products for education companies, financial institutions, and government agencies. I'm passionate about delivering impactful products, particularly the tools that make the everyday work of teaching and learning a little bit easier. As a parent, and as a product manager, I know how invaluable early childhood education is, and I'm inspired by the teachers in both my personal and professional life.
We want to support teachers in their classrooms in creating the best possible experience for every child.
To do that, I ensure the features and applications on our platform work for all of you—teachers, school leaders, instructional coaches, observers, and more. My team regularly asks for feedback in the CLASS Learning Community on designs, ideas, and newly launched features. With this feedback, we can better help you collect CLASS observation data and connect it to individualized professional development resources. (In other words, thanks for helping me help you!)


myTeachstone drives continuous quality improvement.
Whether you're a teacher or an educational leader, you know children deserve the best. Every teacher we talk to expresses a desire to keep growing their skills to be better for their students, and every leader wants to support their teachers in doing this.
We know improvement is a combination of measuring where you are, selecting the right professional development, and tracking your progress toward your goals. That's why we designed the myTeachstone platform to help you choose the professional development option that best supports your needs. It maximizes your program's potential for success by supporting continuous quality improvement in a scalable and sustainable way. When you focus on what matters most, you can measure elements of great teaching and improve upon them in a targeted, iterative way that takes full advantage of your professional development.

Here are a few of the specific supports you can find on myTeachstone.
Observe and give feedback in myTeachstone. The pandemic changed when and how teachers and their instructional leaders can gather data. You need several options to measure with CLASS, especially when an observer cannot be there in real time. That is one of the problems we tackled in our observation application which helps instructional leaders collect, view, and report on CLASS data, then use that data to effectively promote teacher growth.

For example, teachers can upload classroom videos for an observation, even if coaches and observers cannot be there in person. Coaches or administrators can then use these videos to conduct informal observations, note their feedback, and share it directly back with teachers. Or, if needed, observers and admins can upload and view video footage for formal observations. This flexibility in the measure tools in myTeachstone mean teachers and program leaders can get data they need to make better instructional decisions for students.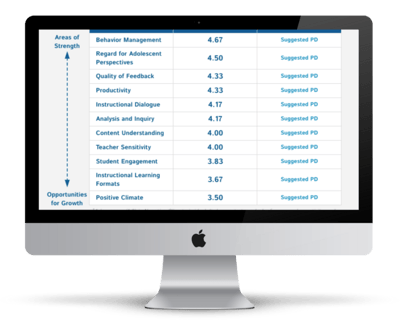 The myTeachstone platform also contains tools to help observers give responsive feedback. When an observer enters indicators for a dimension, the myTeachstone observation application uses that information to automatically provide tailored feedback in an observation report. These statements are directly aligned with the CLASS manual and give teachers clear examples to inform their instructional practice while reducing the time observers need to spend drafting their written feedback. This speedy feedback, paired with Teachstone's professional development resources, can help teachers improve more quickly.

When all the pieces to focus, measure, and improve on CLASS are in one place with myTeachstone, teachers, programs, and, most importantly, students can reap the benefits.

Ready to use this powerful tool to support teachers and their students in your setting? Learn about our process for CQI from our recent webinar. Or, dive right in - watch a pre-recorded demo on-demand, or request a time to talk with someone on the myTeachstone team.