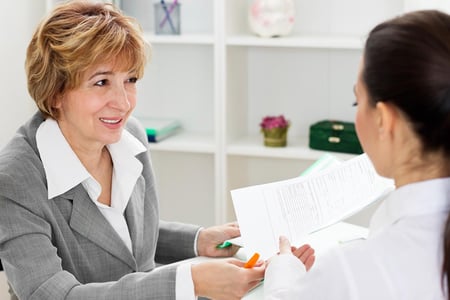 I lived in rural Japan for three years. While there, I became very accustomed to ordering the same types of entrees at restaurants due to my limited ability to read menus and my unwillingness to eat foods outside my comfort zone. So imagine how overwhelmed I felt when I returned to the States and had to decide on one entree amid pages and pages and pages of delicious options. It took a few weeks to learn how to navigate my way through these endless options without wanting to close my eyes and blindly point while ordering my meals.
Can anyone new to using myTeachstone relate to this feeling? How does someone click on the "Learning Resources" tile and not feel a bit overwhelmed by the seemingly endless list of wonderful learning opportunities? With resources spanning the age levels of Infant through Upper Elementary, including 400+ videos, 200+ links/PDFs, and 100+ courses, the task of selecting "the right" resource is bound to feel a bit daunting.
I know how important it is to feel confident in navigating your "Learning Resource" and making the best use of your time. Below, I'll share some tips on how to organize your menu of resources and narrow your choices down to those which best meet your needs while saving time and energy.
How to Find Resources
Think of the filter button column on the left side of the Resources page as your "guide on the side." Here you can filter out resources intended for certain audiences, such as teachers or admin. You can also select the type of resource you want, such as a course for coaches, and the age level and dimension you need. This tool can also locate Spanish language resources.
The search bar at the top allows you to type in keywords to narrow down your options and focus your results, such as "whole group," "science," "prompting thought process," and "teacher tips." If you ever get the message, "Sorry, no matching results were found," simply clear your filter selection and try again.
The tables below are provided to help you successfully navigate and select resources.
Video

● Exemplar videos range from 1-4 minutes. They demonstrate best practices and list behaviors noted for each indicator within a single dimension.

● Classroom Snapshot videos range from 5-9 minutes. They demonstrate a mix of effectiveness, including areas of strengths and moments to build on within several observed dimensions.

● MMCI facilitation exemplar videos

Link

● Teachstone blog posts that have been selected for the resource library. They can be filtered by audience, age level, and dimension.

PDF

● Resources to download, including e-Books, Pathway workbooks, research papers, course guides, and supplements, tip sheets, and participant guides.

Course

● Sesame Street courses include video and a detailed action plan to promote classroom application.

● "Learn About" age-level courses take a deep dive into each dimension.

● Teacher courses support learners in knowing, seeing, and doing specific teaching behaviors.

● Coaching courses promote data use, strengths-based coaching, instructional support strategies, and more.

Coaches: How to Make the Best Use of Resources
Recommend Resources to Teachers

● Pathway activities provide a curriculum of learning resources divided into 10 pathway sequences to be completed over 5 months. Coaches are encouraged to enhance learning opportunities within each dimension while supporting classroom application.

● While recommending a single resource, write a comment to personalize your selection and to promote an online discussion with your teacher.

● Classroom Snapshots can be recommended for viewing prior to a group meeting where the video is shown and the coach facilitates a discussion about the observed teacher's actions and the children's reactions within the video. Coaches can demonstrate both effective interactions and moments to build upon.

● Share "teacher tips" blog post links to support the types of interactions your teacher is striving to enhance.

● Select and recommend a Sesame Street course that supports a topic your teacher is working on with students and encourage use of the supplemental action plan.

Self-Study

● Watch the 4 demonstration videos on how to use the resource library, create teacher groups, enter informal observations, and view reports.

● Review e-books such as "Building a Foundation for Effective Coaching."

● Interact with coach course series titled, "Using Data to Support Teachers," "Strengths-Based Coaching," and "Instructional Support Strategies."

● Interact with teacher course series titled, "Using IS," and "Learn About."

● Search and explore "coaching tips."

● Discover the wealth of short exemplar and longer snapshot videos that connect with the needs and interests of the teachers you support.

Teachers: How to Make the Best Use of Resources
Engage in Recommended Resources

● Click on the bell notification found in the top, right-hand corner of the page to quickly link to recently recommended resources.

● Read the comment sent by your coach with the resource, if available, and view in the resource in its entirety.

● Engage in an online learning conversation with your coach about the recommended resource.

Self-Study

● Independently engage in Pathway Activities, choosing to either select activities by dimensions of interest or follow the sequence of activities as prescribed.

● Interact with the teacher courses found in the "Using IS" and "Learn About" series that explore dimensions of interest to you.

● Use the filter buttons to select resources for "teacher" along with the type and language of your choice. Next, select the age-level and dimension of focus you'd like to explore.

● View short exemplar videos with titles that interest you after using the "video" filter and selecting the desired language and age-level.

● Type "teacher tips" in the search bar to explore blog posts written just for teachers.

● Explore the Sesame Street courses and download the supplemental action plans to support your classroom practice.