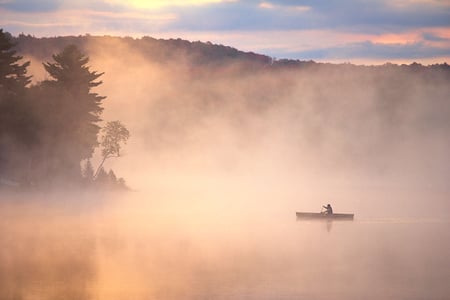 Imagine you are steering a boat filled with precious cargo across the foggy surface of a lake. You need to deliver it safely to the other side so that it can be used to help the town. You can see some lights faintly through the fog, so you know the town is there, but you are really uncertain about finding the dock. You paddle forward tentatively, even a little fearfully.
This is how most teachers feel when it comes to Instructional Support. They're aware that "Instructional Support Town" is out there, and that it is important to get there, but lost in a fog, uncertain at times about what it looks like there, how it sounds, and what to do to get there.
Never Fear, Help is Here!
Out of the fog you hear someone calling for you; the lantern on their boat shines through the fog, coming closer. As they approach, you call out to help them find you. Almost immediately, they are at your side offering to guide you to the dock – a trip they have taken many times.
Our new Instructional Support Essentials for Teachers training is the answer to your questions about how to improve Instructional Support interactions. Like the friendly voice and the lantern in the fog, we're here for you, ready to help you as you push forward for improved outcomes for children. One of our recent participants shared, "I have many new ideas to use in my classroom now, so I'm very happy with the training."
We'll Guide You Along the Way
Your guide reassures you that this trip is worth it, and as they guide you they offer tips and strategies for getting there safely. The trip goes more smoothly with someone guiding the way, and you soon find yourself at the dock.
As a trainer, I find this to be one of the most fun and engaging trainings I have led. It is exciting to see the growth in participants' understanding as we progress through the day. In the morning, we brainstorm a list of effective teaching practices. Participants are always able to come up with many examples that illustrate Emotional Support (warm, respectful, flexible, enthusiastic) and Classroom Organization (rules, consistency, routines, engages children). However, very few examples of Instructional Support surface.

Throughout the day we dig into each Dimension: Concept Development, Quality of Feedback, and Language Modeling. Using a variety of activities, we learn about, watch, and discuss examples of strategies. Hands-on practice with real classroom materials and planning are the highlights of the afternoon. Participants laugh and share ideas as they try out new questioning and feedback strategies.
Feel Confident on Your Journey
Safely docked, you are able to unload your precious cargo and help the town. You thank your guide for their assistance and share that the next time you need to make this delivery, you'll know just what to do. You feel confident, and even a little excited, for your next trip across the lake.
In the afternoon of our training, we reflect on our time together. By the end of the day, when we revisit our list of effective teaching practices, I find that participants are always full of ideas to add to our list for implementing Instructional Support. The success of the journey out of the fog can be seen in these participants' quotes:
I got a better understanding of not using a flurry of questions, but quality questions and feedback to build on children's interests and knowledge.

I will use more scaffolding to help my children understand the particular concepts being taught.

I will encourage students to think more and figure things out themselves.

Now when I am planning, I will routinely think about how I will use the dimensions in those specific activities.

I will commit to use the class strategies consistently throughout the day

.

All of the concepts will be used daily because I'm raising up little world changers!
Ready? We're Here for You!
Are you ready to leave that fog behind? We're ready to help you make the journey to "Instructional Support Town"! Learn more about the CLASS training, Instructional Support Essentials for Teachers.