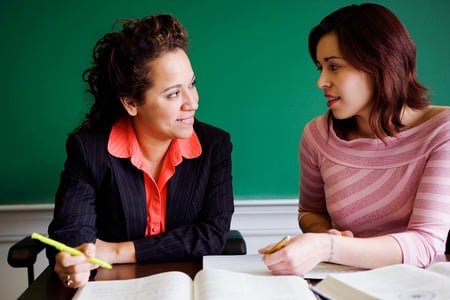 If you've ever been through a CLASS Observation training, you are probably familiar with the graphic below. Research tells us that improving teacher-child interactions is a process that includes many pieces.
The first step is to identify a teacher's strengths and opportunities for growth, which can be done through a CLASS observation. Once you have this data, you can share it with teachers through a formal report, a face-to-face conference, or a feedback session. You're off to a great start, but now what?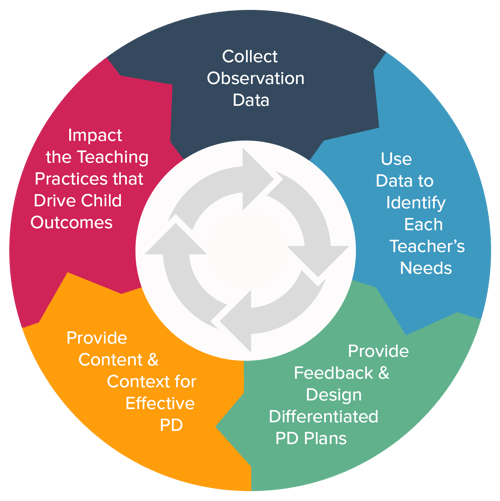 It is also important for coaches or instructional leaders to design and provide professional development to teachers based on the data. Teachstone offers several evidence-based coaching supports that can support you no matter where you are in your CLASS journey.
CLASS Group Coaching
CLASS Group Coaching is a group coaching model. In this action-packed, 12-session training, teachers will get the opportunity to dissect each dimension of the CLASS tool to recognize the impact of their interactions with children on children's learning and development. Activities are designed to help them define and identify teacher-child interactions as described by the CLASS observation tool. They will use the CLASS lens as a framework for observing the key interactions in classroom videos that make a difference in children's learning. The goal is to get teachers to see that interactions matter and to understand how the way they interact with their children directly impacts a child's development.
To become a certified CGC Coach, you must attend a 3-day training where you are given all of the tools necessary to deliver CLASS Group Coaching, along with continued support from a CLASS Specialist. Coaches going through the program will submit video footage of themselves delivering the training, and then they will be provided with feedback to further their own practice as a facilitator. Not only is this PD for the teacher—but it's PD for the coach as well.
Recently, I had a coach share this with me:
I've been using CLASS for years as an observer, but it wasn't until I had to turn around nd train someone else on the CLASS tool that I really gained that deep knowledge of the tool. I have found that now when I conduct CLASS observations, I am much more confident in my scores as I really understand what I am observing.
1:1 CLASS Video Coaching
1:1 CLASS Video Coaching, sometimes called My Teaching Partner or MTP, is a research-based, intensive, individual coaching program. This coaching program begins with a teacher, a coach, and training in the CLASS tool. It moves through a planned sequence and explores each domain of the CLASS framework, and the coach and teacher work together in a collaborative relationship. Coaches observe teachers and partner with them to systematically improve classroom processes. With the coach's expertise and support, the teacher reflects on classroom interactions and enhances skills in each of the dimensions of the CLASS tool. Because it addresses the individual needs of teachers, continues throughout the program year, and uses a valid framework, 1:1 CLASS Video Coaching leads to improved outcomes for children.
Much like in the CLASS Group Coaching Instructor training, coaches will be provided with all of the necessary tools to deliver this training to their teachers. They will also be provided with support from a CLASS Specialist, which includes video review, feedback, and 1:1 and group calls. One of the foundational concepts of the MTP system of support is that effective interactions between teachers and children make the greatest contribution to children's social and academic gains.
CLASS Master Coaching
CLASS Master Coaching provides the opportunity to connect with and learn from other coaches in the field of education over a span of a year. Along the way, you'll get individualized support from a CLASS specialist to help you explore and practice new strategies for engaging teachers in self-reflection and improvement. You'll also have monthly cohort calls and one-on-one conferences where you focus on practice-based implementation and discuss submitted videos and focused Coaching Competencies.
This unique program provides the coaching foundational knowledge needed to drive improvements in educator-child interactions. CLASS Master Coaching is designed to promote parallel process. Throughout the program, coaches engage in learning cycles that will help them focus on new skills, try the skill, and finally, reflect on their experience.
One coach shared their reflections on completing CLASS Master Coaching:
CMC has provided me with tools and resources to become more intentional about my coaching approach. It has guided me in planning for my conferences and discussions with my teachers, and has given me strategies to address various coaching challenges. I am so thankful to have participated in the program and expand my competencies related to strength-based coaching.
---
Interested in learning more about our coaching certification programs: CLASS Group Coaching, 1:1 Video Coaching, and CLASS Master Coaching? Join our webinar, Demystifying Evidence-Based Coaching Supports on October 25 at 3 p.m. ET.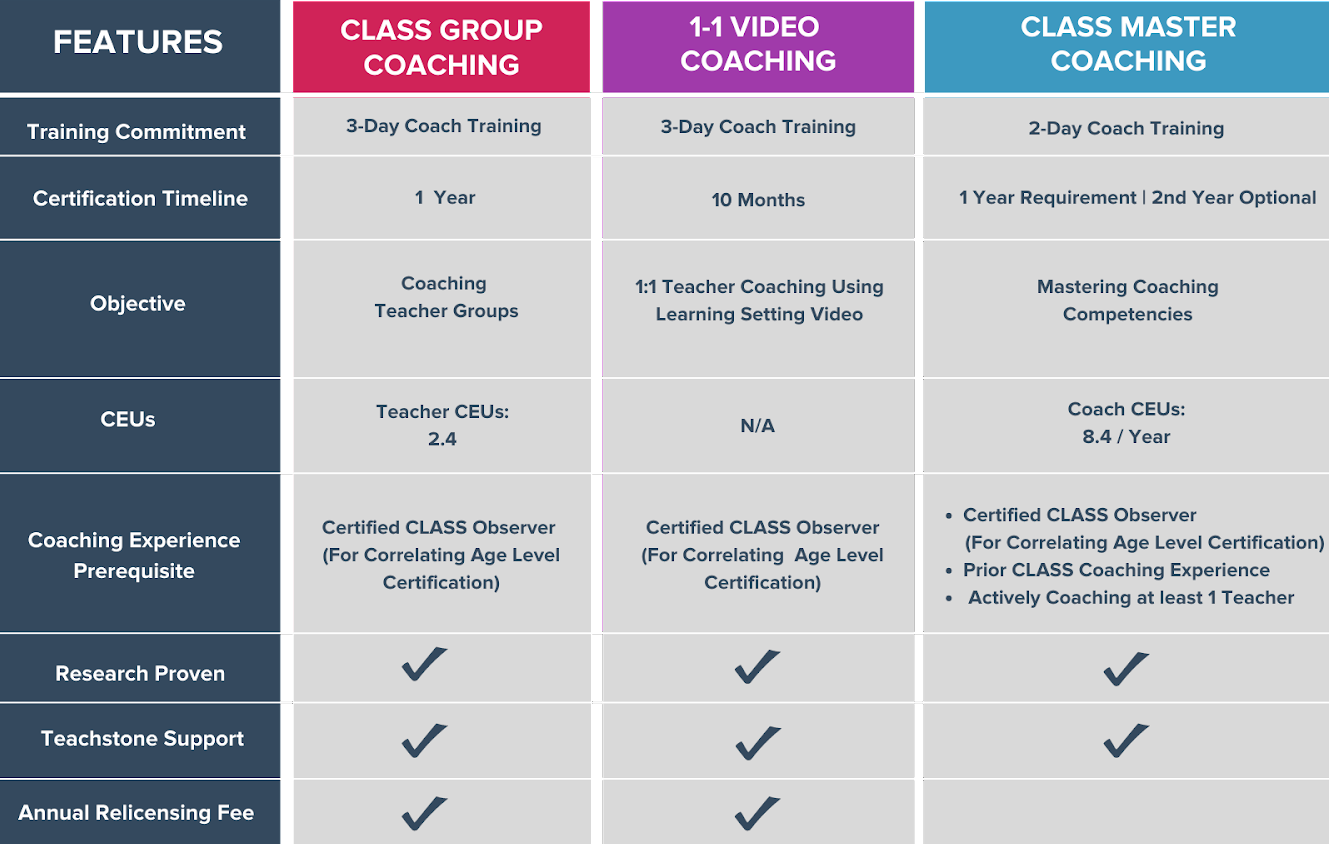 ---
Each of the three programs mentioned above will empower your coaches to have more intentional and more impactful conversations with the educators in your program. We also offer a solution that brings more resources to the fingertips of your coaches but is not an intensive certification program.
Coaching with myTeachstone
Coaching with myTeachstone is an interactive, online coaching program. It extends a coaches access to professional development resources and increases opportunities for communication between the coach and their teachers, and among groups of teachers. It will also help them keep track of how their teachers are doing in order to help them individualize learning opportunities to best support their growth and development.
As a coach, the most impactful way to make professional development is to use individual teacher data to drive the PD plan. During this 2-day training, coaches will be trained on navigating and using data and resources available on myTeachstone. They will also learn how to coach effectively online by engaging in both individualized and group learning conversations. myTeachstone is not just about recommending content to teachers, but about facilitating their learning through discussion.
So now that you know a little bit more about the coaching programs that are available through Teachstone, one question may remain: which model is right for my organization? If you would like more information on any of these programs, join our webinar or connect with a CLASS Consultant today.