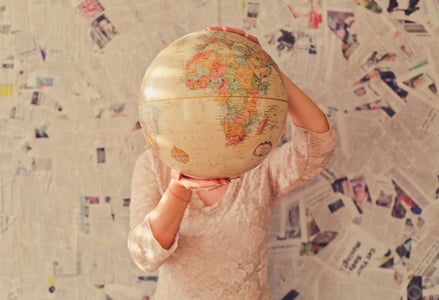 In the last "Real World Examples" post, we focused on Teacher Sensitivity. Moving on through the CLASS manual, today we will explore Regard for Student Perspectives, the last dimension in the Emotional Support domain. The English Oxford Dictionary defines the word regard as "pay attention to;" for CLASS, this translates to: "pay attention to student perspectives." When teachers purposefully plan activities and lessons that incorporate students' ideas and interests and allow them opportunities to talk, the children feel like they have a place and ownership in the classroom. The same rings true in day-to-day life—when we welcome others' perspectives, there are more opportunities for intentional learning.
Regard for Student Perspectives
Flexibility and Student Focus
The Example: A Home Remodel
Home upgrades are no easy feat. New homeowners who purchase a home in need of an update may hire a renovation crew to take their ideas and bring them to life. Once construction has begun, the contractor on the job may have to make unplanned changes initiated by the owners. Perhaps a pony wall the owners thought was a great idea is making the space seem too small. Or the homeowners change their mind about that new shade of lavender after they actually see it on the wall. The contractor agrees to the changes, and the crew sets about to repaint, and pull out that pony wall (shows flexibility). Many times contractors incorporate the homeowner's ideas into a design even when it is something they may not particularly care for (incorporate students' ideas and follow the students' lead). Being flexible and focusing on the homeowner's ideas helps the renovation process run smoothly, and the owners feel a sense of ownership and pride in the improvement process and the finished product.
Support for Autonomy and Leadership
The Example: Cooking Dinner
Consider all the ways there are to create a restaurant-worthy meal right at home! Some "cook-at-home" companies encourage novice chefs of all skill levels to take the lead in planning and fixing meals of their choice with a little bit of structure from the service. It begins by allowing the customer choices, which help them to customize their meal preferences from many different options (allows choice). The meal box of groceries is shipped to the cook's home along with step-by-step instructions on how to make the meal. There are ingredients in the box that are pre-measured, but the responsibility is on the cook to prepare and cook and serve the meal (gives students responsibility). The structured process is flexible and allows the cook to be autonomous throughout the process.
Student Expression
The Example: Football Breakdown
As the fall season rolls around, sports talk begins to dominate--especially for football fans. When attending a football game of any caliber, it is easy to find someone who will begin asking questions about football team loyalties: "What team is your team?" or "Who are you rooting for today?" (encourages student talk). Once commitments are determined, other questions such as, "What do you think about that play?" or "How do you think this season will go?" may be asked and typically a great breakdown of each play that happens during the game ensues (elicits ideas and/or perspectives). Encouraging others to express themselves through talking and asking for their ideas helps to make a stronger connection. Ultimately, encouraging expression from others allows us to understand better how the other people view the world.
Restriction of Movement
The Example: A Drive-In Movie
When attending an outdoor movie theater, there are many options for seating. Outdoor movies tend to be less rigid than traditional theater stadium seating, allowing freedom of movement without the usual "behave yourself" expectations (is not rigid). Attending movies outdoors allows us a little more freedom to move about, kick back, and relax a little (allows movement). Many outdoor theaters have more general expectations outlined for patrons attending the movie that help keep everyone safe and able to participate. When people are allowed to move about in a way that is safe and not interfering with other patrons, the experience is more comfortable and enjoyable for all!
What are some of your favorite real-world examples of Regard for Student Perspectives? How do you encourage the people in your world to express openly, or feel as though their opinions and ideas are valuable?