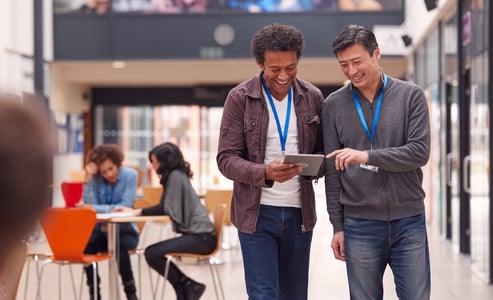 Originally published June 29, 2022

Using CLASS® as a Culture-Building Framework
Teachstone's Classroom Assessment Scoring System® (CLASS) emphasizes the importance of evaluating teacher-child interactions as a means to improve child outcomes. But, there are many ways to take those same markers of quality among teachers and students, and applying them to the relationships among adults.
During the webinar, participants reflected on their own experiences. What are the indicators of positive school culture? Positive feedback, listening to students, and asking what they need were cited as examples to support an inclusive culture. Any underlying privilege also must be recognized.
Servant leadership, a business principle, can also be applied to educational programs. In a traditional leadership hierarchy, everyone falls under the assigned leader. The servant leadership model can be flipped for early education programs, so the customer (in this case, the student) is the primary focus. This ensures that children have everything they need to maximize their potential.
The Benefits of Coaching
Improving a program's culture is about more than how teachers interact with children, however. It also encompasses your interactions with administrators, parents, coaches, and other teachers. Supporting individual needs creates a strong culture for everyone involved.
Coaches must have clear plans that focus on maintaining goals through different modalities. Teachstone's approach includes practice-based coaching, which applies CLASS principles to adult interactions. When you interact with teachers the same way you expect teachers to interact with children, you are instituting a parallel process. Parallel processes support collaboration and dependability while creating a safe space that leads to trust.
Coaches also allow educators to take responsibility for their classrooms and encourage collaboration. Although some educators might initially resist coaching, it's important to work together and recognize the areas in which growth is needed. The coaching model encourages teacher-student interactions and instills a higher motivation to learn, a higher level of comfort, and more connection between students and teachers. This is especially important given the burnout of many teachers today and the high turnover rate impacting marginalized communities.
Building a Foundation
Participants brainstormed aspects of culture that make staff feel welcome and happy, such as being responsive instead of reactive and promoting inclusion. It's crucial to cultivate a space for educators to thrive by asking teachers what they need instead of making assumptions. This allows you to recognize your unique identities and understand that everyone navigates the world differently. Educators have different learning styles, just like students.
It's also important to recognize your biases and evaluate processes like dress codes and handbooks that identify inequities you might not have considered. This includes the identification of ongoing diversity, equity, and inclusion needs. The goal of all interactions and exchanges should be a safe, supportive culture for everyone.
Action Steps
You can start implementing these action items in your program to start building a more welcoming and supportive environment:
Learn more about your own

unconscious biases

Conduct empathy interviews
Create culture and advocacy committees to build a more inclusive community
Center your policies in a way that listen to and support educator and student voices
Takeaways
Emotional support through active listening, responsiveness, and the demonstration of empathy is essential to the formation of a strong culture in the classroom. Implementing an equitable culture promotes an environment where everyone thrives. As an educator, you must bring your authentic self to the classroom and create a space where vulnerability is possible. By engaging in conversations and accounting for what each child needs, you can get the feedback necessary to determine where your program excels and where it needs to be improved upon while remaining focused on fully serving the children in your care.
Teachstone hosted the How to Support Your Teachers by Improving Your Culture webinar on June 16, 2022. Led by Erin Sabina, Account Executive West at Teachstone, and Keiyonna Dubashi, Executive Director at Profound Ladies and DEI Program Manager for Teachstone, this webinar focused on building a strong culture in early childhood programs.
Watch the full webinar here.