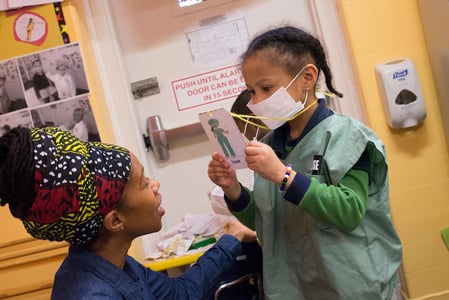 Data from the National Survey of Students' Health (NSCH) indicates that almost half of the students in the United States have experienced one or more forms of serious trauma, such as poverty, homelessness, or abuse and neglect. This means that an estimated 35,000,00 students, from infancy through age 17 are at risk for not only school failure, but for a number of social-emotional and physical complications (e.g., PTSD, heart disease, etc.) that may have life-long consequences to their health and well-being. The effect of COVID-19 has surely increased the percentage of young people who are experiencing trauma. And while people of all races and socioeconomic statuses have been affected by COVID-19, poor communities of color have been disproportionately impacted, adding an additional level of trauma to a population already traumatized by systemic racism.
Interactions with Students to Support Students' Experiencing Trauma
Teachers who are feeling overburdened by the changes in education (e.g., safety protocols, virtual teaching, concerns for their own health), must also consider how to best support the growing number of students who have experienced trauma. Additionally, some of the recommendations for supporting students in trauma (e.g., additional economic resources, steps to reduce aggression and violence in the community) are often outside of teachers' control. Fortunately, teachers already have access to a key tool for supporting students - their moment to moment interactions with their students.
A wealth of research shows that interactions between teachers and students play a critical role in students' social and academic development (Curby, et al., 2009; Gosse, McGinty, Mashburn, Hoffman, & Pianta,2014; Howes et al., 2004; Mashburn, et al., 2008; Pianta, et al., 2005; Ponitz, Rimm-Kaufman, Grimm, & Curby, 2009). The Classroom Assessment Scoring System (CLASS) is a validated observational tool that measures the quality of teacher-child interactions and is widely used across the United States to help focus on, measure and improve the interactions that matter most for supporting students' learning and development. The CLASS framework organizes effective interactions into three overarching domains: Emotional Support, Classroom Organization, and Instructional Support. Emotional Support examines what teachers do to develop warm, supportive relationships with students, while Classroom Organization looks at how teachers manage students' time, attention, and behavior in the classroom. Finally, Instructional Support focuses on interactions that promote higher-order thinking skills and language development. While all three types of interactions are important, students who have experienced trauma will benefit the most from high levels of Emotional Support and Classroom Organization. Instructional Support is difficult in the absence of the first two, especially when a child is experiencing trauma.
For those of you who are not CLASS-savvy, there are three ways to think about the types of interactions that teachers should focus on right now to support students experiencing trauma: relationships, responsiveness, and routines. Addressing these three areas of focus will help teachers support students' social and emotional learning both now and in the long term.
Relationships - relationships are built over time through safe, engaging, and predictable interactions with others. Being present with students is a good way to start to build relationships. Just as young students who have a secure attachment style are more likely to explore their environment, students who have formed a positive relationship with their teachers are more likely to take on both social and academic risks (Hamre & Pianta, 2005). The Centers for Disease Control (CDC) suggests that safe, nurturing relationships with adults can help students process trauma and avoid the negative long-term effects associated with toxic stress.


Responsiveness - When teachers are aware of and responsive to students' social and academic needs, students are more likely to see them as a secure base - someone they can trust and someone who can help them. Responsive teachers know their students so well that they can provide them with individualized support, differentiate instruction to meet each student's needs, and scaffold learning. Responsive teachers are also better at drawing students into learning and keeping them engaged.


Routines - Students thrive on routines and safety. These are particularly important for students who have experienced trauma. In well-managed classrooms, students understand behavioral expectations, as well as classroom routines. When this happens, teachers spend more time engaging the students in learning activities, and less time dealing with problem behaviors.
Strategies for Improving Relationships, Responsiveness, and Routines
Here are some key strategies that teachers can implement throughout the day to support students experiencing trauma.
Relationships

Greet students individually at the start of each school day, whether in person or virtual
Talk with them about their lives outside of school
Show respect for them - use their names, say please and thank you, use a warm, calm voice
Listen and respond to what they say
When possible, spend individual, non-academic time with students focusing on their needs and interests
Responsiveness

Acknowledge students' emotions and try to understand how they are feeling
Notice when students are struggling and provide them with individualized support
Follow students' leads in activities, class conversation, and play
Use a variety of instructional materials and modalities to draw students into learning
Scaffold students' learning
Encourage students as they progress through their work
Routines

Establish clear and consistent routines and teach them to the students so they know what to expect
Provide clear instructions
Be prepared for lessons and activities so students don't have to wait without anything to do
The Impact of Interactions on Students' Social & Emotional Development
Three studies that illustrate the impact of effective interactions on students' social and emotional well-being are described below.
Bridging Mental Health and Education in Urban Schools (BRIDGE) is an innovative study that used existing mental health professionals to deliver a relationship-based coaching and consultation program in high poverty, urban elementary schools. Researchers were interested in learning whether or not coaching and consultation that focused on the Emotional Support and Classroom Organization domains of CLASS would impact classroom interactions and students' aggressive behavior. Although BRIDGE did not detect changes in students' aggressive behavior, after four months of coaching, teachers reported more closeness with students. In addition, students in BRIDGE classrooms had higher academic self-concept and those who displayed aggressive behaviors were less likely to be victimized by their peers (Cappella, et al., 2012).
A second study examined the effects of Banking Time (Pianta & Hamre, 2001), an attachment-based intervention, on preschool-aged students' externalizing behavior, and the quality of teacher-student interactions (Williford, et al., 2017). During a Banking Time session, teachers meet with students for 10-15 minutes of child-directed play. Rather than attempting to teach something, teachers sit back and observe students' play and their observed emotions. Teachers narrate students' emotions, while also developing relational themes (e.g., "You look like you're frustrated. I can be a helper") as a means to help students see the teacher as a source of support. These sessions took place 2-3 times a week for a period of seven weeks. At the end of the study, teachers reported a significant reduction in students' externalizing behaviors, while also displaying a decrease in negative interactions with the students. Authors hypothesize that the intervention may disrupt the often negative cycle of interactions that occur between teachers and students when students engage in challenging behaviors. These findings are particularly salient in light of research showing that unconscious bias can negatively influence how teachers view their students (Gilliam, Maupin, Reyes, Accavitti, & Shic, 2016). When teachers take the time to get to know their students, they are more likely to change their perceptions of the student, which can ultimately lead to positive changes in the teacher-student relationship.
Teacher-child interactions are not only beneficial for students' emotional state but may also contribute to students' physiological well-being and lower levels of stress. Hatfield and colleagues (2013) examined the impact of effective interactions on the stress hormone, cortisol, in children who attended full-day child care. Results showed that children who attended child care classrooms with higher levels of Emotional Support, had an overall decrease in cortisol levels across the day, rather than the typical end-of-day increase in cortisol levels seen in so many children who attend full-day child care (Hatfield, Hestenes, Kintner-Duffy, & O'Brien, 2013). Lower levels of stress allow students to be more available for instruction.
There are a number of approaches that teachers can use to support students who have experienced high levels of trauma, many of which require purchasing additional curricula or training. One strategy that teachers can use is something that they are already naturally doing with students - interacting in positive and supportive ways.