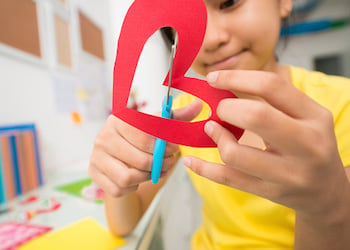 PROFESSIONAL DEVELOPMENT: AN INVESTMENT IN OUR TEACHERS
As a former teacher and teacher educator, I deeply understand the tremendous impact that a high-quality teacher can have on the lives of children and their families. But I also understand how difficult the job of teaching can be every hour of every day of every week of every year. So many teachers enter and stay in the classroom without the ongoing professional development they need to stay current with research and strategies that can help them perform their craft to its fullest potential. Even those who are provided professional development by their school district or program often experience stale, "one and done" workshops that are not integrated into a larger learning curriculum and that are, at best, dry and uninspiring.
My school district rarely provided professional development that was applicable to me as a preschool special education teacher or the children with whom I worked. I sat through hours of workshops like "Teaching Geometry to Third Graders" or "Influencing the Rate of Reading Fluency," which—while important topics for some—were not helpful or motivating to me when my children were struggling with single word utterances and following a picture schedule. I longed for professional development that inspired me to grow as a learner while teaching me new concepts, strategies, and techniques. I longed for professional development that reenergized me and reminded me why I loved teaching and pursued the profession to begin with: so that I could make a difference for all children and families.

CONTINUING OUR COMMITMENT WITH AN EXCITING NEW PARTNER
Six years ago, I found my way to Teachstone, an organization committed to unlocking the potential of great teaching in one of the most neglected groups of teachers—early childhood educators. Over the years we have grown our portfolio of CLASS-based professional development solutions to include MyTeaching Partner (MTP), Making the Most of Classroom Interactions (MMCI), and myTeachstone. Until now, we have grown our research-based professional development offerings without outside partners. Today, I am excited to announce our partnership with Sesame Workshop, the educational nonprofit organization behind Sesame Street, to engage teachers in a whole new way.
It all started with a conversation I had with Akimi Gibson, Vice President and Education Publisher at Sesame Learning, at NAEYC PDI over two years ago. Over lunch and lemonade, we discussed our common challenge of how to best empower teachers to take their professional development to the next level. Many lunches and conversations later, our partnership was solidified to do just that.
SESAME CONTENT NOW ON MYTEACHSTONE
Our partnership combines Sesame's knowledge of child development and research-based strategies for meeting the needs of individual learners with Teachstone's expertise in professional development solutions targeted to the individual teacher. Together we have co-produced a professional development series for teachers in myTeachstone, our online CLASS implementation service that pairs classroom observation data with personalized professional development. The courses provide teachers with proven, everyday strategies for improving teaching effectiveness in courses that focus on social and emotional development, mathematics, and language and literacy. What I like most about the courses is that they provide engaging aha moments for teachers to connect with the content and tie that learning back to the work they are doing in their classrooms. And best of all, teachers are reminded of the "why" they entered teaching: the series features media procured from Sesame's vast library that triggers memories of when they were young learners themselves.
To learn more about our partnership, read our press release and request a demo of a now-furrier myTeachstone.