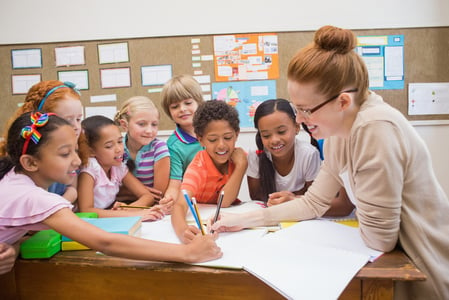 ALL ABOUT CLASS® OBSERVER CERTIFICATION
The Classroom Assessment Scoring System (CLASS®) is an observation tool used to measure the quality of interactions between educators and the children in their care. The steps and benefits of achieving a CLASS Observer Certification are discussed in this webinar from Teachstone, the maker of the CLASS.
CLASS observers are an important part of a school, district, state, or national continuous quality improvement (CQI) system. Observers help leaders by collecting objective data on the quality of educator-child interactions happening throughout their learning environments. The CLASS Observer Directory is available for educational facilities to locate certified CLASS Observers in their area.
Observers are focused on interactions that fall into three domains: emotional support, classroom organization, and instructional support. Using a series of 20-minute cycles, observers gauge the quality of educator-child interactions throughout the day.CLASS is most commonly used in early education childcare settings, but can also be leveraged at the upper elementary and secondary levels. The observational data collected by observers using the CLASS tool is invaluable.
Even if CLASS is not being used within a CQI system, the data still provides actionable insight. Program leaders can use CLASS data to create individualized professional development plans, and to make programmatic decisions. This could look like one-on-one coaching with classroom teachers or even statewide PD tools, depending on what size programs that leaders are overseeing.
HOW DOES THE CLASS OBSERVER CERTIFICATION DIFFER FROM OTHER CREDENTIALS?
CLASS does not evaluate curricula and materials or assess student learning outcomes like other assessment tools might do. Instead, it is an effective measurement of educator-child interactions throughout the day.
Why focus on interactions? More than 150 research studies have proven that classroom quality, as measured by CLASS, predicts positive developmental and academic outcomes for children. In short, meaningful interactions matter. They help children with social, emotional, and academic skills needed in life. The CLASS Observer Certification is unique in being the only crednetial that verfies an individual's ability to reliably measure the quality of interactions within an educational setting.
HOW DO YOU GET CLASS CERTIFIED?
There are three steps to becoming a certified CLASS Observer. The first is to attend a CLASS Observation training based on the age of the classrooms you intend to observer. Trainings are available virtually or in an in-person or hybrid version upon request.
Once training is complete, you have eight weeks to take the online reliability certification test. This test involves observing and measuring the quality of interactions within five videos of real classrooms to ensure the reliability of using the CLASS tool. Participants have three tries to pass the certification test and must recertify annually. Nervous about testing? Don't worry! Teachstone's reliability support team is available to support the training and testing process.
WHAT EDUCATIONAL CAREER OPPORTUNITIES ARE AVAILABLE WITH A CLASS OBSERVER CERTIFICATION?
Once you earn a CLASS Observer Certification, you can explore a few different career opportunities. In addition to likely supporting their own program with observation needs, observers can also be hired by a local program, district, or state to visit their classrooms, observe and measure the quality of interactions, and share an observation report with the school administrators.
Other times, observers may become coaches who serve as thought partners and facilitate professional development. It is important that teachers who are assessed with CLASS are provided feedback so they can continue growing. It's critical that coaches, who work with educators, understand the CLASS, what it measures, and how to improve.
And finally, some CLASS Observers might be hired by research institutions, higher education, or for private research projects. Often times, these groups use CLASS data to inform the success of specific professional development program, edtech, or other classroom variables. Researchers also may use the CLASS Observer Directory to find observers to support their projects.
WATCH THE WEBINAR
So, now you know that being a certified CLASS Observer helps educators provide children with the quality opportunities and interactions they need to achieve optimal developmental outcomes. If you want more information, you can learn more through this webinar or sign up to join our next training!