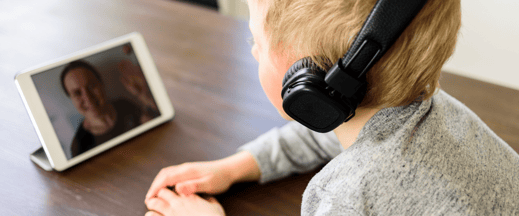 When COVID-19 hit and schools shut down, many of us were certain that it would not impact the 2020-21 school year. But after more than 18 months, it's clear that the pandemic is still with us. The length of the pandemic has only heightened concern about COVID related learning loss - especially among underserved populations.
Engaging students in learning can be difficult, even in the best of times. Doing so when learning is online or hybrid is even more challenging. We recently spoke with a principal of a K-8 school who was concerned that some students weren't logging onto the computer. Or if they were, they weren't paying attention during their online classes. In some cases, students logged on, but went off camera and weren't actually in class at all.
To gain some insight into this problem, the principal sat in on some virtual classes to see what was going on. He found that while there were a number of teachers who were doing a tremendous job engaging their students. Unfortunately, there were others who were not as successful.
As we spoke with the principal, we could not help but think about the important role of teacher-student interactions. In particular, we thought about four of the CLASS® dimensions and the role they play in virtual learning.
Role of CLASS® Dimensions in Virtual Learning
Positive Climate
Students need a warm, supportive environment that allows them to develop emotional connections and relationships with both the teacher and their peers. Given the fact that students have been away from in person learning—their teachers, and in many cases, their friends—for quite some time, these relationships need to be rebuilt. Teachers have to spend time getting to know students in a different environment. Taking time to reconnect with students by having social conversations and really listening to them will help the students feel more comfortable turning on a camera and sharing their home.


Teacher Sensitivity
Now more than ever, teachers must be aware of their students' emotional and academic needs. By doing so, teachers help students feel comfortable sharing personal struggles, academic difficulties, and things that may be happening at home. In addition, students who feel heard are more likely to turn on their camera and engage in school. Teachers should check in with students regarding family life, health, and other struggles. It's important that teachers anticipate that things students (especially upper elementary students and young adolescents) tend not to share may become exposed in a virtual environment. Providing reassurance that even in the virtual setting, the classroom is a safe space, will help students be willing to participate, share, and take risks


Regard for Student Perspectives
Student focus, flexibility, connections to current life, and peer connections are now more important than ever. Before teachers can get students to focus on learning and critical thinking activities, it will be important for them to let students know that their thoughts, ideas, and opinions are valued. Many students feel very isolated and disconnected during this pandemic. By placing additional emphasis on what is important to the students and why certain concepts and ideas are of significance to them, educators help to re-engage students in the learning process.


Instructional Learning Formats
Maximizing the engagement of students is the key to making virtual learning effective. It also allows teachers to move students back into learning and critical thinking. This can be extremely challenging in the world of Zoom or web conferencing. Teachers may be asking themselves, "How can I engage my students, or use a variety of materials and modalities when we are all only looking at each other in small boxes on a computer screen?" The key is to use each other and to use other technology. While not endorsing any website or product, there are many things out there to help make online learning more engaging to students. Below is a list of some programs with which we are familiar:
Miro Boards allows students to collaborate on projects
Kahoot is a game that lets teachers do knowledge checks
Students can use Prezi to create presentations in new and creative ways
Storyboard helps students plan their writing projects in a new manner
Book Creator helps students turn their writing into digital books
There are many templates that can be found on-line for making classroom Jeopardy games
The savvy CLASS observer may have noted that we are not providing suggestions for enhancing interactions in the Concept Development (Pre-K), Analysis and Inquiry (Upper Elementary), Quality of Feedback (Pre-K and Upper Elementary), or Instructional Dialogue (Upper Elementary). This should not be interpreted to suggest that teachers cannot effectively interact with students around these dimensions in the virtual classroom. Rather, we have suggested the types of interactions that have to be in place prior to addressing the more difficult CLASS dimensions. In short, we have to engage students before we can teach them, and we have to gain their trust if we want them to take academic risks and difficult cognitive challenges.
In other words, show them you care and they will be there. Make it fun and they will come. [Click to Tweet]