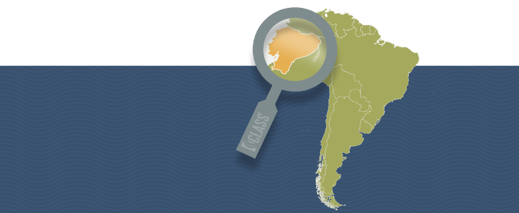 Did you know that CLASS is now being used in more than 30 countries across the globe? Research studies worldwide have already shown that CLASS has been validated in varying cultural contexts. We are excited to launch an internationally-focused blog on CLASS use around the world called Country Spotlight. If you live in a country outside the United States and would like to submit a blog about your CLASS implementation, please contact Lorena Sernett, Teachstone's international account manager.
---
For nearly four years now, the Inter-American Development Bank has been running a longitudinal study in Ecuador called Cerrando Brechas (Closing Gaps), collecting groundbreaking information with the CLASS on the relationship between teaching quality and children's learning. Our primary motivation is to better understand the characteristics or practices of the teachers who are most successful in closing the achievement gap between the poorest children in their classroom and their better-off schoolmates.
Starting with Kindergarteners in 2012, we've followed approximately 16,000 children randomly assigned to classrooms in 204 schools. Each year, a team trained by our researchers films an entire school day in every classroom and trained CLASS observers code the resulting videos. At the end of each school year, all children are also given a range of tests intended to assess early literacy and math skills and executive function.
A Look at Ecuador through the CLASS
What does school look like for first-graders in Ecuador? And, what do successful teachers in Ecuador do in their classrooms? These are questions that we didn't know the answer to, and CLASS has allowed us to answer them.
Most classrooms in Ecuador have only the most basic inputs: a chalkboard or white board, and a few colorful paper posters or cutouts may be taped to the walls. Children have individual chairs or desks, all lined up in rows facing the front of the classroom. Students wear government-provided uniforms and do much of their work out of a single, government-issue workbook. Generally, classrooms have electricity, and some have a small portable CD player. They are frequently overcrowded, with as many as 40 children in a room that has only one teacher. Rooms are often either too hot or cold, with little ventilation. Because schools are located close to busy main roads, noise from passing cars and trucks can be a constant background roar.
The CLASS has also allowed us to identify what exactly goes on inside the walls of these classrooms, and some of the news is encouraging. Even in the absence of technology and materials we have found some teachers in Ecuador who engage in highly effective practices, especially in the Emotional Support and Classroom Organization domains.
For example, in one effective classroom, the teacher sits with children while they practice copying simple words in their workbooks, providing praise and encouragement: "Good job, that's right! Yes you can!" At the same time, she might be sharpening a dull pencil for a child who asks for help or helping a child take his coat off when he gets too hot. Sometime she holds up a child's workbook for the rest of the class to admire and applaud their classmate.
In a different classroom, children ask to sing their favorite song, and when the teacher puts on the music they all stand and dance, laughing with the teacher, who dances too.
In another example, a teacher reads the story of the tortoise and the hare, and then asks the children, "Have you ever acted like the hare in your own life? Tell me about a time you did that."
In effective classrooms, we see that children are allowed to talk quietly amongst themselves while working and frequently get up to borrow a colored pencil or look at another child's work. The teacher moves from child to child, often crouching down or laying a gentle hand on one child's shoulder or giving another an affectionate pat on the head.
Less effective teaching practices are all too common as well, though. In these classrooms, the CLASS has allowed us to see how many children spend their days in rote coloring or workbook assignments. Teachers demonstrate minimal contact with individual students outside of the occasional reprimand. They rarely ask questions of children, and when they do, they are simple, closed-ended questions such as "What color is this? What number is this?" There are long periods of time during which students are expected to sit quietly with nothing to do while they wait for their peers to finish an assignment.
What We Have Learned and Where We Are Going
Taken in their aggregate, moments coded by CLASS demonstrate that, for better or worse, teachers in Ecuador have a real impact: children learn significantly more in classrooms with teachers who have higher CLASS scores (and the effects seem to persist even after children leave their classroom).
These are exciting findings, supporting evidence from other parts of the world from the United States to Germany to South Africa, that what teachers do every day in their classrooms is critical. With that in mind, and in collaboration with the Ecuadorian Ministry of Education, we are taking a big next step, implementing a mentoring and ongoing professional development program for teachers using the CLASS framework.
Drawing on hundreds of hours of CLASS video footage, we have identified specific practices of more and less effective moments in country-specific classrooms, condensing them into edited one to two minute segments which will form part of a national video library to help teachers learn to observe and identify good practice before using the CLASS lens to examine their own.
Our program guides teachers to videotape their own classroom every other week throughout the school year in order to have individualized material to identify and build on their strengths. A mentor provides individualized and specific CLASS-based support.
Our goal is to help to teachers improve their classroom practice and interact more effectively with their students. We hope that in doing so, a strong cadre of teachers will enable a generation of Ecuadorian children to truly live to their potential and thrive not only in school, but also in life.
For more information on the work that IDB is doing in Ecuador and other parts of Latin America, download a free copy their book: "The Early Years: Child Well-Being and the Role of Public Policy."
Sara Schodt is a bicultural early education quality specialist who has spent her professional life working both as a preschool teacher and at the program/policy level to improve the early education opportunities of young children in Ecuador and in the United States. She holds master's degrees from Tufts University in International Public Policy and from Harvard University in International Education Policy, and is currently a consultant with the Social Sector of the Inter-American Development Bank, where in addition to Cerrando Brechas, her work continues to focus on improving early education and care for children in Latin America and the Caribbean.