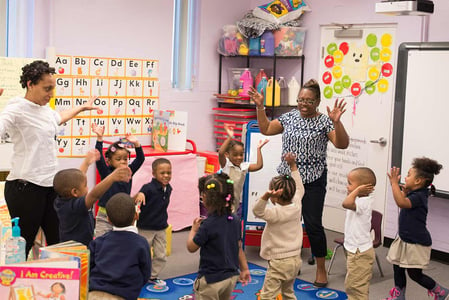 Can we talk about structure? When CLASS® entered my life, I was 20 years into my career in the field of early childhood education. What I remember most about that initial training, besides the nervousness about an impending reliability test, was a sense of relief. Structure, including state and program standards, curriculum, materials in the classroom, and approaches to childcare and pedagogy, had dominated my working hours. CLASS was a lot to learn, but for me, it was a breath of fresh air. Observing with CLASS meant I could set aside my obsession with all things structural, which encompassed my thoughts every time I walked into an early childhood classroom.
For me, though, focusing on the process, or what adults do within a program structure as defined by the CLASS dimensions, revealed an all too true reality. The classroom structure present in any given program has a strong influence on adults' interactions with the children in their care. While a thoughtful program structure may encourage rich adult-child interactions, many approaches to early childhood program delivery hinder an adult's ability to interact effectively.
Structural approaches that support effective interactions include:
Flexibility within predictable routines
Less large group times
Short small group times
Ample free-choice times
For very young children – individual schedules
Structures that may hinder effective interactions include:
Toddler routines in large groups, such as all in the bathroom, or washing hands, or brushing teeth
Long wait times in lines, meals, and transitions
Curriculum delivered to fidelity that lacks flexibility for children's interests
Large group times, particularly those where adult talk dominates
Very young children forced into the same schedule
We are often stuck with structural issues that are challenging or impossible to change. An example that comes to mind is building structure; the bathrooms, for instance, are down a school hallway. Or, staffing may dictate the need to move the children in large groups. Sometimes, we are convinced it is easier to accomplish a routine with the entire group of toddlers so that the room will all nap or eat or play on the same schedule. It takes creativity, and adult buy-in to make structural changes.
Acknowledging the effect structure is having on the process is a significant first step. Making changes to program structures that support quality educator-child interactions takes being willing to stick to it for longer than a week, or even two weeks, to see meaningful results. Are you interested in improving the structure of your program?
Small steps you can take to affect change
In infant classrooms, allow children to eat and sleep on their own schedule. Change diapers on demand, rather than all at the same time.
At toddler tooth brushing time, provide activities that keep children busy, and then bring one or two children at a time to the sink to brush.
Ditch the calendar and weather at preschool large group time. Instead, gather for an interactive group meeting, story, or a fun dancing activity. Keep it short and upbeat, and encourage a lot of child talk throughout.
Analyze your CLASS data by times of the day. Do you notice trends in quality? Use your data to problem-solve structural changes to the daily routine.
Ready for long-term, meaningful change? Consider professional development opportunities for your classroom staff that blends the process of CLASS-based interactions with appropriate program structure. Check out our online program, CDA (Child Development Associate) with CLASS. A basic understanding of the CLASS tool is integrated into course learning experiences, with an emphasis on positive relationships and interactions in early childhood education settings. CDA with CLASS is available at two levels: Pre-K and Infant-Toddler.