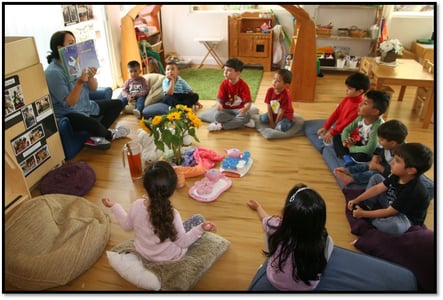 Originally published March 21, 2022
In recent years, mindfulness has gained popularity in our society, including in the early childhood education field. In fact, recent research has shown that mindfulness has many benefits for young children, including supporting their self-regulation skills.
In this blog, we explore the importance of supporting self-regulation during the early years. We discuss self-regulation and its impact on children, not only during their first years of life but the benefits that stay with them in their adult life.
In addition, we define and explore mindfulness focusing on two developmentally appropriate mindful activities to support self-regulation in young children, which are mindful breathing & mindful yoga.
Mindfulness
To get started, we are going to define mindfulness. Mindfulness can be defined as being conscious and aware of the present moment.
*Take a minute to reflect: What is your experience with mindfulness?
Did you know that mindfulness is a great practice that can help children acquire self-regulation skills that will benefit them in the present and future? Current research has shown that practicing mindfulness with young children improves their cognitive and social-emotional development (Mindful Schools, 2022).
Let's focus on two fun and developmentally appropriate mindful activities that can be used to support children's self-regulation skills:
Mindful Breathing
Mindful Yoga
Before exploring these two mindful practices, let's define self-regulation.
Self-Regulation
Self-regulation can be defined as the ability to recognize and manage our own emotions and actions, which is a critical life skill. For this reason, it is important to encourage and promote it from an early age. Supporting self-regulation during early childhood has a great impact on children's lives, not only during their first years of life but in their adult life as well.
As the Center of The Developing Child at Harvard University states (2022), self-regulation skills "are crucial for learning and development. They also enable positive behavior and allow us to make healthy choices for ourselves and our families"
Self-regulation is necessary to manage and control our thoughts, behaviors, and emotions. When children are upset or angry, it is difficult to control their impulses because their emotions are in control which can lead them to display challenging behaviors. That's why it is important to teach our children to recognize their emotions and share strategies that they can use to relax.
*Take a minute to reflect: What daily activities you currently do to promote self-regulation in young children?
Mindful Strategies for Children
Now that we have defined mindfulness and self-regulation, let's explore how we can use mindfulness to support self-regulation in young children.
Mindful Breathing
As adults responsible for young children, we can encourage self-regulation by providing children with tools to use when experiencing challenging situations and strong emotions. A great practice that we can use to promote children's self-regulation skills is breathing exercises.
For example:
Blow out a candle
Smell a flower
Hot tea breathing
Hot soup
Pinwheel breathing
Belly breaths
Blow bubbles
Through breathing exercises, children can learn strategies to calm down when they feel sad, angry, or frustrated. We can introduce these strategies during circle time when children are in a relaxed state in order to become familiar with them. After introducing these strategies, we can invite our children to practice them when they feel strong emotions.
During circle time, Ms. Lenika read the book "Breathe like a Bear" by Kira Willey which illustrates different breathing exercises. Children practiced different breathing exercises such as blow the candle, smell a flower, and hot tea breathing.
Hot tea breathing: Children had the opportunity to pour their own tea on a small cup and blow their tea to make it cooler.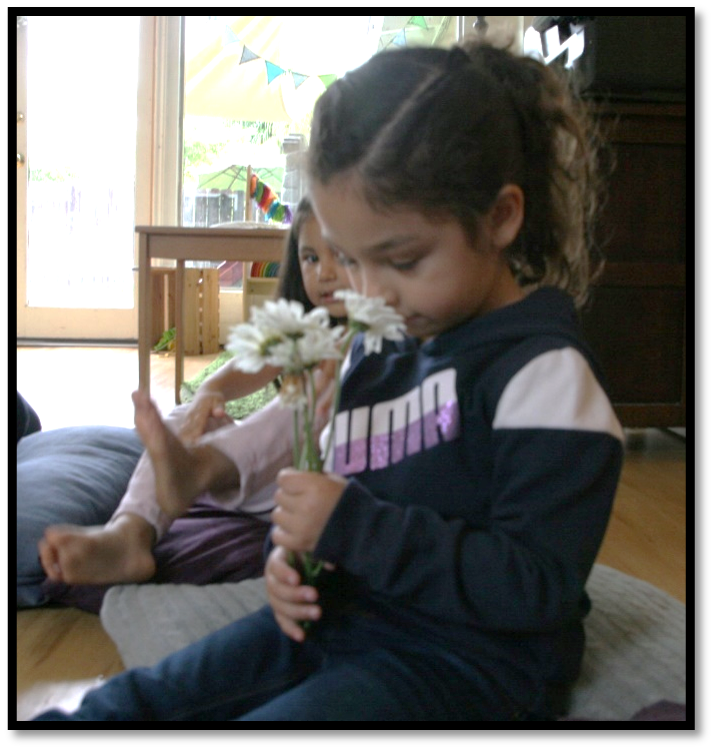 Smell a flower: Children waited for their turn to smell the flower inhaling and exhaling slowly.
Want to see more examples? Watch the following video called "Breathing Exercise." I filmed this video when I was pursuing my B.A. in Child Development for a class called "Development of Special Needs Children."
For this video, I invited my niece who was diagnosed with Global Developmental Delay. At this time, she was 12 years old. We used the book "Breathe like a Bear" by Kira Willey to practice breathing exercises. As you can see in this video, mindful breathing is not just beneficial for toddlers and preschoolers, but also for school age children and children with special needs.
Mindful Yoga
Yoga is a great activity that can be used to support self-regulation in young children. Yoga is fun, has lots of benefits, and can be practiced in different ways.
Yoga Songs: There are many yoga songs that we can practice with children. Including music is a great way to make yoga fun and interactive.
Yoga Cards: Another way to practice yoga is by creating cards with different yoga poses. Children can randomly choose a card and imitate that pose.
Yoga Poses: We can also involve children by asking them which yoga pose they want to do. This will not only encourage self-regulation but also their creativity, imagination, and self-esteem.
While practicing yoga with young children, it is important to encourage them to concentrate on their breathing, listen to their bodies, and feel their emotions. As with breathing exercises, we can introduce this practice during group time when children are in a relaxed state. With practice, children will be able to use yoga to regulate themselves when feeling strong emotions.
Yoga Songs: Children listened to a yoga song and followed the instructions. They really enjoy the songs of "Jodi the Yogi," a YouTube channel that has different yoga songs for young children.
Yoga Cards: One of our children randomly chose a Yoga Card. All children practiced the pose illustrated in the card.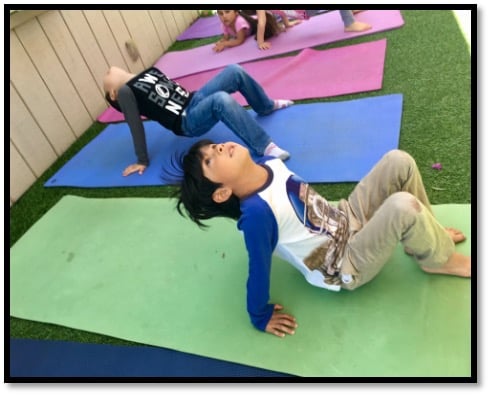 Yoga Pose: A child created a yoga pose and all children followed his lead. Each child had the opportunity to create their own pose.
Want to see more examples? Watch the following video created by Ms. Lenika Flores which illustrates how to use Yoga Cards with young children.
If we introduce mindful breathing and mindful yoga during circle time and group activities, children will get familiar with these practices. Subsequently, during challenging situations in our daily routine, we can encourage children to practice breathing exercises, play relaxing yoga songs, or practice relaxing yoga poses to help them calm their strong emotions.
*Take a minute to reflect: how will you incorporate these mindful practices in your classroom?
Congratulations! You have explored two mindful practices that you can incorporate in your daily routine to support self-regulation in young children. Let's provide children with the high-quality interactions and experiences that they deserve.


Photos shared by: Lenika Flores (Owner and Director of

Di Colori Preschool)


---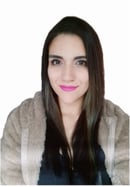 Jackqueline Espinoza is a bilingual (Spanish/English) Early Childhood Educator. Her educational experience consists of a M.A. in Education with a specialization in ECE, a B.A. in Child Development, and an A.A in Psychology. She has experience facilitating the learning of toddlers and preschoolers in Reggio Emilia inspired program. In addition, she has experience working as a General Education Teacher in a Preschool Diagnostic Classroom. She is passionate about scaffolding young children's learning and encouraging them to reach their full potential. She finds joy working with children and adults and facilitating their learning.