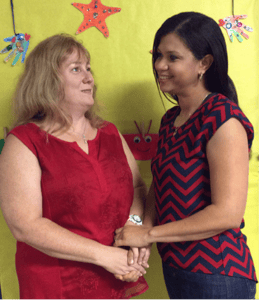 I had the opportunity to interview teacher Dana McDowell, a Pre-K teacher from Lafayette, Louisiana. During the 2016-17 school year Dana participated in the MyTeachingPartner (MTP) professional development program. By collaborating and engaging in the MTP process with her coach Kaly Barlow, Dana was able to set CLASS-related goals and achieve them by the end of the year. Dana gives great insight into what made the MTP process successful for her.
Tell us about your program and your work.
I have been employed as a special education teacher in Lafayette Parish for the past five years. My certification is in the area of early childhood. I teach in a reverse mainstream class, which means that the children in my class have a range of abilities and risks.
What interested you in participating in the MTP program?
I have been utilizing the CLASS tool for the last three years, initially as a pilot program that uses the CLASS model as an assessment tool. I found myself challenged by the dimension of Concept Development. It was a struggle, and I felt like I was missing the "it" part of the dimension. I wanted to understand Concept Development on a deeper level, and MTP was the perfect opportunity to get feedback on how to effectively use Concept Development with my students. I was very excited when Kaly came for her first visit with me; we immediately began strategizing and planning so that I could discover what I was missing in the dimension of Concept Development.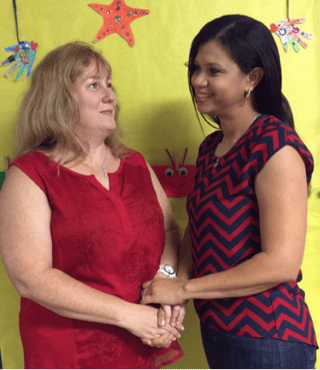 Tell us about your work with your MTP coach.
Before MTP I had not met Kaly. I received an email from her explaining that she would be my MTP coach and that we would meet soon. I was unsure, at that point, as to what our roles would be and how much extra work I was placing upon myself. We connected right away and formed a very special relationship. Kaly is compassionate and motivated me to see the positive because I initially thought that MTP was just going to be about someone criticizing me and finding my faults. I was somewhat reluctant and confused about why I was not getting the hang of Concept Development. Kaly did a fantastic job of guiding and supporting me throughout the entire process; she provided great feedback during our meetings, gave great (relevant) examples and chose appropriate videos from the library.
How has your teaching changed since being a part of the MTP program?
By the end of the year, I got the "it" in Concept Development; I even received a seven on one of my observation rounds! The program made a difference in my teaching; it helped me change the methods and strategies that I used to more effectively incorporate Concept Development.
How will you continue to use effective CLASS interactions after the MTP program has ended?
I can guide/coach other teachers and colleagues about effective interactions in the classroom. I will continue to video myself as a method of reflection and would like everyone to have access to the CLASS exemplar videos. I believe that having visual examples of effective interactions in the classroom is helpful and relevant.
We love sharing real stories from real classrooms and programs. If you have a CLASS story that you'd like to share, please contact Emily Doyle (emily.doyle@teachstone.com) to learn how you can contribute.